An explosion in popular demand with new applications and billions of new devices requires more public addresses, especially with the emergence of smartphones, smart Pads, smart TVs, smart grids, smart cities,M2M or IoT (Internet of Things) sensors, Internet-connected transportation, Web2.0, cloud computing and online gaming. Thousands of peer-to-peer applications for Apple App. and Google Android stores coming up for the convenience of our lives. The trend of future Internet promises huge new market opportunities, and IPv6 will have an important role to play. 'The Internet has become the global communication network, now is the time to sustain its growth and stability by integrating IPv6. IPv6 adds great value to IPv4' states Dr. Vint Cerf, Honorary Chair of the IPv6 Forum. It is the right time for service providers to follow the IPv6 trend in order to maintain and accelerate their own business growth. A delay in IPv6 deployment means losing the best opportunities for innovation and growth, as the Internet is the fundamental infrastructure of the 21st century. However, the fact that there are different IPv6 deployment approaches may cause some confusion among service providers, irrespective of their equipment investment, management complexity and supported applications. Here are some leading operators' strategies, explaining leading content providers' endorsement and indicating required equipment upgrades for reference to the IPv6 era.
The Best IPv6 Applications Enabler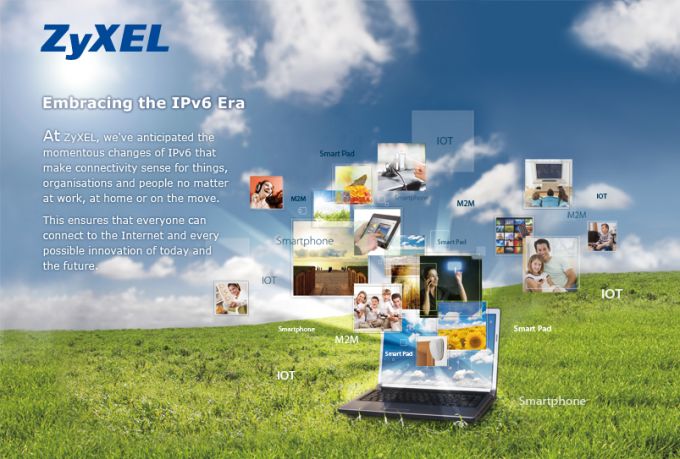 IPv6 Application Scope:
Some providers operate both mobile and fixed-line subscribers, while some operate fixed-line subscribers only. Both 6RD and DS-Lite approaches adopt tunneling techniques, which makes them rather inefficient and complicated to mobile uses due to the dynamic establishments of tunnels in a mobile environment for both IPv4 and IPv6 users. This is a point worth considering, especially in view of the thousands of millions of smartphones, PADs and notebooks with 3.5G or 4G capability. IPv6 can be deployed in two ways: having completely independent IPv6 and IPv4 networks or overlaying IPv4 and IPv6 networks. Any chosen strategy will affect the IPv6 features required in hosts, gateways, IP DSLAMs, carrier switches, edge routers and core equipment. It will also affect the application scope, such as supporting peer-to-peer applications for both IPv4 and IPv6 users.
Investment Plan:
The Dual-Stack approach is easy to deploy with great compatibility for both the current IPv4 and the next IPv6 protocol. However, Dual-Stack requires heavier investment to the other two tunneling approaches. The 6RD tunneling approach allows for a gradual deployment of IPv6, even without changing the current ISP infrastructure, since it is possible to use IPv6 over the existing IPv4 network. The disadvantages are typical of tunneling mechanisms: the tunnel entry and termination points need to perform extra work (to establish a tunnel) and risk becoming a single point of failure. In summary, service providers need to consider end users' IPv6 needs. Whether or not the number of IPv6 end users will increase depends on more convincingIPv6 services and supporting applications. Service providers should seriously consider ROI (Return On Investment) in their evaluation plan. They might for example want to adopt tunneling approaches to satisfy a small number of IPv6 users at the beginning, whilst upgrading related hardware equipment, software or application servers to satisfy a greater number of IPv6 subscribers later on.
Leading Operators' Strategies:
There are two major IPv6 advantages for business and residential customers: a hassle-free end-to-end connectivity on the one hand, and higher end-to-end security on the other. Therefore, both business and residential customers can enjoy the benefits of IPv6 by using more peer-to-peer (P2P) applications, such as efficiency collaboration applications, by using P2P desktop/TV video conferencing or unified communications applications without expensive central video conferencing servers or unified communication servers. Business customers benefit from completely secure connections for outside-in web users or remote workers and inside-out e-mail communications from employees.
In summary, there is no approach offering the 'perfect' solution: while dualstack requires a larger investment and higher maintenance cost, DS-Lite has heavy growing pains issues and 6RD has 2nd investment issues. Operators should consider their current and future business models to select the approach that best fits their needs in order to satisfy their current subscribers and win new IPv6 subscribers in the coming IPv6 era.
ZyXEL IPv6 Migration Solution
To support the enquiry increase from leading ISP and Telco customers for IPv6 solutions, ZyXEL has been accelerating the production of IPv6-ready products to help enjoy a smooth transition and deployment to stay on top of this new golden opportunity. Internet service providers and telecommunication companies are regarded as the key driving forces in making this wide-spread evolution successful. By offering a complete IPv6 migration solution for customer and access sites – a solution which supports Dual-Stack, DS-Lite and 6RD approaches – ZyXEL perfectly meets service providers' diversified requirements for different implementations.
Seamless Migration and Adoption IPv6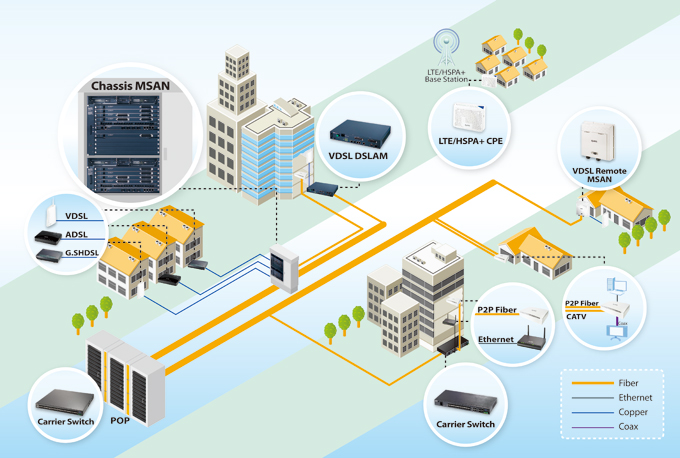 ZyXEL IPv6 Product Portfolio for Service Provider
ZyXEL IPv6 product portfolio includes central MSAN, remote MSAN, remote DSLAM, ADSL2+ router, ADSL2+ IAD, VDSL2 gateway and VDSL2 IAD. Central MSAN, remote MSAN and remote DSLAM will be deployed on access network site. ADSL2+ router, ADSL2+ IAD, VDSL2 gateway and VDSL2 IAD will be deployed on customer site.
IPv6 will soon be the critical backbone of next generation networking technology. It bears tremendous promises, yet service providers need a carefully planned evaluation and transition strategy for IPv6. Whether service providers ultimately choose 6RD, Dual-Stack or DS-Lite as their preferred IPv6 migration approach, ZyXEL's IPv6 migration solution will be ready to meet all of their selected approaches and offer the required customer site and access network site equipment with the best ROI (Return on Investment).
HW Ready
IPv6 Ready
AMG1202
Wireless N-lite ADSL2+ 4-port Gateway
YES
Ready
AMG1302
Wireless N ADSL2+ 4-port Gateway
YES
Ready
AMG1312
Wireless N ADSL2+ 4-port Gateway with USB
YES
Ready
VDSL2 CPE
HW Ready
IPv6 Ready

Wireless N VDSL2 4-port Gateway

YES
Ready

Wireless N VDSL2 4-port Gateway with HPNA 3.1

YES
Ready
VMG1312
Wireless N VDSL2 4-ports Gateway with USB
YES
Ready
(6/4/2012, UNH IOL test passed)
COE
HW Ready
IPv6 Ready
VES-1608FE-57
Environmental-Hardened Remote VDSL2 DSLAM
YES
Ready
VES-1724-56
24-port Temperature-Hardened VDSL2 Box DSLAM
YES
Ready
MSC1024/1224GB
Management and Switching Card for IES-6000 /5112/5106
YES
Ready
MSC1024GC
Management and Switching Card for IES-6000 /5112/5106

YES

Ready

VLC1424G-56
24-port DMT-based VDSL2 Line Card (30a) for IES-6000 /5112/5106
YES
Ready
ALC1372G-51
72-port Annex A ADSL/ADSL2+ Line Card (over POTS) for IES-6000 /5112/5106
YES
Ready
OLT2406
2U 6-slot Temperature-Hardened GPON Optical Line Terminal
YES
Ready
OLT2412
6U 12-slot Temperature-Hardened GPON Optical Line Terminal
YES
Ready
Carrier Switch
HW Ready
IPv6 Ready
MES3500-24
24-port FE SFP L2 Switch with GbE Uplink
YES
Ready
MES3500-24F
24-port FE Fiber L2 Switch with Four GbE Combo Ports
YES
Ready
MGS3600-24F
20-port GbE Fiber L2 Switch with Four GbE Combo Ports
YES
Ready
XGS3600-26F
20-port GbE Fiber L2 Switch with Four GbE Combo Ports and Two 10G Fiber Ports
YES
Ready
XGS4700-48F
48-port GbE L3 Switch with 10 GbE Uplink
YES
Ready
XGS4728F
24-port GbE L3 Switch with 10 GbE Uplink
YES
Ready
LTE CPE
HW Ready
IPv6 Ready
LTE5121
LTE Indoor Wi-Fi VoIP IAD
YES
(2012 Q3)
LTE6100
LTE Outdoor Gateway
YES
(2012 Q3)
Ethernet
Multi-service
GW
HW Ready
IPv6 Ready
EMG1202
Wireless N-lite 4-port Ethernet GW
YES
(2012 Q3)
EMG2306
Wireless N 4-port Gigabit Ethernet GW
YES
(2012 Q3)
EMG5324
Wireless N 4-port Gigabit Ethernet IAD
YES
(2012 Q3)
Active Fiber IAD
HW Ready
IPv6 Ready
FMG3024
Gigabit Active Fiber VoIP IAD with RF overlay
YES
(2012 Q3)
FMG3025
Gigabit Active Fiber VoIP IAD
YES
(2012 Q3)