Service providers and carriers pioneering in the deployments will be assured with competitive advantages for business continuity and growth. With a virtually unlimited amount of new IP addresses for business expansion that would eliminate NAT (Network Address Translation) and problems the older protocol entails, service providers and carriers can improve and expand VoIP (Voice over IP), video conferencing, IPTV and smart home services for differentiation and therefore new revenues.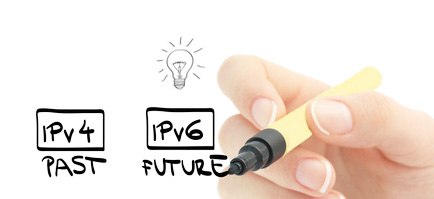 With the three major deployment approaches available now for consideration, service providers and carriers need to evaluate the advantages and disadvantages carefully upon several factors such as service contents and scopes, business strategies, deployment scale and capabilities, resources and investment plan before taking the next move. It is highly recommended to seek consultations from networking experts for precautions to avoid unnecessary efforts and time waste along the way.
For example, as some providers operate both mobile and fixed-line subscribers while some operate fixed-line subscribers only, both 6RD and DS-Lite approaches adopt tunneling techniques that make it rather inefficient and complicated to mobile users due to the dynamic establishment of tunnels in a mobile environment for both IPv4 and IPv6 users. The evaluation effort will manifest itself as millions of smart phones, tablets and notebooks with 3.5G or 4G capability are out there.
Three Deployment Approaches For IPv6
6RD
Dual-Stack (DS)
DS-Lite
Fixed-line deployment
◆
◆
◆
Mobile deployment
Only IPv4
Both IPv4/IPv6
Only IPv6
Tunneling approach
IPv6 over IPv4
--
IPv4 over IPv6
2nd migration required for native IPv6
◆
--
--
Growing pains
Medium
Light
Heavy
Investment cost
Low
High
High
Maintenance cost
High
High
Low
Equipment upgrades required
RG CPE (DSL CPE)
◆
◆
B4
Access (IPDSLAM, MSAN)
--
IPv6 MLD, IPv6 Host
IPv6 MLD, IPv6 Host
Aggregation (Carrier Ethernet Switch)
--
IPv6 MLD, IPv6 Host
IPv6 MLD, IPv6 Host
Edge (BRAS/BNG)
--
◆
◆
Core (GGSN/PGW)
6RD Border Relay
--
AFTR Router
Public IP to Public IP Applications Support (VPN, Video Conferencing)
Only IPv4
Both IPv4 and IPv6
Only IPv6
IPv4/IPv6 Translation
--
--
◆
IPv6 Encyclopedia
| | |
| --- | --- |
| MLD | Multicast Listener Discovery for IPv6 |
| DS-Lite | Dual Stack Lite Protocol |
| 6RD BR | IPv6 Rapid Deployment Border Reply |
| AFTR | DS-Lite Address Family Transition Router |
| B4 | DS-Lite Basic Briding Broadband element |
The following section explains each approach briefly. For more information, please send your inquiry regarding IPv6 via 'IPv6 Help Desk'. We will try to get in contact with you soon.
6RD Approach
The 6RD (IPv6 Rapid Development) approach can propel service providers and carriers ahead of competitors with a short time-to-market and lower migration cost. However, it is not the ultimate way to reliably offer IPv6 solutions to a huge number of subscribers; a second-phase IPv6 migration investment will be required for online business operations.
Dual-Stack Approach
Depending on the demand for peer-to-peer (P2P) communications for mobile, fixed-line and business customers on either IPv4 or IPv6 networks, operators and carriers will need to adopt the Dual-stack approach to quickly seize new business opportunities from those customers while keeping the existing IPv4 subscribers. This approach will maintain both IPv4 and IPv6 traffics but tend to require a longer support period (probably two to five years), which will lead to a higher maintenance cost than the two other approaches.
DS-Lite (Dual-Stack Lite) Approach
The DS-Lite approach enables operators and carriers to build pure IPv6 networks that allow the existing IPv4 subscribers to pass through. This allows IPv6 network deployments while gradually phasing out the existing IPv4 infrastructure. Adopters of this approach are encouraged to purchase new IPv6 products and invest on AFTR routers to support IPv4 subscribers during the transition period.
IPv6 can be deployed in two ways: completely independent IPv6 and IPv4 networks, or an overlay of the two. The chosen approach decides the IPv6 features required in hosts, gateways, IP DSLAMs, carrier switches, edge routers and other core equipment; and it also affects the application scope, such as supports to peer-to-peer applications for both IPv4 and IPv6 users.
Challenges
However, neither approach can be called perfect. The Dual-stack method requires a larger investment and higher maintenance cost, DS-Lite brings heavy growing pain while 6RD has second-phase investment issues. Operators and carriers should consider their current and long-term business models to make the best choice that fits their needs to satisfy current subscribers as well as to win new IPv6 subscribers when the protocol is in service.
In addition to choosing the right approach, what actions are required on facilities, equipment and devices? Basically all three approaches require at least an upgrade to the residential gateway (RG CPE) and the core router; depending on the chosen deployment approach, there are five major upgrade requirements:
Residential gateway (RG CPE)
Access multiplexers (e.g. Layer-2 IP DSLAM)
Aggregation switches (e.g. Layer-2 carrier Ethernet switches)
Edge routers (e.g. Layer-3 provider edge router or CPE)
Core routers
Depending on the chosen approach, other additional upgrades might be required as well. For example, if the 6RD approach is employed, an additional upgrade to the RG CPE as "6RD RG CPE" will be required and 6RD border relays are also need within the core network. Again, with the complexities involved in different approaches, it's recommended to seek professional advice for the best efficiency and management on your investments.