Zyxel supports over-stretched and under-resourced SMBs with an enhanced security firewall portfolio
New firmware ZLD 4.60 provides a significant performance boost and stronger defense for network admins, while two new additions to the USG FLEX firewall family expand entry-level and high-end options for SMBs
Hsinchu, Taiwan, 4 November 2020—Zyxel Networks, a leader in delivering secure, AI- and cloud-powered business and home networking solutions, today announced the launch of two new firewalls, the USG FLEX 100W and USG FLEX 700 as well as the firmware ZLD 4.60 release, which offers key enhancements for security firewalls. Together, they give SMBs the power and flexibility to protect against more sophisticated cyberthreats and maintain business continuity in the new reality.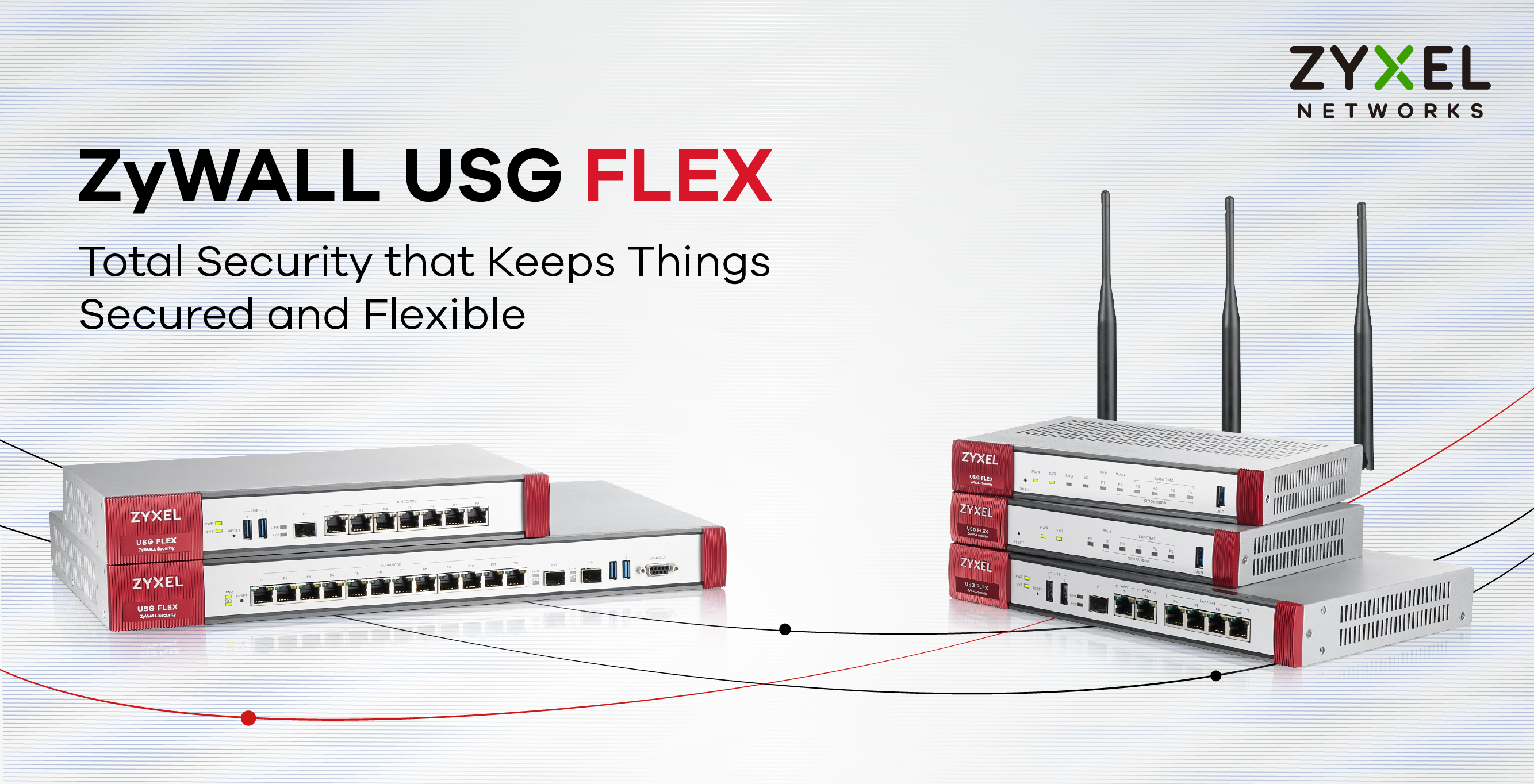 According to a recently published 2020 Threat Landscape report by ENISA, the attack surface in cybersecurity continues to expand as we enter a new phase of digital transformation. The COVID-19 pandemic has accelerated the pace of digitization, with many companies moving to a complete work-from-home model almost overnight, in a bid to keep operations running. This swift change in working practices has put pressure on SMBs to ensure network security levels remain optimal and that limited budget and resources are allocated in the right places.
The growing USG FLEX range provides everything SMBs need in one box
To increase the options available to SMBs, Zyxel has unveiled two new security firewalls as part of its comprehensive USG FLEX range, including USG FLEX 100W, an entry-level firewall with a built-in WiFi function, and USG FLEX 700, a high-end firewall which can manage up to 800 concurrent device logins. In addition to providing robust, scalable network security for SMBs, the USG FLEX series also provide VPN remote access, WiFi access point management, and comprehensive hotspot functions to fulfill business needs within one-box.
SSL inspection performance boost
In addition, new software enhancements to the ZLD 4.60 firmware provide between three- and five-times faster SSL inspection throughput* than the previous version. This means that users can gain more powerful performance levels with their existing hardware, increasing encrypt/decrypt performance and improving certificate generation time.
Hardened security with TLS 1.3 support
SSL inspection enhancements now also support the latest version of Transport Layer Security (TLS) protocol for securing internet connections between servers and their clients. Support of the TLS 1.3 protocol provides Zyxel users with more security, performance and privacy to defend against ever-more sophisticated cyberthreats.
Comprehensive reputation service
On top of existing IP reputation and URL reputation services, ZLD 4.60 also comes with a DNS reputation service, powered by McAfee. Available in Zyxel's ATP series, these three services combine to provide a comprehensive and robust solution which prevents users from visiting known domains which host malicious content and blocking access to specific sites. Analysis from the reputation service can be easily managed within Zyxel's SecuReporter dashboard, to help network admins keep on top of unsafe domains, threats and query types.
"Now more than ever, SMBs are looking for effective ways to safeguard the long-term future of their businesses while managing a work-from-home network environment to stabilize operations during unpredictable times," said Nathan Yen, AVP of Zyxel's Gateway Business Unit. "The two new USG FLEX firewalls and the enhanced security features of the ZLD 4.60 firmware provide that peace of mind. No matter what their resources or budget, SMBs can put in place a robust, reliable and scalable gateway connectivity solution."
For more information, please visit: https://www.zyxel.com/products_services/USG-FLEX-Firewall-USG-FLEX-100W/
*HTTPS protocol with the device's default settings — firewall routing, NAT, and ADP — enabled.
About Zyxel Networks
Zyxel has been getting business and home users online for over 30 years, relying since Day 1 on innovation and customer-centric service. In 1989, this meant analog modems. Today, it means using AI and the cloud to deliver rapid, reliable, and secure networking solutions for business and home users.
Zyxel is a global force in the communications market with an unrivalled international presence that include:
- 150 markets served
- 1,000,000 businesses working smarter with Zyxel solutions
- 100 million devices creating global connections
We're building the networks of tomorrow, unlocking potential, and meeting the needs of the modern workplace—powering people at work, play, and life.
Zyxel, Your Networking Ally.