Zyxel simplifies WiFi security, opens up Nebula API to build a cloud networking ecosystem with partners
The first cloud networking solution to introduce DPPSK WiFi authentication and encryption for SMBs
Hsinchu, Taiwan, 30 June 2020—Zyxel Networks, a leader in delivering secure, AI- and cloud-powered business and home solutions, today released the latest update to its Nebula Cloud Networking Solution. The update features the industry's first DPPSK for simplified WiFi security for SMBs, and is one of the first solutions to open up its API to vertical partners who can now deliver cloud-manageable networking services via the Nebula.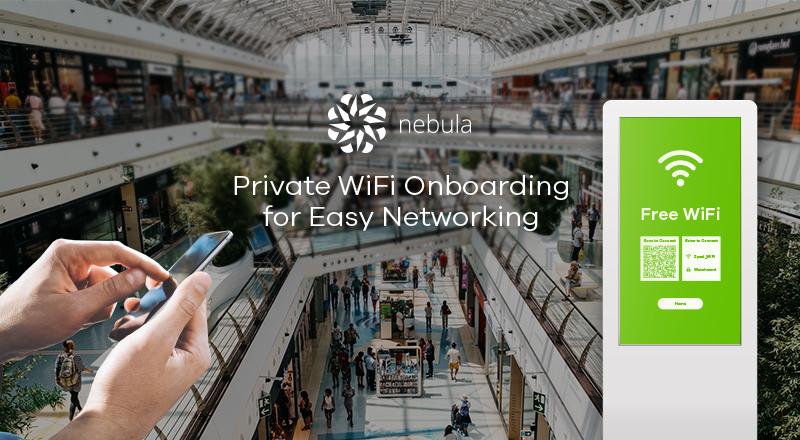 WiFi access management made easy and secure with cloud authentication
Many SMBs still rely on the same WiFi password for all guests or employees, which can be shared or stolen, leaving a hole in their network security. Now, the updated Nebula offers cloud authentication enhancement through the Dynamic Personal Pre-Shared Key (DPPSK) feature – the first time this has been made available to the SMB market.
With DPPSK, each user is provided with a unique WiFi password. With the tap of a button on the Nebula dashboard, passwords can be customized to expire in a particular timeframe, making the management of WiFi access for multiple users simple, convenient, and secure.
Building a cloud networking ecosystem with technology partners
Zyxel is also committing to make it even easier for partners to integrate their systems with Nebula through its growing technology alliance. With this update, the Nebula API is now open to managed service providers (MSPs) and system integrators who can incorporate their WiFi onboarding systems.
Jonas Dekkers, Co-founder of the Wiflex project from Complit Networks in Belgium says, "Zyxel's enhanced Nebula provides SMBs with the tools they need to easily and securely onboard visitors, guests or employees to their WiFi. We applaud Zyxel Networks for opening their API to MSPs, giving our customers, and a far wider range of SMBs, the opportunity to achieve more secure, easy, and cloud-manageable WiFi onboarding services for their businesses. We already created our own cloud-based onboarding solution for guests (visitor registration) and employees based on Azure and G Suite with the unique DPPSK feature of Zyxel."
"With the latest release of the Nebula, Zyxel has made big steps to build an expanding cloud networking ecosystem of vertical partners and API integration that goes beyond simple hardware updates," comments Crowley Wu, Vice President of Zyxel's Networking SBU. "Nebula's enhanced security and authentication features draw on the expertise of this technology alliance to empower businesses to protect their networks with ease, so they can focus on providing agile services to their customers."
CCTV switches join the Nebula family
Starting with the June Nebula release, the cloud management solution welcomes the Zyxel GS1350 series of surveillance switches. The switch boasts extended range, with all PoE ports supporting data transmission up to 250 meters to allow for deployment at a distance. Meanwhile, businesses can reduce downtime with the Auto PD Recovery feature to easily restart a malfunctioning power device. All of which allows network admins to save resources and more easily manage their CCTV networks through the cloud without having to send field engineers to visit each site.
Multifunctional WiFi APs for budget-challenged small businesses
Finally, with the Nebula's new SSID NAT function, small businesses can set up Nebula-compatible access points (APs) as a router or gateway capable of assigning IP addresses to wireless clients, such as customer or staff phones and laptops, reducing the overhead of additional network infrastructure for many small businesses.
In addition to GS1350 surveillance switches, Nebula also welcomes more products to the family, including new WiFi 6 APs (WAX610D, NWA210AX), XS1930 multi-gigabit switches and GS2220 aggregation switches, adding up to a total of 52 devices to its comprehensive product portfolio. For more information about the Zyxel Nebula, visit https://www.zyxel.com/nebula
About Zyxel Networks
Zyxel has been getting business and home users online for over 30 years, relying since Day 1 on innovation and customer-centric service. In 1989, this meant analog modems. Today, it means using AI and the cloud to deliver rapid, reliable, and secure networking solutions for business and home users.
Zyxel is a global force in the communications market with an unrivalled international presence that include:
- 150 markets served
- 1,000,000 businesses working smarter with Zyxel solutions
- 100 million devices creating global connections
We're building the networks of tomorrow, unlocking potential, and meeting the needs of the modern workplace—powering people at work, play, and life.
Zyxel, Your Networking Ally.