Zyxel Networks develops most comprehensive WiFi 6 AP portfolio for SMB market
As two new models join the Zyxel WiFi 6 AP family, small businesses can now achieve the true WiFi 6 experience at all frequencies with consistently high performance and fast connections
Hsinchu, Taiwan, 18 August 2020—Zyxel Networks, a leader in delivering secure, AI- and cloud-powered business and home solutions, today introduces two new models, the WAX610D and NWA210AX, to its WiFi 6 access point (AP) family, creating the most complete and comprehensive portfolio for the SMB market.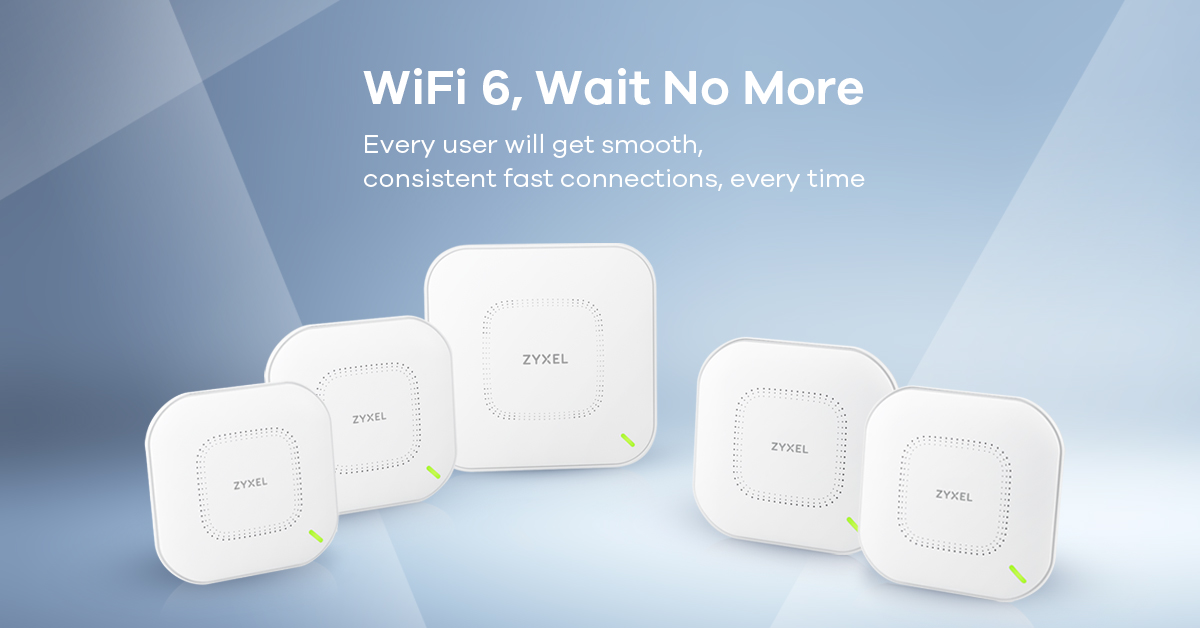 The roll-out of the new WiFi 6 standard boasts many benefits, including faster speeds and better connectivity. But some existing WiFi 6 APs aimed at SMBs only support the new standard on the 5GHz WLAN, due to cost-cutting. This means when users are connected to the 2.4 GHz frequency on those APs, their connection will be downgraded to the ten-year-old WiFi 4 technology, which delivers slower speeds and connections. Such downgrading will also slow down the 2.4 GHz spectrum refarming toward the more efficient WiFi 6 technology.
Unlock the full potential of WiFi's biggest upgrade in 10 years
The 2.4Ghz frequency is still important for SMBs as it is better suited to longer ranges and low density or less-congested environments, such as warehouses, retail environments and small stores. Supporting WiFi 6 in the lower frequency 2.4GHz band will provide its users with improved quality, less latency, reduced jitter, and nearly doubled throughput*.
The full range of Zyxel's WiFi 6 AP portfolio, including the new WAX610D, and NWA210AX, all offer true WiFi 6 technology across both 2.4Ghz and 5Ghz frequencies, backed by full OFDMA support. Each AP distributes powerful quad-core enterprise-grade performance from a Qualcomm A53 CPU, providing consistently smooth wireless delivery.
Prepare SMBs for the new normal
The range provides flexible management options including standalone, controller-managed, and Nebula cloud-managed, giving users the flexibility to meet the new workplace challenges in the new normal. The Nebula cloud management gives users the power to monitor and control their networks anywhere, anytime from one centralized interface, and its Wireless Health feature uses AI and machine learning to automatically diagnose and optimize wireless quality, saving net admins time and effort.
"When investing in a WiFi 6 access point, SMBs expect to reap the benefits of faster speed and connectivity for their business. Therefore it is important to choose an AP that provides the advantages of the WiFi 6 standard at both 2.4 and 5GHz. And that's just what Zyxel's WiFi 6 APs guarantee," comments Crowley Wu, Vice President of Zyxel's Networking SBU.
"With the two new models joining the family, we now offer the most comprehensive portfolio of WiFi 6 APs in the SMB market, ranging from entry-level affordable ones to high-end, performance-driven models that support smart antenna to meet the diverse applications and scenarios SMBs may require."
Recently, the flagship Zyxel Unified Pro WAX650S was award five stars in a review by UK magazine PC Pro and the Editor's Choice award from UK publication IT Pro. For more information about the Zyxel WiFi 6 AP family, visit https://www.zyxel.com/promotions/wifi6-promotion-20190930-807915.shtml
*Compared with APs that support WiFi 4 on the 2.4GHz.
About Zyxel Networks
Zyxel has been getting business and home users online for over 30 years, relying since Day 1 on innovation and customer-centric service. In 1989, this meant analog modems. Today, it means using AI and the cloud to deliver rapid, reliable, and secure networking solutions for business and home users.
Zyxel is a global force in the communications market with an unrivalled international presence that include:
- 150 markets served
- 1,000,000 businesses working smarter with Zyxel solutions
- 100 million devices creating global connections
We're building the networks of tomorrow, unlocking potential, and meeting the needs of the modern workplace—powering people at work, play, and life.
Zyxel, Your Networking Ally.