Zyxel Nebula unveils next-gen UI with sleek dashboard and more powerful features
Hsinchu, Taiwan, 13 January 2020—Zyxel announced today that it has released a major redesign of the Nebula Cloud Networking Solution. In addition to its stylish new user interface, which showcases aesthetic and usability enhancements, Nebula now features an array of intelligent management tools and even more device compatibility. The game-changing additions will make it easier for users to maximize the potential of their cloud networks.
Enhanced dashboard to empower users
Nebula devotees will immediately notice the update's focal point: a visually pleasing dashboard for the Nebula Control Center. The pristine, ivory backdrop lines up with the existing aesthetics of the Nebula app, achieving a consistent look and feel across devices.
Also being introduced is a dark mode for the entire Nebula interface. This will literally be a sight for sore eyes, providing a more comfortable user experience in environments where overly bright light from a monitor can cause undue strain on the eyes. Users will be able to switch between the bright and dark themes with a single click.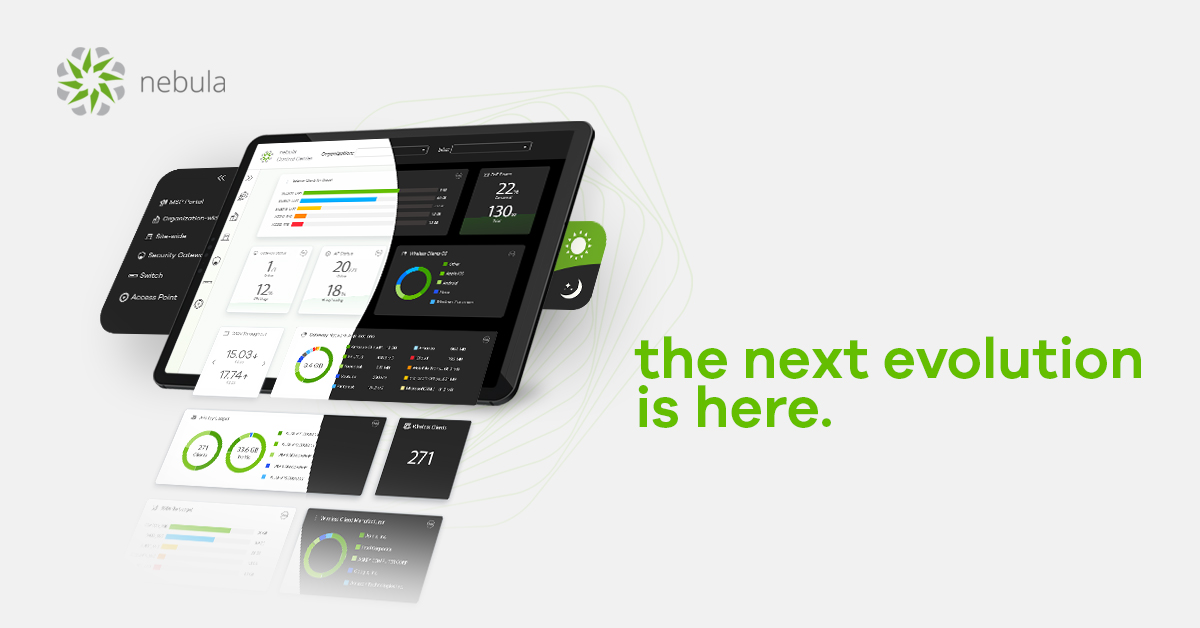 The improvements are not merely aesthetic. Inspired by feedback from Nebula users, the next-generation dashboard enhances usability by enabling virtually limitless customization, such as card-style widgets and What-You-See-Is-What-You-Get captive portal design for WiFi and gateways. With many more front-end additions, Nebula boasts better overall performance and a user experience that is peerless.
Smart, simple, and secure network connectivity
Nebula also has several new key features that are guaranteed to improve cloud management and save precious time. The startup wizard, which now supports gateway settings, ensures quick, complete, and easy network setup. Nebula's smart engine makes it even easier to correlate settings and events across the entire network. If a user wants to create a VLAN network with a guest SSID, Nebula will automatically guide the user through the gateway's VLAN interface settings. Additionally, when the scheduled PoE shutdown function is enabled on a switch to conserve energy, Nebula will know not to report an access point offline event for all APs connected to that switch.
A growing Nebula family for a faster, better future
The range of Nebula-supported devices has expanded to include the powerful WAX650S, NWA110AX, and WAX510D access points. All feature WiFi 6 (802.11ax) as well as beefed-up security, including MAC filtering for each SSID, the latest WPA3 WiFi standard, and dynamic VLAN assignment. The latter is perfect for larger school or business networks as it can separate users into multiple VLANs, insulating them for stronger security and also allowing easier management.
This release also welcomes the XS3800-28 switch to the cloud family. It is a full 10G aggregation switch that can serve as the core of a Nebula network. With the added convenience of cloud management, the switch is fully ready to deliver top-rate power and performance. For smaller networks, a 10G switch with fewer ports is scheduled to be rolled out in the coming months.
"Seeing its tremendous business potential, more and more vendors have been entering the market of cloud networking management, but only providing limited features and offerings," said Crowley Wu, Vice President of Zyxel's Networking SBU. "As a full-stack solution leader in SMB cloud networking management, Zyxel has already made great strides with the next-gen interface offered by our latest release of Nebula. By revamping the UI in a way that excites and empowers, all users can now get the most out of the Nebula experience."
For more information about Zyxel Nebula, visit: https://www.zyxel.com/nebula
To experience Nebula in real time, visit: https://nebula.zyxel.com
About Zyxel Networks
Focused on innovation and customer-centric technology and service, Zyxel has been connecting people to the Internet for over 30 years. Our ability to adapt and innovate with networking technology places us at the forefront of the drive to create connectivity for businesses and home users.
Zyxel is a global force in today's communications market with an unrivalled track record, including:
- 150 markets served
- 700,000 businesses working smarter with Zyxel solutions
- 100 million devices creating global connections
Today, Zyxel is building the networks of tomorrow, unlocking potential, and meeting the needs of the modern workplace — powering people at work, life, and play.
Zyxel, Your Networking Ally.