Zyxel named among TOP-5 network equipment vendors in Russia
The prestigious CRN/RE rating, a biennial recognition of achievements in information technology, has been published for the eighth time.
Hsinchu, Taiwan, 11 December 2018—Zyxel placed fourth in the latest publication of the "Russian IT Channel Champions" rating. The rating, produced by CRN/Russian Edition (CRN/RE), is based upon a broad survey of IT resellers, who evaluate vendors for specific product categories ranging from desktop computers to equipment for home and office networks.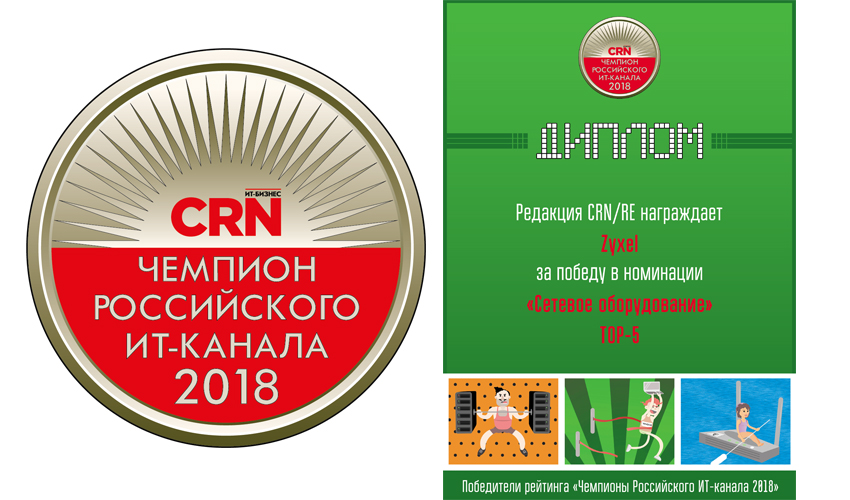 "We were happy to know that our partners appreciate the quality and support of Zyxel's channel," commented Dmitry Tanyukhin, Head of Channel Russia and CIS, Zyxel, on the rating. "The market is constantly changing, and the rules of business are not remaining the same. Online stores are cutting into the reseller industry. System integrators need more high-quality engineers and project architects. Every day, thousands of partners in Russia need the support of vendors. Working together as a team, providing the necessary level of support to customers, sensing the demands of the market and quickly responding to them—these are the responsibilities of any vendor. Zyxel has been successful because we take these responsibilities seriously, and it's why we have been honored with this impressive rating."
The "Russian IT Channel Champions" survey was held from May to October of this year. 343 reseller companies from 44 Russian cities participated in the survey. Top managers, purchasing and sales managers, members of business development teams, and marketing managers were among the survey participants. The respondents assessed the vendors' work according to the following criteria: "Product quality," "Quality-to-price (quality-to-performance) ratio," "Activity during product promotion," "Profitability of products," "Marketing support for partners," "Technical support for partners," "Service for the Customers," and "Partners training and certification."
More information about the rating and winners in other categories can be found on the CRN/RE magazine website.
About Zyxel Communications
Focused on innovation and customer-centric technology and service, Zyxel Communications has been connecting people to the Internet for nearly 30 years. Our ability to adapt and innovate with networking technology places us at the forefront of the drive to create connectivity for telcos and service providers as well as businesses and home users.
Zyxel is a global force in today's communications market with an unrivalled international presence that includes:
- 150 markets served
- 1,500 passionate associates
- 700,000 businesses working smarter with Zyxel solutions
- 100 million devices creating global connections
Today, Zyxel is building the networks of tomorrow, unlocking potential, and meeting the needs of the modern workplace—powering people at work, play, and life.
Zyxel, Your Networking Ally.