Zyxel leaves Taiwan Excellence Awards as networking industry's biggest winner
Leadership in emerging technologies, including WiFi 6 and 5G, garner Zyxel a trifecta of prizes
Hsinchu, Taiwan, 26 November, 2020—Zyxel and its innovative product lines have been recognized at the Taiwan Excellence Awards, with its next-generation WiFi 6 and 5G routers earning the company three separate honors – more than any other networking brand.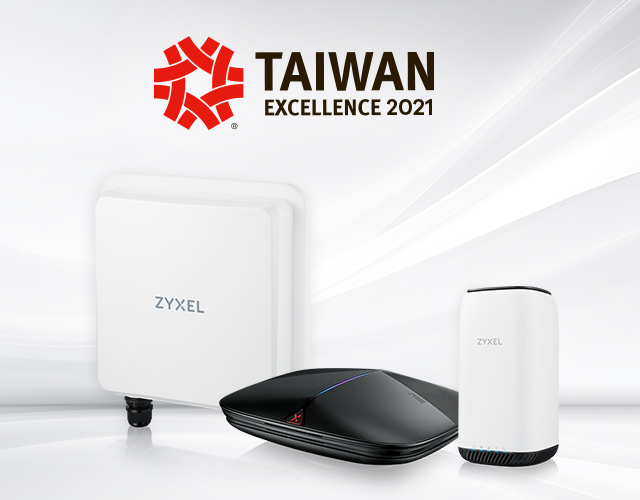 The awards, presented at a ceremony in Taipei on 25 November, marked the 16th consecutive year Zyxel has been honored at the event and increased its total prize haul to 95 awards.
This year's success comes as the result of Zyxel's forward-looking R&D in innovative technologies. In the past 12 months, the company has rolled out new lines of WiFi 6 and 5G products, which have already been deployed in offices, factories, schools, hotels, and homes worldwide.
And the winners are…
Zyxel's first award-winning product was the Armor G5 multi-gigabit router, which unleashes unprecedented data rates by utilizing WiFi 6. The new standard in connectivity is complemented by a 64-bit 2.2 GHz quad-core processor with 13 high-gain antennas, allowing the Armor G5 to handle more than 30 simultaneous connections without compromising on speed. The router also fully supports OpenVPN, allowing users to protect every connection and device on their network – even those that don't normally allow VPN protection, like smart TVs and gaming consoles.
Similarly, Zyxel was awarded for its NR5101 5G NR Indoor Router – one of the first solutions on the market for 5G new radio (NR) fixed wireless access (FWA). The router delivers robust bandwidth and low latency even to areas that fixed broadband cannot reach. By leveraging the latest 5G and WiFi 6 technology, it creates an ultra-high speed, dead zone-free WiFi experience for users.
Zyxel's final honor was for a router in the same ground-breaking product line: the NR7101 5G NR Outdoor Router. It features the same lightning-fast 5G-powered speeds as the NR5101 but comes specially built for toughness, with a hardened IP68-certified enclosure with industrial-grade components that can withstand even the harshest environment and weather conditions.
The Taiwan Excellence Awards were established by the Ministry of Economic Affairs in 1993 and recognize products that offer innovative value. Entries are judged on their achievements in R&D, design, quality, and marketing.
About Zyxel Networks
Zyxel has been getting business and home users online for over 30 years, relying since Day 1 on innovation and customer-centric service. In 1989, this meant analog modems. Today, it means using AI and the cloud to deliver rapid, reliable, and secure networking solutions for business and home users.
Zyxel is a global force in the communications market with an unrivalled international presence that include:
- 150 markets served
- 1,000,000 businesses working smarter with Zyxel solutions
- 100 million devices creating global connections
We're building the networks of tomorrow, unlocking potential, and meeting the needs of the modern workplace—powering people at work, play, and life.
Zyxel, Your Networking Ally.