Zyxel is only networking company named among Best Taiwan Global Brands 2020
Brand's recognition comes as forward-looking investments in WiFi 6, 5G, security, and cloud start to pay off
Hsinchu, Taiwan, 18 November 2020—Zyxel has surged above its industry peers to become the only networking company recognized in the 2020 Best Taiwan Global Brands survey.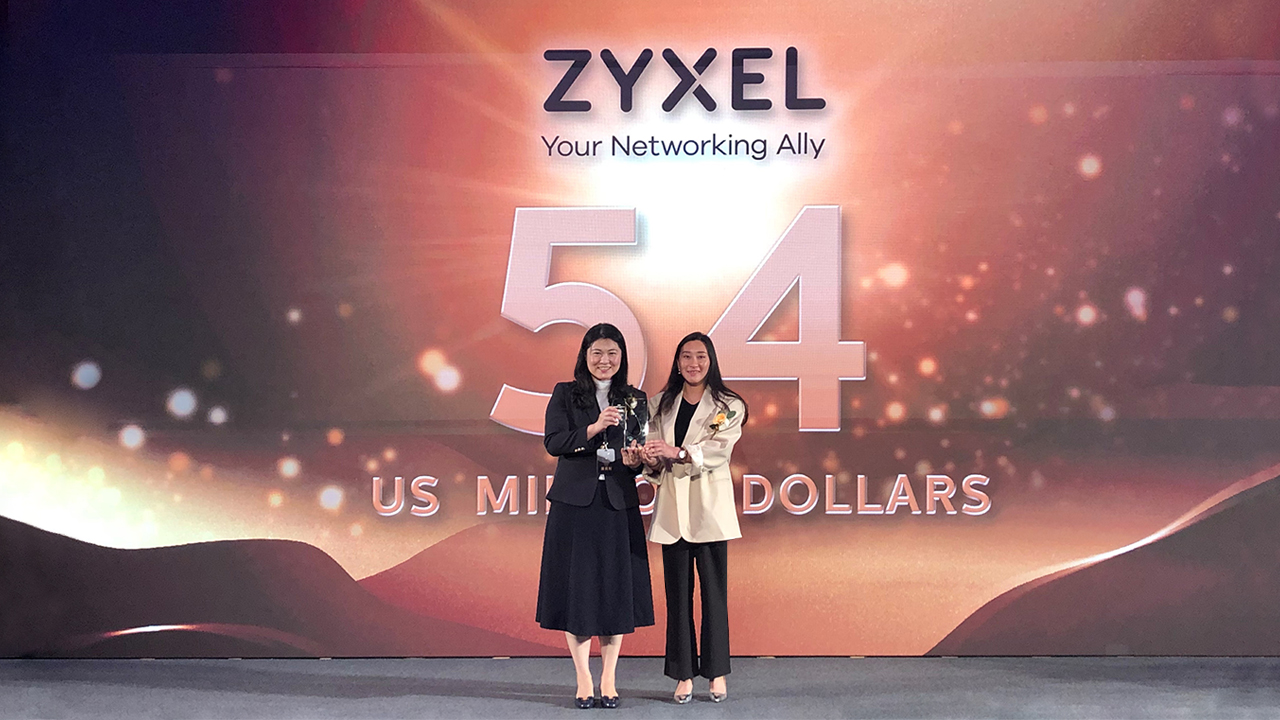 Ms. Irene Tsai (right), Marketing Director of Zyxel Networks, received the award from Ms. Pei Li Chen (left), Secretary General of Industrial Development Bureau of Taiwan.
The results, announced 17 November in Taipei, mark the 15th time that Zyxel has been recognized in the survey, which is organized by Taiwan's Ministry of Economic Affairs and celebrates the 25 most valuable Taiwanese brands, as calculated by Interbrand Consultancy. Zyxel also now has more Best Taiwan Global Brands honors than any other networking brand.
Zyxel's surging brand value has come as long-term R&D investments have entered the market just as these technologies are gaining mainstream momentum.
"This tremendously satisfying award is built on decades of industry leadership and reflects our commitment to embracing tomorrow's technologies," Zyxel President Gordon Yang said. "In the past few months, as the pandemic has sped up digital transformation in essentially every industry worldwide, we've had solidly designed products ready to launch precisely as their underlying technologies have gained traction and become relied-upon parts of our lives and economies."
"Our brand value is built on success in our core purpose of unlocking people's potential, and the revolutionary applications of our WiFi 6, 5G, security, and cloud solutions are freeing this potential on an unprecedented scale," Yang said.
New segments booming
The company has seen particular success in the SMB and telco sectors in recent years, he added, pointing to the warm reception of Nebula – the world's first cloud networking solution designed specifically for the SMB market. Complementing Nebula, Zyxel also offers the market's most comprehensive portfolio of WiFi 6 access points and multi-gigabit switches.
In addition, Zyxel has been leading the accelerating shift to 5G. This includes bringing the internet to areas that fixed lines cannot reach, which can now enjoy lightning-fast connections thanks to Zyxel's 5G fixed wireless access range.
Interest has also been ramping up for cybersecurity solutions, particularly high-end ATP firewalls that defend SMBs from zero-day attacks, and the recently launched USG FLEX firewalls that provide connectivity and security in one box. The entire firewall range won the 20-Year Award for Excellence in Information Security Testing from ICSA Labs earlier in 2020, making Zyxel one of only five industry heavyweights worldwide to have received the distinction.
Implemented by consultancy Interbrand, the annual Best Taiwan Global Brands survey examines candidates from an array of industries in Taiwan, evaluating key factors including financial performance, the role the brands play in purchasing decisions, and each brand's competitive strengths and ability to create loyalty and sustainable demand and profit into the future.
About Zyxel Networks
Zyxel has been getting business and home users online for over 30 years, relying since Day 1 on innovation and customer-centric service. In 1989, this meant analog modems. Today, it means using AI and the cloud to deliver rapid, reliable, and secure networking solutions for business and home users.
Zyxel is a global force in the communications market with an unrivalled international presence that include:
- 150 markets served
- 1,000,000 businesses working smarter with Zyxel solutions
- 100 million devices creating global connections
We're building the networks of tomorrow, unlocking potential, and meeting the needs of the modern workplace—powering people at work, play, and life.
Zyxel, Your Networking Ally.