Zyxel introduces new multigigabit switch for home-based professionals and content creators
Eliminate network bottlenecks, and connect WiFi 6 devices, 10G servers, new laptops and desktops at full speed
Hsinchu, Taiwan, 23 February 2021—Zyxel Networks, a leader in delivering secure, AI- and cloud-powered home and business solutions today announced the release of the XGS1250-12, the twelve-port web-managed multigigabit switch that allows work-from-home professionals, content creators, and small businesses to unlock the full potential of their WiFi 6 access points and routers. They can also make the most of their iMac Pros, 10G servers, NAS devices, new laptops and desktops that already support multigigabit speed.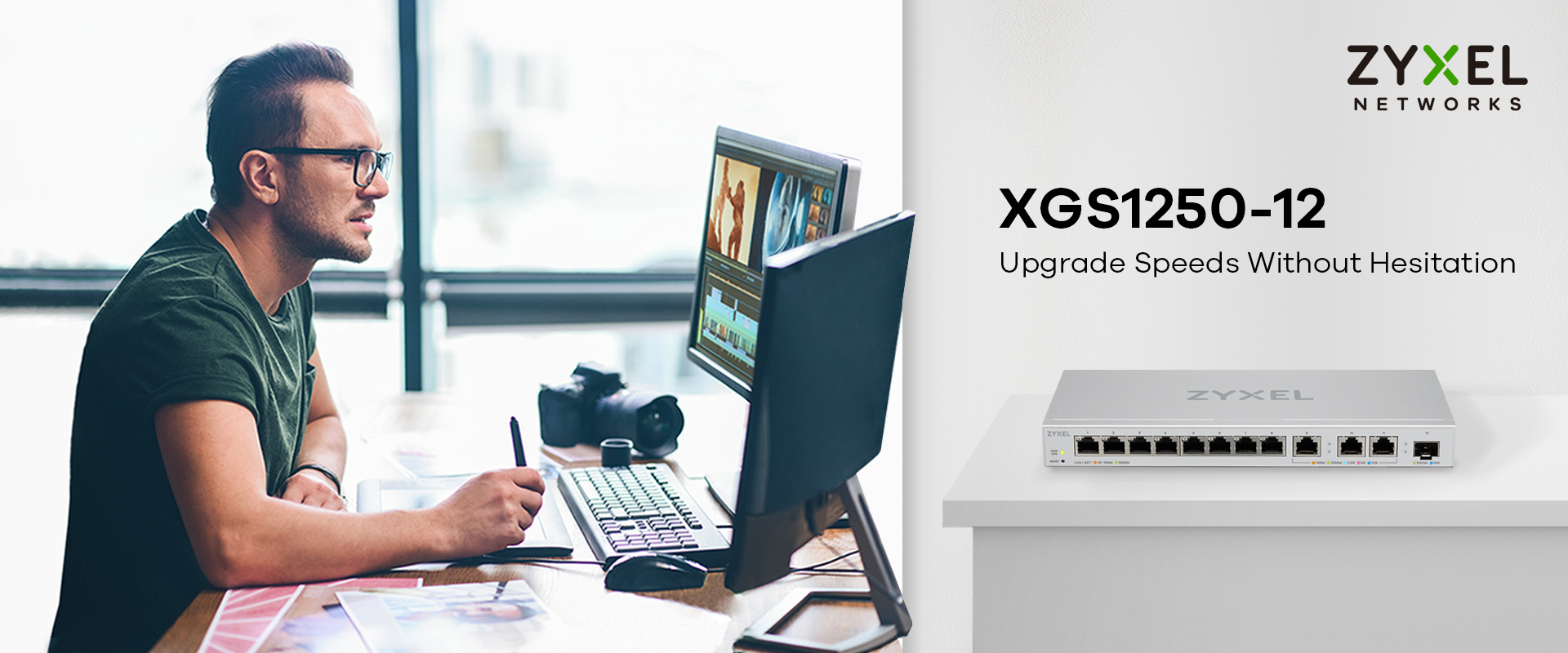 Goodbye to rigid port options and network bottlenecks
Breaking away from the limited options of just one or two 10G ports, which most desktop switches on the market currently deliver, Zyxel's offering comes with up to four 10G ports (three multigigabit ports and one SFP+ port) that enables users to connect easily to more multigigabit devices free from the constrain of network bottlenecks.
Taking the hassle out of the desktop switch
Built with content creators, small businesses and home-based professionals in mind, Zyxel has made it easy for the user to set up and get going. Smart functions such as QoS, VLAN, Link aggregation, and IGMP snooping that offer a smooth network experience are managed through XGS1250-12's intuitive web-based interface.
The network switch is also easy to install, forgoing the need to re-cable to upgrade to a multigigabit network. Instead, customers can utilize their existing cables as it supports Cat 5e, Cat 6, and Cat 6a cable specs.
Additionally, the XGS1250-12's smart fan design delivers high-performance operation at a suitable temperature and whisper-silent, ideal for office or home desktop placement.
"By expanding our range of switches, Zyxel has given freedom and flexibility back to those who have otherwise been restricted by limits placed on their devices due to bottlenecks and increased network demand from working from home, video calling and more. With our new offering, users can benefit from faster and more reliable speeds, enabling them to harness the full potential of their internet connection, and work with ease," comments Crowley Wu, Vice President of Zyxel's Networking SBU.
The latest addition to the comprehensive multigigabit switch lineup
The XGS1250-12 joins Zyxel's comprehensive portfolio of multigigabit switches, which includes unmanaged, managed and cloud-managed options, offering something for everyone – from home users to SMBs. Find out more about the multigigabit switches portfolio at https://www.zyxel.com/products_services/smb-switches.shtml?t=c
About Zyxel Networks
Zyxel has been getting business and home users online for over 30 years, relying since Day 1 on innovation and customer-centric service. In 1989, this meant analog modems. Today, it means using AI and the cloud to deliver rapid, reliable, and secure networking solutions for business and home users.
Zyxel is a global force in the communications market with an unrivalled international presence that include:
- 150 markets served
- 1,000,000 businesses working smarter with Zyxel solutions
- 100 million devices creating global connections
We're building the networks of tomorrow, unlocking potential, and meeting the needs of the modern workplace—powering people at work, play, and life.