Zyxel debuts industry's first tri-mode management in new hybrid switch
The GS2220 series can be managed via cloud, CLI, or SNMP, giving businesses the power and flexibility to adapt to the new normal
Hsinchu, Taiwan, 6 July 2020—Zyxel Networks, a leader in delivering secure, AI- and cloud-powered business and home solutions, today unveiled its new GS2220 series layer 2 hybrid switches, providing education and enterprise networks with exceptional performance paired with unprecedented flexibility in the form of industry-first tri-mode management via the cloud, command line interface (CLI), and Simple Network Management Protocol (SNMP).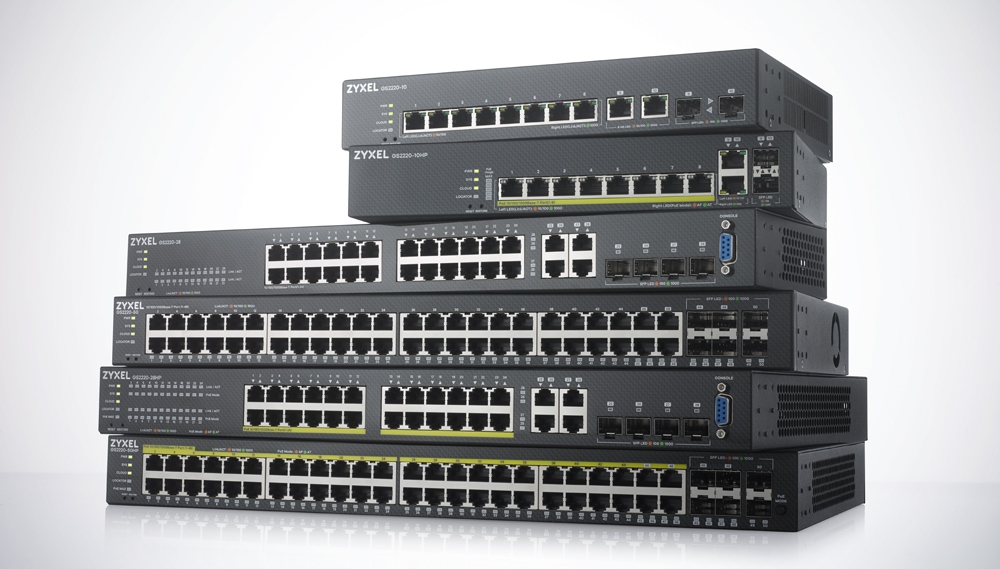 The GS2220 series is the successor of Zyxel's most popular Layer 2 switch, the GS2210 series.
"The disruption wrought by the COVID-19 pandemic has been a stark reminder of the value of having flexible management options that are ready for any scenario," said Crowley Wu, Vice President of Zyxel's Networking SBU. "Having a reliable network with zero-touch provisioning allows network admins to keep social distancing during this critical period of time."
The star of the tri-mode switch is Zyxel's Nebula cloud management, which gives admins the power to monitor and control their networks anywhere, anytime from one centralized interface. And Nebula is designed with business in mind, delivering more efficient deployment, configurability, and analysis.
All GS2220 switches come with a one-year free Nebula Pro license, so that businesses can get familiar with the benefits of remote, centralized cloud management now, and that they are futureproofed with a ready-to-roll solution when the time comes to migrate to the cloud.
When cloud management isn't the best fit, admins can opt for on-premises CLI management – a mode that offers deep granularity and full read/write access. Alternatively, there is SNMP management mode, which comes with a complete management information base and makes it a breeze to manage devices from various brands across networks.
Stable, silent, and compact
Layer 2 switches are bearing the growing burden of convergence as networks unify data, voice, video, e-commerce, and other applications. This means stability is king for L2 switches, and Zyxel has integrated notable hardware and software upgrades into the GS2220 accordingly. The switches are also built tough as nails for extra reliability, with highlights including 2x and 4x stronger protection for electrical discharges and surges, respectively.
In addition, the switches can be comfortably placed in offices and other low-noise workplaces thanks to their new whisper-quiet fanless design. Finally, the GS2220 outdoes other PoE switches on size, with a compact footprint that leaves plenty of rack or desktop space.
Complete port support
The GS2220 series' flexibility extends beyond management to its ports. The switches support all L2 switching applications by offering up to 44 Gigabit RJ45 ports along with Gigabit copper/fiber-optic combo ports or two SFP ports. Models with smaller port counts are also available for networks looking to use more advanced L2 management features on the access layer.
For more information, please visit https://www.zyxel.com/products_services/10-28-50-port-GbE-L2-Managed-Switch-GS2220-Series/ .
About Zyxel Networks
Zyxel has been getting business and home users online for over 30 years, relying since Day 1 on innovation and customer-centric service. In 1989, this meant analog modems. Today, it means using AI and the cloud to deliver rapid, reliable, and secure networking solutions for business and home users.
Zyxel is a global force in the communications market with an unrivalled international presence that include:
- 150 markets served
- 1,000,000 businesses working smarter with Zyxel solutions
- 100 million devices creating global connections
We're building the networks of tomorrow, unlocking potential, and meeting the needs of the modern workplace—powering people at work, play, and life.
Zyxel, Your Networking Ally.