Zyxel brings 10G LAN to home/SOHO networks
Managed and unmanaged Multi-Gigabit Switches deliver high network speeds for prosumers and small office environments
Hsinchu, Taiwan, 11 February 2020—Zyxel Networks, a leader in delivering secure, AI- and cloud-powered home and business solutions, today announced the launch of a portfolio of multi-gigabit products designed to eliminate network speed bottlenecks in home and SOHO networks—the XGS1210-12 Twelve-Port Web-Managed Multi-Gigabit Switch, XGS1010-12 Unmanaged Switch with Two-Port 2.5G and Two-Port 10G SFP+, and XGN100C and XGN100F network adapter cards that make it easy to upgrade existing PCs and workstations to 10G speed.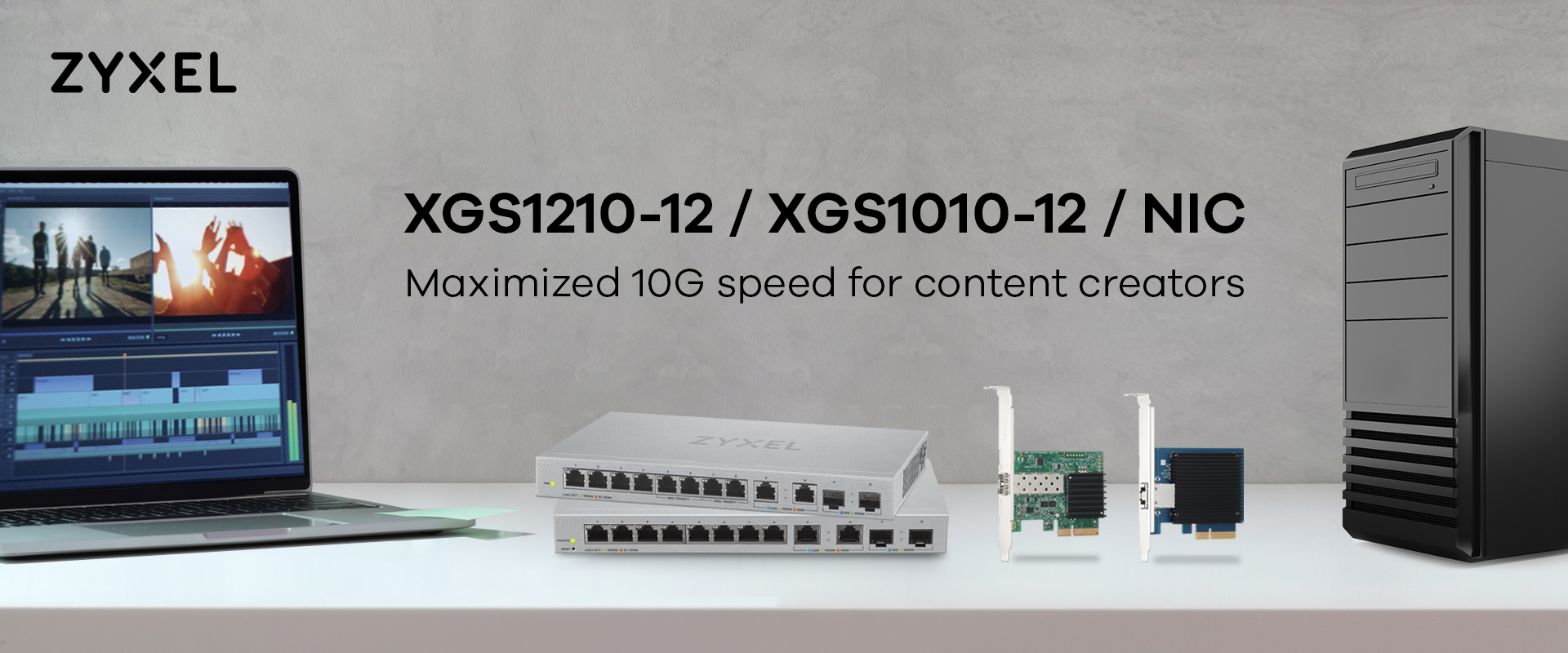 Easily upgrade network to 10G speed to maximize productivity of content creators
The new twelve-port managed XGS1210-12 and unmanaged XGS1010-12 Gigabit switches are designed for prosumers and creators in home and SOHO environments who require ultra-fast network speeds for bandwidth-intensive applications such as graphic design, video production/streaming, and animation, or for transferring large files to servers, NAS or other devices. Port speeds up to 10Gbps support the full data throughput capabilities of next-generation WiFi 6 devices and eliminate connection bottlenecks between wireless devices and the wired network.
Features and benefits of the XGS1210-12 and XGS1010-12 Multi-gigabit switches include:
Multi-speed interface and port connections–Each switch features eight Gigabit ports and two 2.5Gbps RJ-45 copper ports to support a diverse array of applications and devices. Two 10Gbps SFP+ ports provide a high-speed uplink to the network backbone, or deliver ultra-fast connections to network-attached storage devices or work stations.
QoS (Quality of Service)–Different priorities can be assigned to different applications, users, or video/voice/data flows to guarantee network availability and maximum performance for critical applications or personnel.
Link aggregation–Multiple ports on the XGS1210-12 can be combined to make a single high-bandwidth data path to deliver faster data speeds for large file transfers and to enhance connection reliability.
Durable and quiet–The switches are housed in a wall-mountable metal case for durability and ease of deployment; fan-less design ensures quiet operation for home and SOHO environments.
Ease-of-use–The unmanaged XGS1010-12 is a pure plug-and-play switch, while the XGS1210-12 utilizes a user-friendly web-based graphical management interface for fast deployment and ease-of-management.
"As the applications used by prosumers become more complex and advanced, they are straining the network infrastructures in home and SOHO environments and causing traffic bottlenecks in the once-capable gigabit infrastructure," stated Bill Su, AVP of Zyxel's Smart Living Business Unit.
"Our new managed and unmanaged 10G switches, combined with the new 10G PCIe network cards make it fast, easy and affordable to migrate the existing network to 10G speeds. By eliminating the network speed bottlenecks, productivity and network reliability are greatly increased. As the adoption of WiFi 6 technology increases, upgrading the network to provide multi-gigabit performance will become critical to support the speeds delivered by the new wireless technology."
For more information please visit: https://www.zyxel.com/products_services/12-Port-Web-Managed-Multi-Gigabit-Switch-with-2-Port-2-5G-and-2-Port-10G-SFP--XGS1210-12/ and https://www.zyxel.com/products_services/12-Port-Unmanaged-Multi-Gigabit-Switch-with-2-Port-2-5G-and-2-Port-10G-SFP--XGS1010-12/
About Zyxel Networks
Focused on innovation and customer-centric technology and service, Zyxel has been connecting people to the Internet for over 30 years. Our ability to adapt and innovate with networking technology places us at the forefront of the drive to create connectivity for businesses and home users.
Zyxel is a global force in today's communications market with an unrivalled track record, including:
- 150 markets served
- 700,000 businesses working smarter with Zyxel solutions
- 100 million devices creating global connections
Today, Zyxel is building the networks of tomorrow, unlocking potential, and meeting the needs of the modern workplace — powering people at work, life, and play.
Zyxel, Your Networking Ally.