Businesses receive boost to security with Zyxel's latest VPN solution
With the ZyWALL VPN1000, MSPs and VARs gain access to one total solution to manage all deployment needs and scale for small to large businesses
Hsinchu, Taiwan, 22 January 2020 — Zyxel today introduces its most comprehensive VPN offering, the ZyWALL VPN1000 . The all-in-one security solution allows small and medium business owners to safely access and transfer information across multiple locations or hybrid clouds with ease.
As the threat of cybercrime continues to grow, small and medium-sized businesses (SMB) are struggling to meet their security needs, especially if they need to provide secure communication and protection across multiple branches. The ZyWALL VPN1000 solves this problem with a total security solution that offers easy to deploy connectivity, SD-WAN and security capabilities.
Supporting all main VPN connection types, the newest addition to the ZyWALL VPN family manages IPSec, L2TP, SSL & TLS and PPTP, as well as site-to-site and client-to-site topologies. Whether a business needs to let a remote worker access the company network or allow multiple branch teams share reports to HQ, they can be sure data is always encrypted and transmitted securely across the network.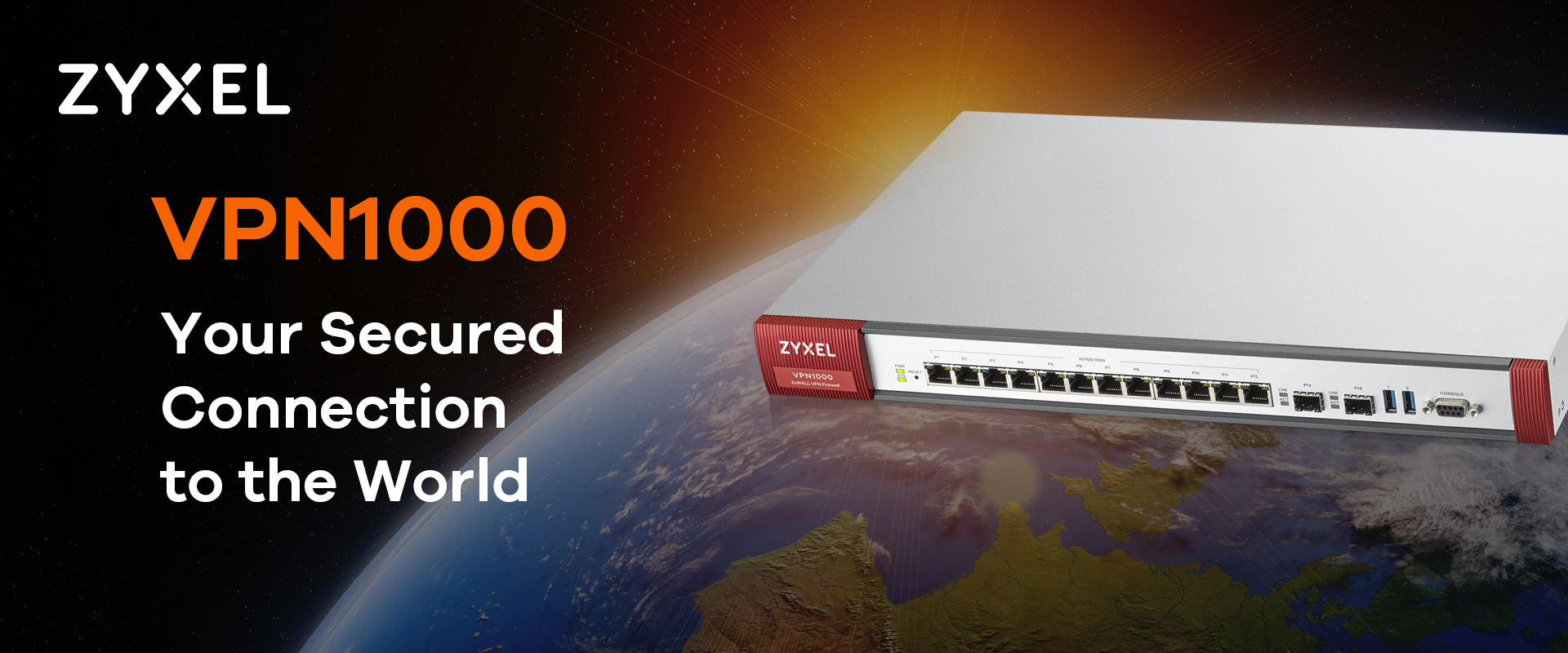 The power of SD-WAN connectivity performance
The ZyWALL VPN1000 also comes bundled with a one-year SD-WAN license. This means businesses can access both standalone and Nebula Orchestrator (SD-WAN) modes.
While some SD-WAN solutions use load-balancers to optimize connectivity performance – where users need to repetitively configure firewalls one by one – Zyxel's SD-WAN-enabled products leverage a centralized control function. With this, users can securely and intelligently direct traffic across the WAN and increase application performance, resulting in a better user experience, increased business productivity and reduced IT costs.
Twelve months of free security services
As well as providing solid VPN and SD-WAN features, the ZyWALL VPN1000 provides easy-to-deploy business network security including a firewall with content filter, a fully-integrated security subscription service with URL and HTTPS domain filtering and safe search. The product also comes with Zyxel's GeoEnforcer, which identifies the origin of incoming traffic.
Hybrid-cloud support is also included, and the validated gateway offers a straightforward configuration that is far easier for businesses who want to connect to public cloud infrastructures, such as AWS VPC or Microsoft Azure.
"The arrival of the ZyWALL VPN1000 provides small and medium businesses with unrivalled security, speed and agility, all in one product. This high-end offering in our VPN firewall product portfolio makes it easier for MSPs, VARs or multi-site businesses to serve larger-scale networks, and protect their data," comments Inchen Lin, AVP of Zyxel's SD-WAN Business Center.
The ZyWALL VPN1000 featuring SD-WAN is the latest offering in Zyxel's comprehensive range of VPN devices, which also includes the VPN50, 100 and 300. This range means businesses or deployment scale models, from small to large, will be able to find the VPN to best fit their needs. For more information, please visit: www.zyxel.com/vpn1000
About Zyxel Networks
Focused on innovation and customer-centric technology and service, Zyxel has been connecting people to the Internet for over 30 years. Our ability to adapt and innovate with networking technology places us at the forefront of the drive to create connectivity for businesses and home users.
Zyxel is a global force in today's communications market with an unrivalled track record, including:
- 150 markets served
- 700,000 businesses working smarter with Zyxel solutions
- 100 million devices creating global connections
Today, Zyxel is building the networks of tomorrow, unlocking potential, and meeting the needs of the modern workplace — powering people at work, life, and play.
Zyxel, Your Networking Ally.