Zyxel teams up with IC design leader ASPEED to offer powerful end-to-end AV-over-IP solution
Purpose-built for sports events, restaurants, schools, and control centers
Hsinchu, Taiwan, 8 December 2020—Zyxel Networks, a leader in delivering secure AI- and cloud-powered business and home networking solutions, today announced a partnership with fabless IC design company ASPEED, a pioneer in AV extension solutions. The partnership will provide greater interoperability in Zyxel's specialized Networked AV mode on a wide portfolio of switches, enabling them to work seamlessly with all ASPEED-powered professional AV extenders.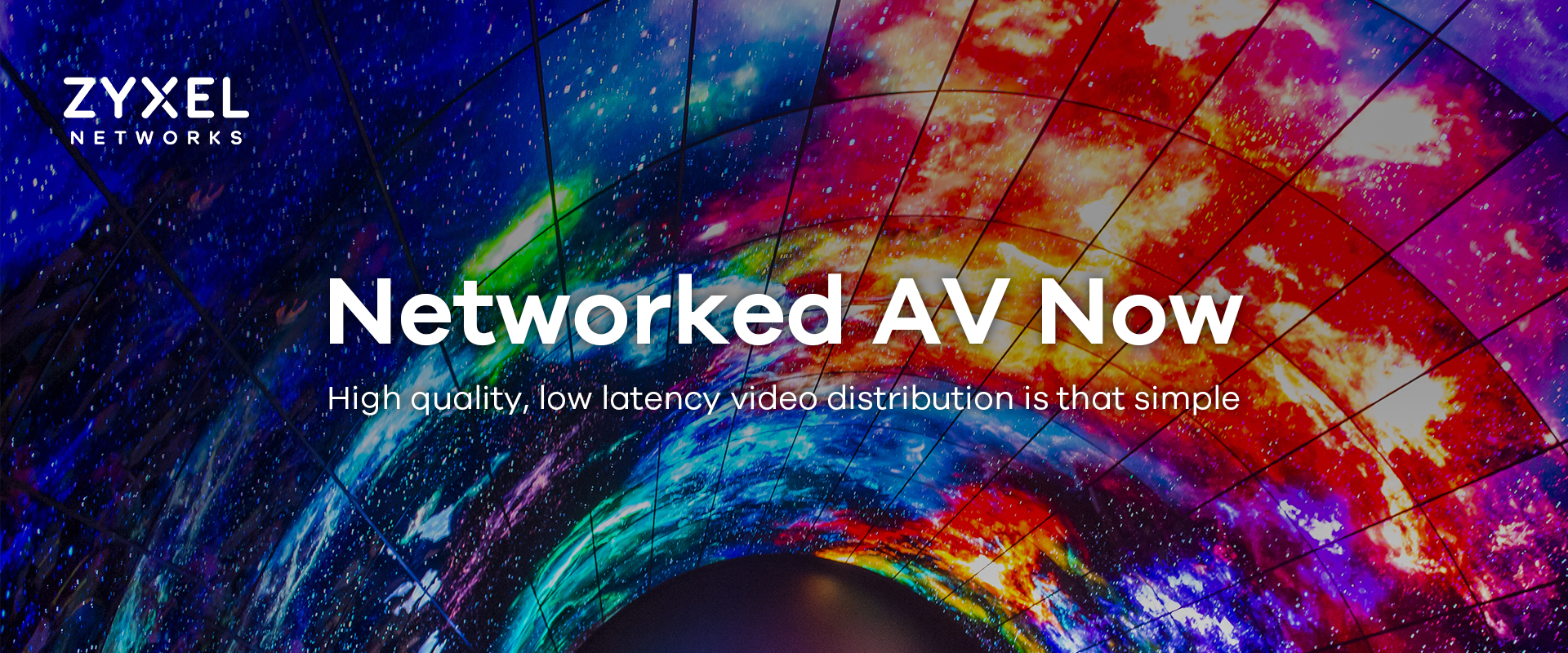 For system integrators and VARs in the AV industry, migrating an HDMI-cabling-based AV application to IP-based infrastructure is highly appealing, as it brings more scalability and flexibility for installation, better audio and video over IP (AVoIP) experiences, and lower equipment costs. However, the migration can turn into an expensive headache due to the prohibitive expertise required to set up a quality multicast network that can smoothly handle AV applications.
Bringing down the technical barrier
With ASPEED's leading role in AVoIP IC design and its adoption in most AV extenders on the market, the partnership will ensure seamless interoperability between Zyxel's network switches and the majority of AVoIP equipment. For channel partners, this makes deploying IP-based networks significantly easier, faster, and less painful.
Purpose-built to streamline management
Commercial network switches today offer abundant networking features such as security, routing, manageability, and redundancy, all of which are critical in setting up a network backbone for applications, such as business networks, education, and hospitality. However, when it comes to high-performance streaming, AV networks have different sets of needs.
Through this partnership, Zyxel's latest debut Networked AV mode inside the switches can easily save setup efforts when connecting with ASPEED-powered AV extension products. It includes a setup wizard and the most commonly utilized features for networked AV services. In addition, the new Networked AV dashboard presents the most useful elements – including port, system, bandwidth, and multicast setting status – so users can instantly view all critical information while operating their AV networks.
"By combining Zyxel's more than 30 years of networking expertise with ASPEED's profound experience in AV applications, this partnership will provide VARs, system integrators, and channel partners in the pro AV industry with a simpler and painless transition to AVoIP network infrastructure, making for a better viewing experience for schools, sports bars, video wall displays, and more," said Crowley Wu, Vice President of Zyxel's Networking SBU.
"Thanks to our long-term commitment to 1GbE AVoIP solutions, ASPEED has successfully maintained a leading position in this area," said Luke Chen, ASPEED Vice President of Sales. "Since more and more applications such as pro AV and video wall systems are moving to the 1GbE segment, we are optimistic toward the development of the 1GbE AVoIP market."
"ASPEED is glad to join forces with industry partner Zyxel to work together on AVoIP solutions. High-performance audio and video services need to be built on a reliable network infrastructure so customers can experience faster migration to IP-based networking. AV networkers can benefit from Zyxel's unique Networked AV mode to lower the OPEX for network installation and maintenance," Chen added.
The Networked AV mode is already available for Zyxel's GS2220 series GbE Layer 2 managed switches, starting from firmware v4.70. It will also soon become available for the XGS2210 series and XS3800-28 managed switches. Visit https://www.zyxel.com/solutions/Networked-AV-Solution-20200821-989148.shtml to find out more about the Networked AV mode.
About Zyxel Networks
Zyxel has been getting business and home users online for over 30 years, relying since Day 1 on innovation and customer-centric service. In 1989, this meant analog modems. Today, it means using AI and the cloud to deliver rapid, reliable, and secure networking solutions for business and home users.
Zyxel is a global force in the communications market with an unrivalled international presence that include:
- 150 markets served
- 1,000,000 businesses working smarter with Zyxel solutions
- 100 million devices creating global connections
We're building the networks of tomorrow, unlocking potential, and meeting the needs of the modern workplace—powering people at work, play, and life.
Zyxel, Your Networking Ally.