Zyxel launches industry's first five-color LED smart managed switch to help businesses adopt WiFi 6 standard with ease
The XS1930 series Multi-Gigabit switch offers businesses flexible network speeds, better connectivity and a unique speed-coded LED display, for enhanced user-friendliness and experience
Hsinchu, Taiwan, 25 May 2020 —Zyxel Networks, a leader in delivering secure, AI and cloud-powered home and business solutions, today launches the new XS1930 series 10/12-port Multi-Gigabit Smart Managed Switch, designed to help small and medium businesses achieve greater network flexibility and take full advantage of the latest WiFi 6 technology.
Although the roll-out of the new WiFi 6 standard boasts a lot of benefits for businesses, including faster speeds and better connectivity, it also puts a greater strain on existing bandwidth capabilities. Multi-Gigabit network switches are key to delivering a reliable network backbone to help companies unlock the full potential of WiFi 6 when they're ready for the upgrade.
Light up the speed
Most gigabit switches typically only provide either 1G or 10G link speeds, limiting the flexibility when looking to add 2.5G or 5G devices for new applications. Zyxel's latest Multi-Gigabit switch, the XS1930 series, supports variable speeds - from 100M, 1G, 2.5G, 5G to 10G - to best suit the applications and devices that require various network speeds in SMB offices. When upgrading to the XS1930, businesses can use their existing cables to best utilize the previous network investment and also be well prepared for future network expansion.
Having devices of various speeds, cable length, and cable quality in a network often results in mixed performance that makes it hard to tell the actual speed of each connection. The XS1930 series features the industry's first five-color LED design, which flashes one color per speed to help network administrators easily identify the actual network performance. This makes it easier to recognize port speed by colors, with the maintenance indicators much more intuitive and user-friendly.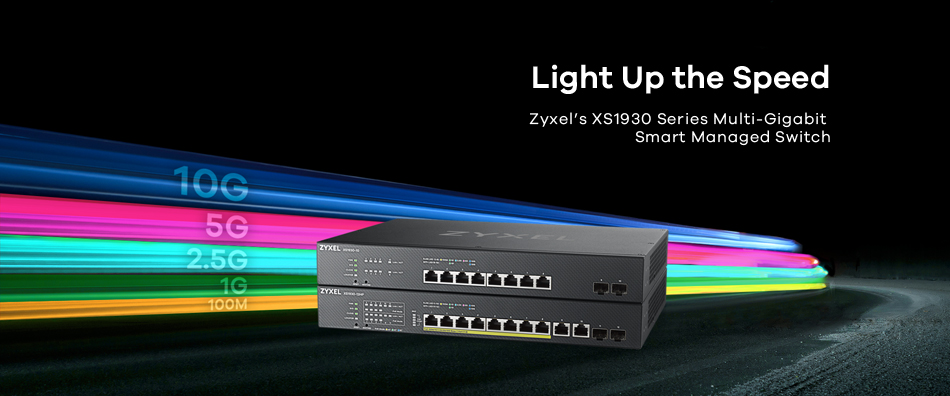 The growing adoption of mobile, IoT and WiFi 6 devices and their diversified applications have also raised the bars of power requirements on the network backbone. The XS1930-12HP supports the latest IEEE 802.3bt (PoE++) standard, with a large power budget of up to 375W to accommodate the high-power requirement needed by most WiFi 6 devices.
"SMBs now face an increasing demand of wireless bandwidth for daily operations, and the migration to WiFi 6 further accelerates this trend. Upgrading to a better performing WiFi network without compromising the solid backbone services can be challenging, and our new Multi-Gigabit Switches are designed to bring the network performance you need with investment protected." comments Crowley Wu, Vice President of Zyxel Networks' Networking SBU.
The XS1930 series also integrates with Zyxel NebulaFlexTM, giving users the flexibility to switch between standalone mode and Zyxel's Nebula cloud. Current Nebula users can reap the full benefits of WiFi 6 with a complete solution range from the wireless edge to the backbone.
With the high bandwidth and large power budget that the XS1930 Switch offers, it can operate at 28-50 dBA – which is almost silent, making it ideal for small offices, boutique hotels, hostels or public-facing businesses. The XS1930 series includes 2 models, the XS1930-10 with 8 Multi-Gig ports and 2 Fiber uplinks and the XS1930-12HP with 8 Multi-Gig PoE ports, 2 Multi-Gig ports and 2 Fiber uplinks.
For more information about the XS1930 series, please visit: https://www.zyxel.com/products_services/10-12-port-Multi-Gigabit-Smart-Managed-Switch-XS1930-Series/
About Zyxel Networks
Zyxel has been getting home and business users online for over 30 years, relying since Day 1 on innovation and customer-centric service. In 1989, this meant analog modems. Today, it means using AI and the cloud to deliver rapid, reliable, and secure networking solutions for home and business.
Zyxel is a global force in the communications market with an unrivalled international presence that include:
- 150 markets served
- 1,000,000 businesses working smarter with Zyxel solutions
- 100 million devices creating global connections
We're building the networks of tomorrow, unlocking potential, and meeting the needs of the modern workplace—powering people at work, play, and life.
Zyxel, Your Networking Ally.