ZyXEL's WAC6503D-S Named a 2015 CRN<sup>&reg</sup>Product of the Year
WAC6500 Series Honored in SMB Networking Category
Dec. 11, 2015 – Hsinchu, Taiwan - ZyXEL Communications announced that The Channel Company's technology review arm, CRN® Test Center, named its WAC6503D-S a 2015 Product of the Year. Recognized companies represent best-in-breed technological innovation backed by a supportive channel partner program. The WAC6503D-S received the award for SMB Networking.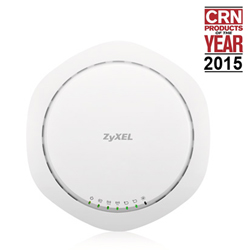 The WAC6503D-S is the flagship model of ZyXEL's WAC6503D-S 11ac Business Class Access Points which include the WAC6502D-E (external antenna model), WAC6502D-S (smart antenna model), and WAC6553D-E (outdoor model). This adaptive technology computes and changes signal patterns dynamically to enhance signal accuracy over both the 2.4 and 5 GHz frequency bands. Smart Antenna technology is compatible with all existing clients and helps businesses obtain better Wi-Fi coverage while using fewer access points.
"With more wireless devices putting pressure on wireless infrastructure, the WAC6503D-S provides an upgrade path not only to take advantage of 802.11ac performance, but also to increase device association capacity in a given coverage area. This gives channel partners a powerful and cost effective solution for upgrading existing 11g or 11n deployments to the latest technology and the benefits that come with it," says Crowley Wu, AVP of ZyXEL Networking Business Unit. "These access points are flexible, making it easy for partners to manage and deploy."
"Technical excellence in products that have the ability to drive sales and create an immediate and long-lasting impact on a solution provider's business, backed by a technology vendor that understands and supports the channel, is a winning combination deserving recognition," said Robert Faletra, CEO of The Channel Company. "We salute our Product of the Year honorees for their determination to create products that provide real value and their desire to support the channel as their go-to-market strategy."
Throughout the year, CRN provides in-depth coverage of an extensive array of products across a wide range of categories. CRN's annual Product of the Year awards are selected by editors from among that pool. Products are recognized for a number of factors, including quality, uniqueness of features, ease of setup and use, and ability to increase worker productivity and reduce cost and complexity for solution providers, IT departments and end users.
The 2015 Products of the Year are featured in the December 2015 issue of CRN and can be viewed online at crn.com/poty
ZyXEL Communications Corp.
Founded in 1989, with over a quarter-century of innovations, ZyXEL Communications Corp. is a world-class networking company providing comprehensive and reliable Internet solutions. Delivering cutting-edge communications innovations to more than 400,000 businesses and 100 million consumers worldwide, today ZyXEL is one of the few companies in the world capable of offering complete networking solutions on broadband access, commercial networking, and home connectivity for Telcos, business, and home users. With a strong local presence in 150 markets around the world, ZyXEL is the ideal partner to deliver tailor-made solutions to meet customers' local needs.