ZyXEL's Business Wi-Fi AP Garners Awards across Asia, Europe and the U.S.
802.11ac speed combined with smart antenna technology powers businesses with ultimate Wi-Fi
Mar. 8, 2016 – Hsinchu, Taiwan - ZyXEL Communications announced today that its 802.11ac Dual Radio Unified Pro Access Point, the WAC6500 Series, garnered awards from Asia, Europe and the United States for bringing together innovation, applications and a supportive channel partner program that helps businesses grow with powerful Wi-Fi.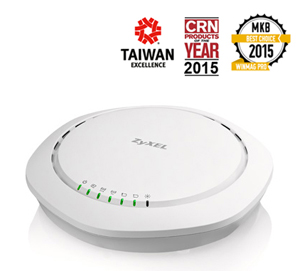 The recognitions include The 24th Taiwan Excellence Awards given by the Ministry of Economic Affairs of the Taiwan government; the MKB Best Choice 2015 in the Hardware Solution category awarded by WINMAG Pro of the Netherlands; and the 2015 Product of the Year in the SMB Networking category by CRN® Test Center of The Channel Company of the U.S.
"With the WAC6500 we wanted to offer a well-rounded solution that satisfies all the Wi-Fi needs a small to medium-sized business could possibly ask for," said Crowley Wu, Senior AVP of ZyXEL Networking Business Unit. "An increasing amount of wireless devices are making their way to business networks today, and this has put great pressure on the wireless infrastructure."
ZyXEL stated that the WAC6500 Series Wi-Fi access point boasts the latest 802.11ac and smart antenna technology, which dynamically computes and changes signal patterns for better signal accuracy. "It helps businesses obtain better Wi-Fi coverage while using fewer access points. We used to roam around the office to seek stronger Wi-Fi. With WAC6500, now Wi-Fi just comes to you." added Crowley Wu.
Another advantage the WAC6500 offers is freeing users from having to perform a site survey when upgrading from existing 802.11g/n to the faster 802.11ac Wi-Fi, which can be time-consuming and can sometimes require extra help.
The WAC6500 is the flagship series of ZyXEL's 802.11ac Business Class Access Points which includes the WAC6503D-S, WAC6502D-S (smart antenna models), WAC6502D-E (external antenna model), and WAC6553D-E (outdoor model).
For more information, please visit ZyXEL.
ZyXEL Communications Corp.
Founded in 1989, with over a quarter-century of innovations, ZyXEL Communications Corp. is a world-class networking company providing comprehensive and reliable Internet solutions. Delivering cutting-edge communications innovations to more than 400,000 businesses and 100 million consumers worldwide, today ZyXEL is one of the few companies in the world capable of offering complete networking solutions on broadband access, commercial networking, and home connectivity for Telcos, business, and home users. With a strong local presence in 150 markets around the world, ZyXEL is the ideal partner to deliver tailor-made solutions to meet customers' local needs.