Zyxel unveils the ultimate network security analysis service—and it can fit in your pocket
Cloud-based SecuReporter gives users actionable insights to keep networks safe remotely via its service portal or app
Hsinchu, Taiwan, 15 October 2018—Zyxel Communications today announced SecuReporter, a cloud-based security monitoring and analysis solution whose data-driven insights on traffic and threats empower users to take timely action to keep their network safe.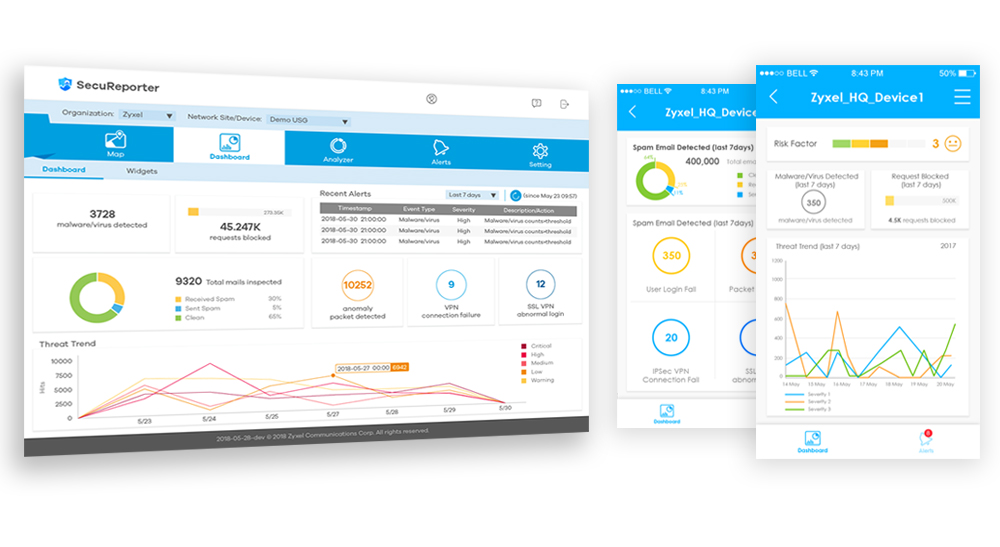 The SecuReporter service portal and mobile app
"With cybercrime set to cost US$6 trillion a year by 2021, you simply can't afford not to protect your business's network," said Dean Shih, senior AVP of Zyxel's Gateway SBU. "But most solutions for tracking and analyzing network traffic have price tags that discourage businesses from investing in such security."
"Being cloud-based SaaS (software as a service) makes SecuReporter genuinely affordable by eliminating infrastructure and installation costs. No dedicated server is necessary, so there's no high barrier to entry."
Insight in an instant
SecuReporter provides a comprehensive suite of analysis and reporting tools for every packet of data that crosses onto your network. With it, system administrators can pinpoint security threats and then define meaningful defense security policies across the network. In addition, correlating traffic data and user behavior analytics delivers map-based monitoring for fast, easy overviews of multi-site networks.
Recording and sharing SecuReporter data and insights is equally simple with its customized reports. Reports with user-selected logos, titles, and charts can be created on schedule daily, weekly, and monthly.
In addition to being accessible via its desktop service portal, the SecuReporter app delivers push notifications to system administrators' mobile devices, ensuring they can proactively monitor network status and detect issues and attacks as they occur in real time.
Right for small businesses, right for managed service providers
For small and medium-sized businesses, SecuReporter's insights are simple to understand and use. Bandwidth running low? It takes just a few clicks to find the culprit, be it a streaming-video site or data-abusing user.
For managed service providers, SecuReporter makes it easier to sell clients real-time security services, while instant notifications enable emergency measures and recovery actions to be started within moments of a threat being identified. And critically, flexible personal data protection settings allow easy compliance with GDPR and other privacy regulations.
SecuReporter will first be available for Zyxel's cutting-edge ATP solution and in coming months will be rolled out across Zyxel's entire ZyWALL line. ZyWALL users will be able to test out SecuReporter with a 30-day free trial or sign up for an annual subscription, which supports up to 1,000 devices per account. For more information, visit: https://www.zyxel.com/products_services/Security-Service-Cloud-CNM-SecuReporter/
About Zyxel Communications
Focused on innovation and customer-centric technology and service, Zyxel Communications has been connecting people to the Internet for nearly 30 years. Our ability to adapt and innovate with networking technology places us at the forefront of the drive to create connectivity for telcos and service providers as well as businesses and home users.
Zyxel is a global force in today's communications market with an unrivalled international presence that includes:
- 150 markets served
- 1,500 passionate associates
- 700,000 businesses working smarter with Zyxel solutions
- 100 million devices creating global connections
Today, Zyxel is building the networks of tomorrow, unlocking potential, and meeting the needs of the modern workplace — powering people at work, life, and play.
Zyxel, Your Networking Ally.