Zyxel teams up with Tiller for mobile point-of-sale system partnership
Hsinchu, Taiwan, 8 February 2021—Zyxel Networks, a leader in delivering secure AI- and cloud-powered business and home networking solutions, today announced a partnership with Tiller, the leader in integrated cash registers for restaurants and retailers in France, Spain, and Italy. The partnership will bring Zyxel's expertise in networking together with Tiller's experience in mobile point-of-sale (mPOS) solutions to deliver better customer experiences for SMBs.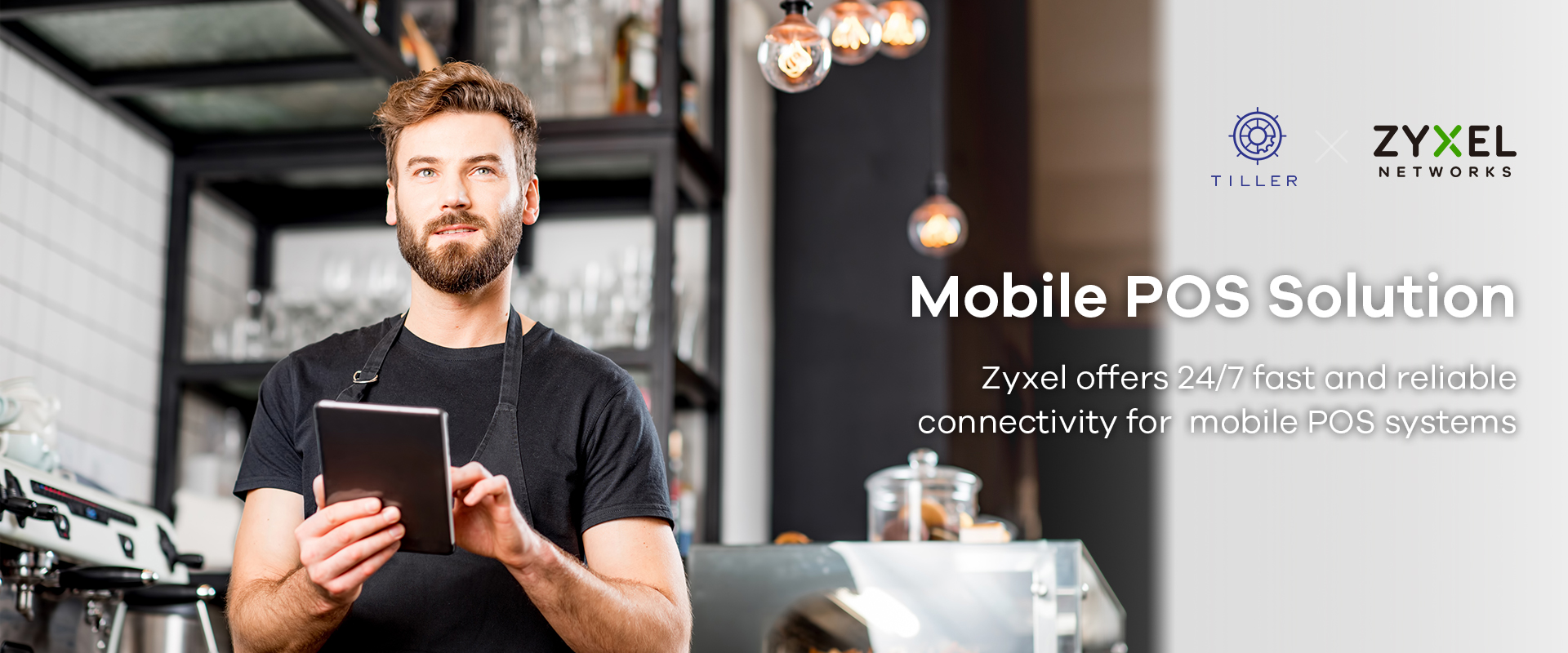 Better customer experiences thanks to a more reliable network
Designed to centralize the needs of restaurateurs – from taking orders, and arranging deliveries to reservations, management, and payment – Tiller's solutions require a solid and reliable network to ensure smooth business operation for their customers.
"To guarantee perfect operation for our customers, our software solutions rely on networks with two non-negotiable requirements: simple, quick installation without the need for on-site intervention, and the ability to be managed remotely as quickly as possible to meet the expectations of our business customers," said Pierre Lombard, COO of Tiller.
Designed to fulfill the needs of mPOS solutions, Zyxel supports Tiller with a complete portfolio of business networking products, including WiFi access points, switches, and security gateways that have already been deployed across Europe. These devices are centrally managed through Zyxel's Nebula cloud networking platform, which allows business owners or managed service providers to remotely configure, manage, and monitor their networks anytime, anywhere to ensure smooth network operation for Tiller's mPOS solutions.
"Zyxel's approach allows our teams to become more efficient by offering additional value to businesses using our solutions. With Nebula, we can contact our customers proactively when we receive network alerts, and then our teams can help them identify and resolve the cause of outages – all remotely without any travel or delay. We are becoming more agile and can guarantee an optimal experience for our customers, which in turn benefits their businesses," Lombard said.
With this partnership, Zyxel is also paving its way into the mobile POS vertical. "Nebula provides users with an overview of their network's status and the ability to manage it remotely to ensure the performance of their equipment and ultimately of their solution," Jean-Marc Guignier, EMEA Executive Vice President of Zyxel Networks, said. "Thanks to Nebula's ultra-intuitive interface, businesses' own staff can themselves easily use it to manage their networks with complete autonomy. Our work with Tiller is proof of this, and a Nebula-managed network is capable of supporting any software solution."
For more information about Zyxel's mobile POS solution, visit https://www.zyxel.com/solutions/Mobile-POS-Solution-20201204-066515.shtml
About Zyxel Networks
Zyxel has been getting business and home users online for over 30 years, relying since Day 1 on innovation and customer-centric service. In 1989, this meant analog modems. Today, it means using AI and the cloud to deliver rapid, reliable, and secure networking solutions for business and home users.
Zyxel is a global force in the communications market with an unrivalled international presence that include:
- 150 markets served
- 1,000,000 businesses working smarter with Zyxel solutions
- 100 million devices creating global connections
We're building the networks of tomorrow, unlocking potential, and meeting the needs of the modern workplace—powering people at work, play, and life.
Zyxel, Your Networking Ally.