ZyXEL Now Shipping 4-Bay Personal Cloud Storage for Ultimate Storage Convenience, Mobility and Protection
Nov. 18, 2014, Hsinchu, Taiwan – ZyXEL communications, a world-leading provider of next-generation networking solutions, is releasing a 4-Bay Personal Cloud Storage device, the NAS540. This Network Attached Storage is compatible with multiple storage devices and platforms and equipped with up to 24 TB of storage capacity. The NAS allows users to secure files from any possible loss and to consolidate file management with greater mobility and convenience at high speeds.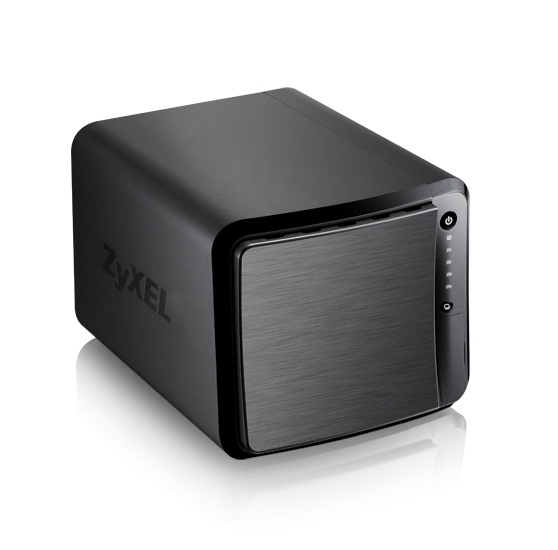 The emergence of mobile devices and cloud services makes daily communication instant and convenient. The files stored on computers, phones, tablets to cloud drives are the pieces that make up our life, yet managing them often feels like a challenge. Add in unanticipated device failure and you have a recipe for disaster.
Imagine a little box that accommodates all your life's pieces and guards them in a secure place. Network capability allows it to sync and back-up data from all your devices, so you always have access to your personal cloud. You have it now – ZyXEL's 4-Bay Personal Cloud Storage, NAS540.
Back-up Everything, Sync from Anywhere
ZyXEL's NAS540 is your personal cloud for easy and secure remote file access, backup, syncing and sharing. By obtaining a free DDNS service from ZyXEL, users can create a personalized link that directs to their remote ZyXEL NAS540 from any computer with Internet connection. Using ZyXEL zCloud 2.0, users can access files with their Android or iOS devices, or use the devices to play the files stored in the NAS on big screens. Plus with the ownCloud application, users can utilize the NAS540 to sync files with Windows, MAC OS X, Andriod, iOS and even Linux**** computers. NAS540 is also compatible with popular cloud platforms, including Google Drive and many more.
The ZyXEL NAS540 also comes with RAID 1, 5, 6 or 10 support. This feature offers rock-solid protection from any hard-disk failures. In case any one of the disks fails, users can still access files and restore normal RAID protection with the failed disk replaced.
Blade-speed Performance: Access Your Data in the Blink of an Eye
Carrying a 1.2 GHz dual-core CPU and 1 GB of DDR3 RAM, ZyXEL's NAS540 helps users handle intensive and frequent network data management. It is equipped with RAID-5 configuration, two Ethernet LAN ports with link aggregation capability, fast USB 3.0 ports, and an SD card slot with the latest SDXC support. NAS540 can deliver up to 130MB/sec of reading, 48MB/sec of writing speed and blink-of-an-eye access to transfer your high-resolution photographs from USB drives or cameras.
ZyXEL's NAS540 has HDD support up to 24 TB. In other words, it can store around 6,000 pieces of movie, 4 million pieces of music, or 6 million pieces of photographs*! It can literally store every file you need for work or leisure. (*Number may vary according to actual disc configuration and deployment)
Store everything and sync them from anywhere. ZyXEL's NAS540 help you manage all your files with secure and reliable protection. Contact your local sales representatives for product availability and a complete list of product features.

ZyXEL Communications Corp.
Founded in 1989 and celebrating its 25th anniversary this year, ZyXEL Communications Corp. is a world-class networking company providing innovative and reliable Internet solutions. As one of the early modem manufacturers, ZyXEL has gone through transformations in the fast-paced networking industry. Today, ZyXEL is one of the few companies in the world capable of offering complete networking solutions for Telcos, small to medium-sized businesses, and digital home users for a wide range of deployment scenarios. Telco solutions include Central Office Equipment, Customer Premise Equipment, Wired and Wireless Access Network Devices, and Carrier Switches. SMB and Enterprise solutions include Unified Security Gateways, LAN Switches, WLAN, and IP Telephony. Digital Home solutions include Network Connectivity Devices and Multimedia Solutions.