ZyXEL Launches Armor X1 11ac MU-MIMO Wireless Gigabit Range Extender
Multifunctional AC2100 Extender enables 4K/UHD video streaming and lag-free gaming over the existing Wi-Fi network
Feb. 29, 2016 – Hsinchu, Taiwan – ZyXEL has launched the Armor X1 802.11ac MU-MIMO Dual-band Wireless Gigabit Access Point / Range Extender, a multifunctional device which gives consumers the freedom to select multiple uses; an access point, Wi-Fi extender or wireless client, delivering speeds of up to 2100Mbps* to enable 4K/ ultra-HD video streaming and lag-free online gaming by leveraging the existing 802.11ac Wi-Fi network.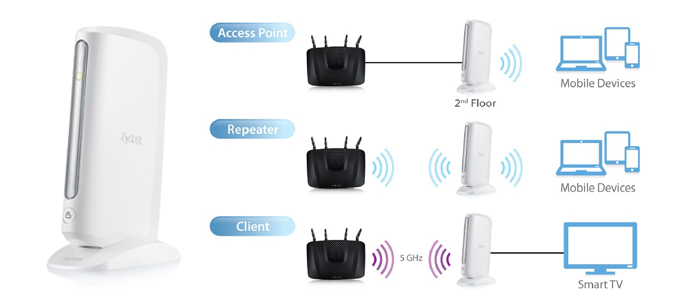 ZyXEL Armor X1 AC2100 Dual-Band Wireless Gigabit Access Point / Range Extender
With today's home environment featuring a range of connected devices, the Armor X1 provides the latest 802.11ac dual-band wireless MU-MIMO technology. Users can choose the 'Range' mode for maximum Wi-Fi coverage on the 2.4 GHz band, or 'Speed' mode to boost speedy 5 GHz connection for video streaming and throughput-intensive applications.
With the MU-MIMO technology, the Armor X1 is capable to simultaneously send/receive data to/from multiple devices, increasing the speed of the connection. The four Gigabit Ethernet ports built-in the Armor X1 offers both optimal Wi-Fi and Gigabit Ethernet to connect multiple wired or wireless devices like smart TV, laptop, game consoles or NAS.
By installing the ZyXEL ONE Connect app, users can also configure network settings from your router to connected network devices making them easy to manage. By using eaZy123 setup wizard to select the mode needed for their network environment, users can enjoy the high-speed network instantly.
With simplicity to fit the home, the slim design of the Armor X1 allows it to subtly fit onto shelves like a book, sit on the desk beside the telephone or stand next to the ultra-thin TV perfectly.
"Consumers now expect the very best online experiences in the home, especially as we're seeing the introduction of more connected devices, so having a trustworthy Wi-Fi connection is vital", said Chin-Ru Lin, VP of ZyXEL Smart Living Business Unit. "The Armor X1 covers all home network requirements and is designed to enable fast video streaming and seamless online video gaming.
"It's no longer a problem to have multiple devices connected to the same network and users can now adjust settings to suit their needs, for either maximum Wi-Fi coverage or faster connection speeds. Consumers can now manage their own networks without having to worry about unreliable connections or complicated settings."
For more information please visit: Armor X1
*The maximum wireless data transfer rate of up to 300 Mbps for 2.4 GHz and 1733 Mbps for 5 GHz simultaneously, which is derived from IEEE Standard 802.11 specifications. Actual data transfer rate will vary from network environment including: distance, network traffic, building site materials/construction, interference from other wireless devices, and other adverse conditions.
**ZyXEL ONE Connect router is required for all features on this app.
ZyXEL Communications Corp.
Founded in 1989, with over a quarter-century of innovations, ZyXEL Communications Corp. is a world-class networking company providing comprehensive and reliable Internet solutions. Delivering cutting-edge communications innovations to more than 400,000 businesses and 100 million consumers worldwide, today ZyXEL is one of the few companies in the world capable of offering complete networking solutions on broadband access, commercial networking, and home connectivity for Telcos, business, and home users. With a strong local presence in 150 markets around the world, ZyXEL is the ideal partner to deliver tailor-made solutions to meet customers' local needs.