Make the World Connect – ZyXEL Recognized as One of 2014's Best Taiwan Global Brands
Dec. 17, 2014 – Hsinchu, Taiwan – ZyXEL Communications has earned recognition among the 2014 Best Taiwan Global Brands, marking 12th consecutive year the company has received this prestigious honor. The awards ceremony was held at the Taipei International Convention Center, Taiwan today, December 17.
Allowing users worldwide to enjoy optimal wired and wireless Internet connectivity, ZyXEL serves over 400,000 small and medium-sized businesses and has shipped more than 100 million modems/routers to end users across the globe.
"Customer satisfaction, integrity, innovation, speed and sharing sustain our brand and distinguish ZyXEL from other manufacturers," remarked ZyXEL president Gordon Yang. "These qualities make the difference in our products, solutions and services."
Since its establishment in 1989, ZyXEL has excelled at keeping pace with rapid changes in networking technology, building an extensive product portfolio. ZyXEL maintains a customer-centric mindset that goes to the heart of its brand identity. We continually challenge ourselves and the technologies we create, developing solutions that ease life and business for our customers, while finding smarter and faster ways to connect our world.
The ZyXEL One Network, for example, is one step toward fulfilling the brand's promise. Before, a standard network for small-to-medium-sized businesses (SMBs) usually consisted of a string of devices maintaining network connections. Network management was highly time and effort-intensive, as IT staff had to manage these devices individually, one after another. The ZyXEL One Network breaks this cycle with a single interface that integrates most ZyXEL products and allows them to interoperable settings, saving SMBs from the headaches of network management.
From service providers to SMBs to home users, ZyXEL maintains the brand's commitment to its customers and will continue to integrate solutions that connect the world with ease and efficiency.
The Best Taiwan Global Brands competition is organized by the Industrial Development Bureau of the Ministry of Economic Affairs of Taiwan, and implemented by Business Next Magazine and Interbrand Consultancy. The annual survey is conducted through their established brand valuation methodology.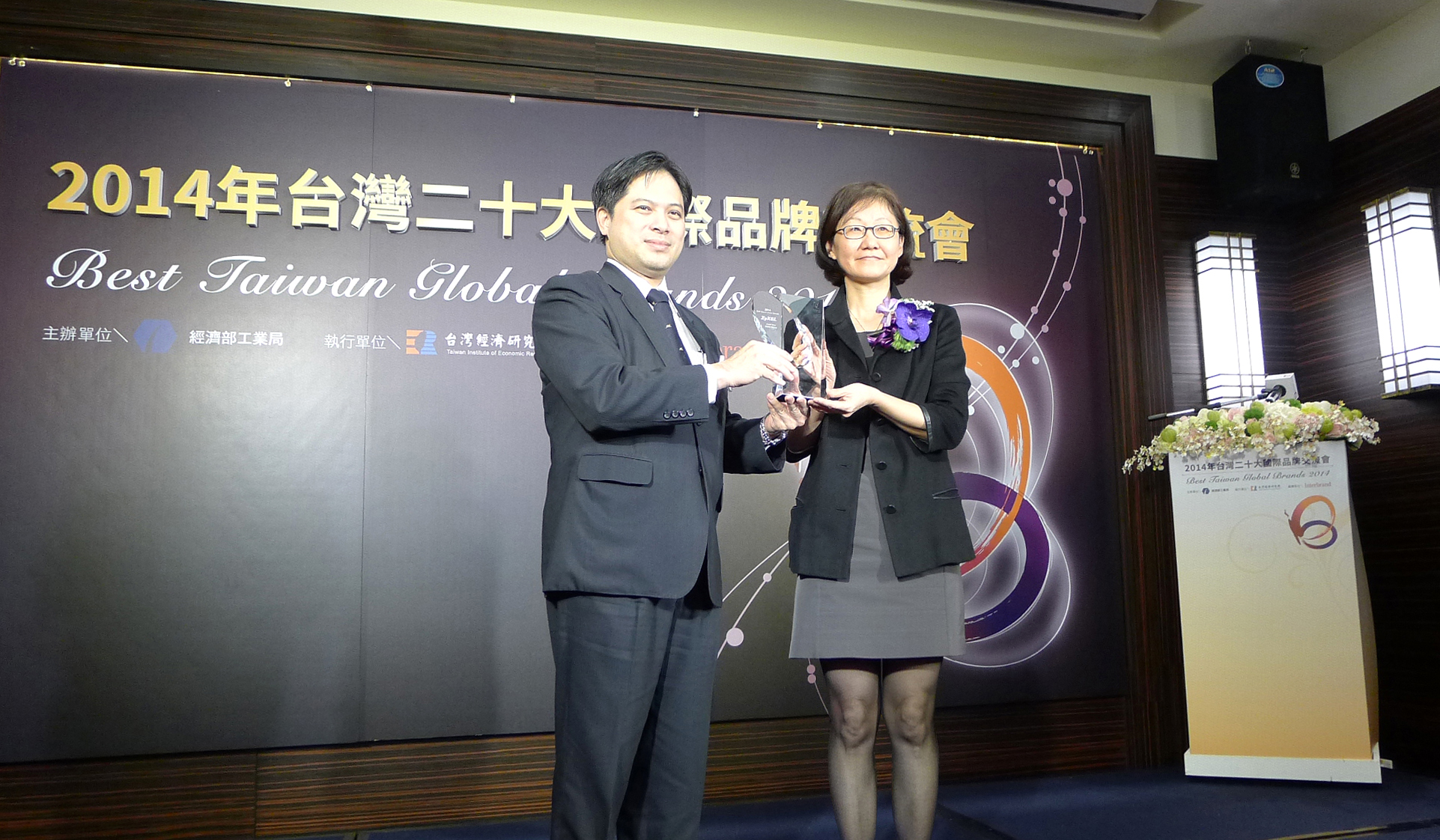 Tefen Tao (right), AVP of ZyXEL's Brand and Marketing Management Division, receives the award from Dr. Ming-Ji Wu (left), Director General of Industrial Development Bureau, Ministry of Economic Affairs

ZyXEL Communications Corp.
Founded in 1989 and celebrating its 25th anniversary this year, ZyXEL Communications Corp. is a world-class networking company providing innovative and reliable Internet solutions. As one of the early modem manufacturers, ZyXEL has gone through transformations in the fast-paced networking industry. Today, ZyXEL is one of the few companies in the world capable of offering complete networking solutions for Telcos, small to medium-sized businesses and digital home users for a wide range of deployment scenarios. Telco solutions include Central Office Equipment, Customer-premises Equipment, Wired and Wireless Access Network Devices, and Carrier Switches. SMB and Enterprise solutions include Unified Security Gateways, LAN Switches, WLAN and IP Telephony. Digital Home solutions include Network Connectivity Devices and Multimedia Solutions.