Bovey Castle one of the first hotels in the South West of England to receive a five-star rating from the AA and RAC Hotel Guides chose to use ZyXEL's networking products for offering their guests and staff a secure and speedy Internet service.
Delivers a secure and speedy Internet service for their guests and staff with ZyXEL networking solution
Bovey Castle one of the first hotels in the South West of England to receive a five-star rating from the AA and RAC Hotel Guides chose to use ZyXEL's networking products for offering their guests and staff a secure and speedy Internet service.

Overview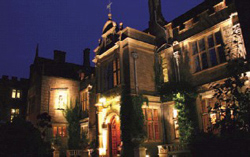 Since it opened in April 2004, Bovey Castle has been at the forefront of standards and style. In 2005 the Castle became the first hotel in the South West of England to receive a five-star rating from the AA and RAC Hotel Guides in over 50 years. High aesthetic standards have helped to achieve this and led to a wide range of VIP and celebrity clientele staying at the hotel. The Castle recognised that whilst cutting edge technology such as the Internet was an expected requirement that would keep them at the forefront of their competition, they needed to ensure that any implementation offered the utmost security for their clientele. It was also important that the installation was discreet and understated to keep with the hotel's image.
Hotel Broadband, a leading provider of high speed Internet solutions, was entrusted with the implementation of a wireless infrastructure throughout the hotel as a result of their successful Internet implementation in the conference rooms a year earlier. They chose to use ZyXEL's products for the implementation because of their excellent security features and comprehensive wireless access points which addressed the two key challenges that the Castle faced, aesthetics and security.

The Project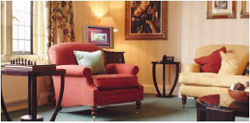 Although the Castle wanted to provide their clients with cutting edge technology, there could potentially be up to 130 people accessing the internet at one time and this led to some apprehension. The hotel needed to ensure their VIP clientele's security was watertight and were concerned about a wireless implementation, fearing that sensitive data opened across a wireless network could be intercepted.
"Whilst we understood the Internet was an expected necessity, certain factors had to be considered before we could go ahead with any installation," commented Paul Downing, reservations manager at Bovey. "Our main concern was the security aspect. The hotel plays host to very important clients who would be opening emails containing extremely sensitive data and it was therefore crucial we had a fully secure system in place to prevent any possible hacking."
The solution proposed by Hotel Broadband was a range of ZyXEL products including the ZyAIR 3000 wireless access points with comprehensive security features including 802.1x authentication, 256-bit WEP encryption and WPA. The hotel also installed three ZyXEL 2024 managed Dimension switches which served to isolate the access points on the network. As security features could be programmed specifically for current residents, both the hotel and their clientele could be reassured that sensitive data on their personal computer could not be accessed by anyone else through the wireless network internally or externally. In addition, remote monitoring by Hotel Broadband on the health of all the access points, using a custom developed guest service gateway, gave the hotel further reassurance, as it made sure any problems in the network could be pinpointed and resolved immediately.

In addition to security aesthetics was also a key consideration for Bovey. To keep in with their 1920s ethos, the Castle forbids mobile phones in any public leisure areas and decided to follow the same rule for laptops, limiting wireless access to bedrooms and the conference areas. As the castle was a listed building, the wires associated with a standard network installation posed a problem, distorting the castle's 1920s ambience. In addition to this, drilling holes in the walls would not only have made the £20 million refurbishment the castle had recently undergone a pointless exercise, but also was impossible due to asbestos in the loft and basement areas. As the Castle is located in 368 square miles of the isolated Dartmoor Broads, the proposed solution also needed to address this in order to ensure uninterrupted Internet use.

Installing a wireless network for Bovey Castle was the obvious solution to avoid any wiring, the ZyXEL products are also hidden from public view further ensuring the aesthetics were in keeping with the hotel's wishes. Furthermore, in order to ensure uninterrupted coverage within the Castle and guarantee that key points of the hotel had a constant high bandwidth, ZyXEL's VDSL (high speed DSL) products were installed including three pairs of P841s and P841cs; using the hotel's original telephone lines this meant that the hotel could benefit from high bandwidth without the need for any additional wiring.

The Benefits
A combination of wireless and VDSL products have ensured full coverage throughout the main castle, conference blocks and staff accommodation. Using a combination of mains and Power over Ethernet (PoE) to power the devices has allowed for installation in areas without access to power outlets such as the attic.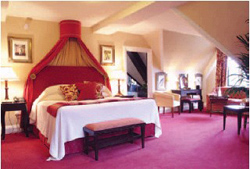 The nature of the wireless installation and careful planning of Hotel Broadband meant that the solution was installed in under one week with no disruption to guests. It was also installed in the staff quarters as an added benefit for staff to enjoy as part of their employment package and has received very positive feedback. In addition, as Hotel Broadband's gateway presents the guest with a fully customized Bovey Castle portal when they connect their laptop to the wireless network, the castle has been able to raise its brand awareness, helping it thrive in the world of hospitality.
"The wireless implementation, which we decided to offer at no extra charge to our guests, has really made a difference to the hotel's service and has helped us maintain our position as on of the UK's top 5 star hotels. By offering this as a free added extra for staff also allowed us to kill two birds with one stone. We are extremely pleased with ZyXEL's products and feel confident that we can now offer our guests and staff a secure and speedy Internet service that can be accessed at their leisure," concluded Downing.
Back to Success Stories