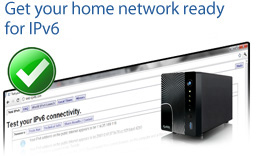 Ensure your connection to the future with ZyXEL's home networking products. As more websites and Internet service provider rolling out IPv6, get all your home media datas future-proof with IPv6 from ZyXEL. ZyXEL delivers you the best reliable connection to all Internet and networked services.
Here are ZyXEL home products that are either ready or in process for IPv6:
| Media Servers | IPv6 Ready | Firmware Version Ready |
| --- | --- | --- |
| NSA325 | Yes | Version 4.4 - Download Link |
| NSA320 | June 29, 2012 | Version 4.5 |
| NSA310 | June 15, 2012 | Version 4.5 |
FAQ
How do I check if I have IPv6?
You can simply go to: http://test-ipv6.com and see if you pass the IPv6 test.
What if I don't have IPv6?
That's okay; our media servers have a dual stack IP implementation. Our media servers allow both IPv4 and IPv6 connections.