WiFi where you need it
Addressing the trend of BYOD, ZyWALL USG Series helps small businesses provide WiFi wherever there is demand. The USG40W and USG60W feature built-in single-radio and dual-radio wireless access points that can provide WiFi for small offices straight out of the box.
An integrated WLAN controller with Zyxel AP Controller technology enables users to manage up to 18 access points from a centralized user interface. The USG Series enables businesses to easily provide WiFi in multiple other areas like reception areas and meeting rooms when Wi-Fi demand grows.
Engineered Express Mode. Uncompromising Performance.
ZyWALL USG series supports Express Mode with advanced Cloud Query technology which has 30 billion of file ID in Zyxel security cloud's database and constantly adapts new malware data every minute via Threat Intelligence Machine Learning. This innovative design improves the anti-malware detection efficiency, enables it to verify the file ID within seconds to get the most optimal threat detection, so that the ZyWALL USG series can gain higher throughput performance.
Peace of mind security
The ZyWALL USG Series delivers enterprise grade UTM Firewall security without the hefty price tag.
It provides, extensive protection and control of Web applications-like Facebook, Google Apps and Netflix-with such anti-malware protection mechanisms as firewall, Anti-Virus, Anti-Spam, Content Filtering, IDP and Application Patrol.
Newly added Content Filtering supports Geo IP Blocking to help propel detection rates from strength to strength. All together safeguarding your network without any unattended gaps.
Simplified management procedure
Managing complex configuration settings can be confusing and time-consuming. ZyWALL USG Series provides an "easy mode" setting in the GUI for entry-level and SOHO users. Easy mode provides an icon-based feature set and attractive dashboard to simplify management and monitoring of the device. Application and function settings also have integrated wizards for user-friendly setup. ZyWALL USG Series easy mode helps entry-level users and SOHO users effortlessly take advantage of high-speed and secure networking.
Comprehensive Connectivity
ZyWALL USG series not only can protect your network, but it also support Hospitality features including Hotspot, AP management with support for WiFi 6 feature, and concurrent device upgrade. You can buy time-based bundle or quantity-based license to optimize your initial investment and maximize the scale in your environment.
Security Analytics and Report
SecuReporter features a suite of analysis and reporting tools, including network security threats identification and visual analysis on security services statistics, security events, application usage, website usage, and traffic usage, With SecuReporter Premium service, even without UTM Service, user can still have the visibility of usage. SecuReporter provides application overview including real-time usage, sent/received usage, source and destination IP. New added features provide IT manager an observation on network overview.
SecuReporter
I

See.

I

Analyze.

I

Report.

All-in-one UTM Firewall for small businesses

Complete network protection with Anti-Virus, Anti-Spam, Content Filtering, IDP and Application Patrol

4 step setup wizard for easy remote access with robust SSL, IPSec, and L2TP over IPSec VPN connectivity

Express Mode with advanced Cloud Query technology

Integrated single-radio (USG40W) or dual-radio (USG60W) wireless access point

SecuReporter, cloud-based intelligent analytics and report service
Application Diagram
Anti-malware protection and application optimization
Enabling Anti-Virus, Anti-Spam and Intrusion Prevention, business networks gain deep, extensive protection against all types of malware threats.
Content Filtering enables businesses to deny access to Websites that are malicious or not business-related.
Application Patrol technology not only enable businesses to block or throttle nonproductive Web applications, but also optimize Web applications that increase productivity.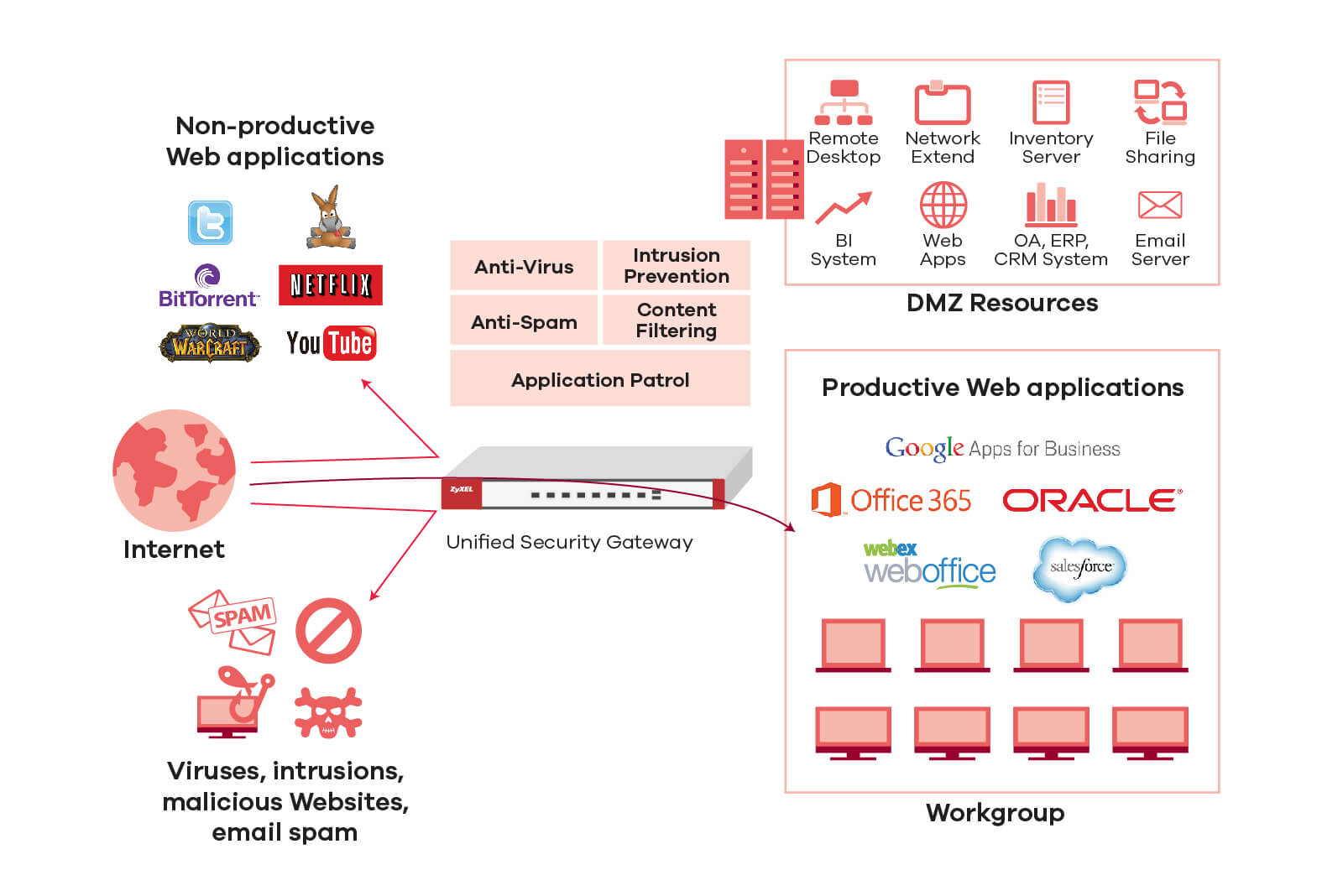 ---