Zyxel prepares SMBs for the post-pandemic new normal with a new range of firewalls
The USG FLEX series provides greatly increased performance, more features and flexible licensing to secure data networks and provide remote access for teleworkers
Hsinchu, Taiwan, 1 June 2020—As remote working becomes the new normal, businesses face the challenge of keeping their business secure while meeting the needs of a more flexible workforce. Zyxel Networks, a leader in delivering secure, AI and cloud-powered business and home solutions, today announced USG FLEX, a new series of mid-range firewalls designed for small- and medium-sized businesses (SMBs) to keep up with the workplace mobility, connectivity and security requirements post-pandemic.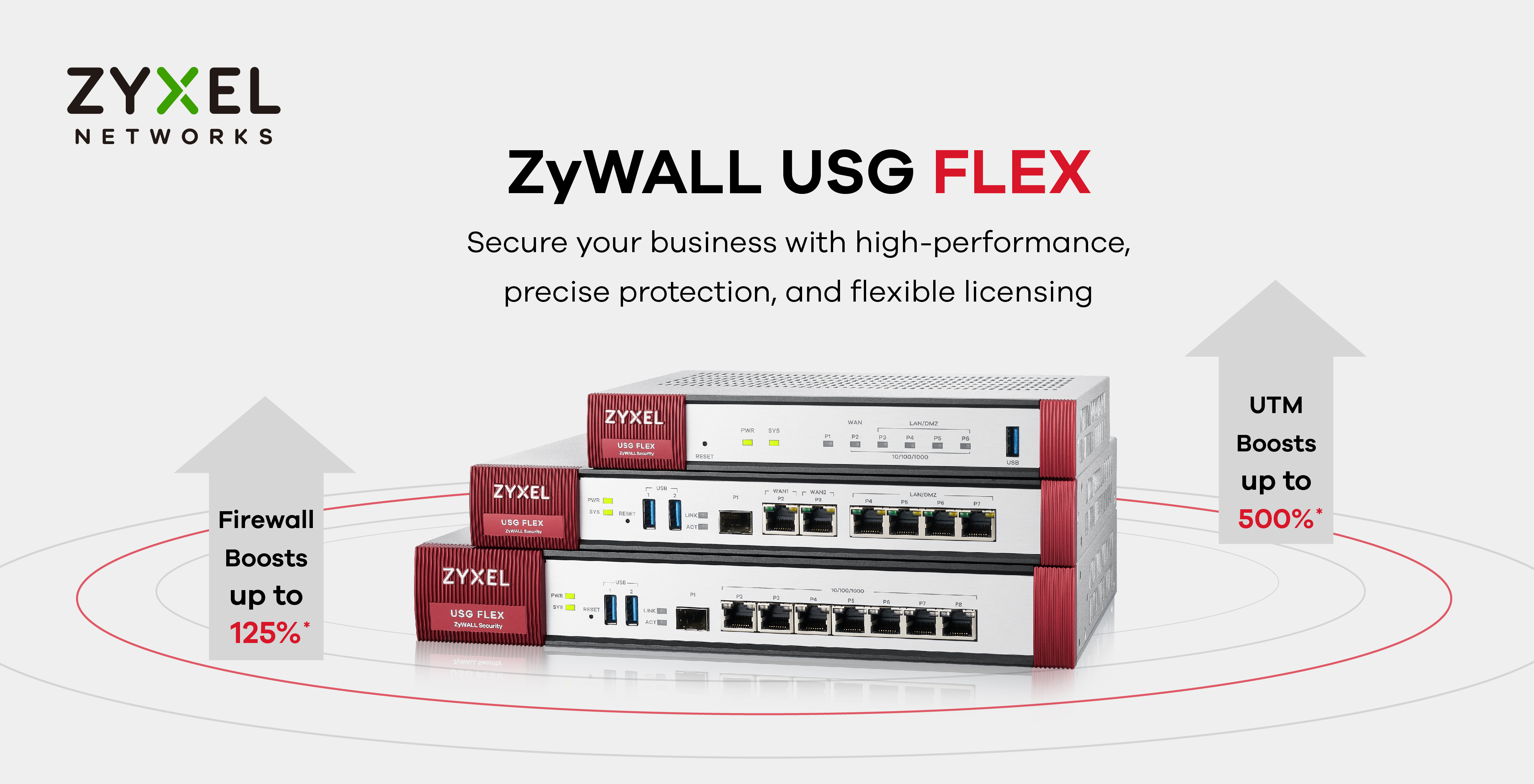 Zyxel's new USG FLEX 100/200/500 firewalls feature upgraded hardware and software power that level up SMB security with up to 125 percent of firewall performance and up to an additional 500 percent Unified Threat Management (UTM) performance*. In addition to providing robust, scalable network security for SMBs, the new firewalls also provide VPN remote access, WiFi access point management, and comprehensive hotspot functions to fulfill business needs within one-box.
Global threat intelligence for your local protection
The USG FLEX series supports Zyxel's Cloud Query service, which is based on a multi-source, continuously growing cloud database that covers billions of malware samples from industry-leading third-party sources and from threats identified by every other Zyxel firewalls worldwide to increase the malware detection rate. The AI-driven algorithm classifies and calculates the severity level of each threat, helping businesses identify the most active threats and take appropriate countermeasures.
Meeting the needs of the new normal
USG FLEX makes it easy to maximize the productivity of remote workers by providing flexible, secure VPN connectivity including IPsec, SSL, and L2TP over IPsec VPNs to the company network whether working from home or on the road. Zero-configuration vastly reduces the workload of the IT team and enables workers to adapt quickly to a work-from-home environment. The built-in wireless access point controller enables the management of the WiFi network without the need to purchase an additional controller.
Flexible license options to support SMBs through tough times
Customers wishing to upgrade their existing USG hardware to USG FLEX can migrate their current USG licenses to the new USG FLEX hardware without the need to purchase new licenses from scratch. Licenses to activate security features such as web filtering, anti-malware, and Zyxel SecuReporter Premium analytics and reporting service can be purchased individually, or as a complete UTM security license bundle. A customized hospitality license package is also available.
"As the spread of COVID-19 continues to impact companies around the world, the need to protect the network while providing secure access to the network from remote locations to continue operations becomes even more critical," explained Nathan Yen, AVP of Zyxel's Gateway Business Unit. "The USG FLEX series is designed to provide the security, flexibility, and ease-of-use that makes this an ideal solution for SMBs in this new business reality."
Zyxel's comprehensive range of security solutions provides businesses from small to large with the flexibility, power, and performance they need to secure businesses from the evolving cybersecurity landscape. For more information, please visit https://www.zyxel.com/USGFLEX
*Based on the comparison with the USG series firewalls. Actual performance may vary depending on system configuration, network conditions, and activated applications.
About Zyxel Networks
Zyxel has been getting business and home users online for over 30 years, relying since Day 1 on innovation and customer-centric service. In 1989, this meant analog modems. Today, it means using AI and the cloud to deliver rapid, reliable, and secure networking solutions for business and home users.
Zyxel is a global force in the communications market with an unrivalled international presence that include:
- 150 markets served
- 1,000,000 businesses working smarter with Zyxel solutions
- 100 million devices creating global connections
We're building the networks of tomorrow, unlocking potential, and meeting the needs of the modern workplace—powering people at work, play, and life.
Zyxel, Your Networking Ally.