Zyxel partners with professional audio and video solution provider ATEN to offer powerful end-to-end AV-over-IP solution
Channel partners can now find greater scalability and easier installation from Zyxel's specialized Networked AV mode on a portfolio of switches, ideal for sports events, video walls, restaurants, and control centers
Hsinchu, Taiwan, 8 September 2020—Zyxel Networks, a leader in delivering secure, AI- and cloud-powered business and home networking solutions, today announced a partnership with ATEN, to introduce its new Networked AV element in switches, which boosts simplicity and efficiency for network partners. Drawing on its more than 30 years of professional networking expertise, Zyxel's new offering provides VARs, system integrators and channel partners in the professional audio video (AV) industry with greater scalability and efficiency.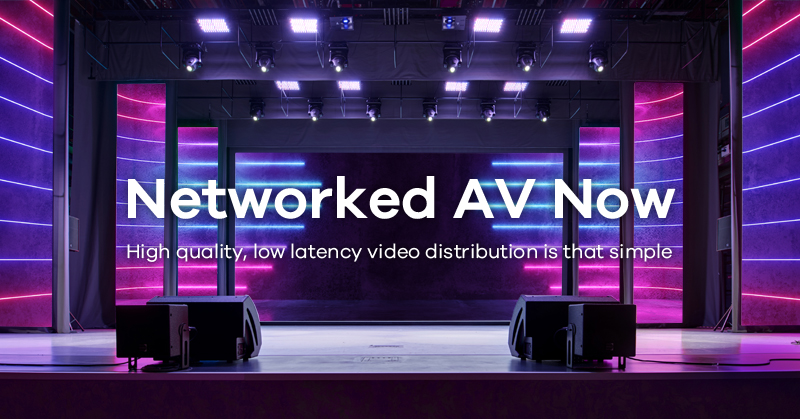 More and more AV systems are transforming from the traditional matrix switch infrastructure to industry standard IP-based technology to address the ever-growing diversity of AV-over-IP applications. This transition offers the potential for greater scalability, longer distance, less cabling, and easier installation thanks to IP-based technology. However, many businesses still find the path challenging due to a lack of familiarity with switch network settings.
Built from a powerful AV partnership network
Zyxel Networks has partnered with the leader in the AV industry: ATEN, a leader of AV/IT connectivity and management solutions. The partnership between the two leading brands ensures smooth integration of network system design and delivers an interoperable and reliable total AV-over-IP solution.
Streamline management with a tailor-made networked AV mode
To expand the wide reach of various network applications, the specially-designed Networked AV mode includes a tailor-made setup wizard to address the most utilized features for a network when using streaming services. This is accompanied by the new Networked AV dashboard – which presents the most useful elements including port, system and bandwidth, as well as power usage – meaning users can instantly view the current network status to maintain and configure the switch with ease.
"Challenges to the transition to AV-over-IP generated from network misconfiguration can often impact a user's viewing experience and usually require substantial effort to troubleshoot. Zyxel's tailor-made Networked AV mode aims to overcome these challenges and provide an easy and stable network solution, from classrooms to sports bars and control center video wall displays. Supported by our strong partnership with AV specialist ATEN, we want to bring a strong new offering to the market to solve our channel partners' pain points when delivering AV-over-IP services," said Crowley Wu, Vice President of Zyxel's Networking SBU.
"ATEN is a Pro AV and IT solution provider with excellent integration experience," said Nicholas Lin, ATEN's Senior Vice President of Research & Development and Global Marketing. "Together with Zyxel, a professional Ethernet switch provider with profound knowledge in IP multicasting for various applications, we can deliver a top-quality, high-definition audio and video experience with professional guidance to reduce the efforts required for integration."
The Networked AV mode is available in the GS2220 series GbE Layer 2 managed switches, starting from firmware v4.70, released in September, and will become available in the XGS2210 series later this year. Find out more about the Zyxel Networked AV mode at https://www.zyxel.com/solutions/Networked-AV-Solution-20200821-989148.shtml
About Zyxel Networks
Zyxel has been getting business and home users online for over 30 years, relying since Day 1 on innovation and customer-centric service. In 1989, this meant analog modems. Today, it means using AI and the cloud to deliver rapid, reliable, and secure networking solutions for business and home users.
Zyxel is a global force in the communications market with an unrivalled international presence that include:
- 150 markets served
- 1,000,000 businesses working smarter with Zyxel solutions
- 100 million devices creating global connections
We're building the networks of tomorrow, unlocking potential, and meeting the needs of the modern workplace—powering people at work, play, and life.
Zyxel, Your Networking Ally.