Zyxel expands Nebula portfolio to simplify small business always-on connectivity with 5G
Zyxel's Cloud Networking Solution, Nebula introduces 5G connectivity and enhances capabilities to protect WiFi clients via new security service
Hsinchu, Taiwan, 10 January 2022—Zyxel Networks, a leader in delivering secure, AI- and cloud-powered business and home solutions, has announced the expansion of its Nebula Cloud Networking Solution to now include new 5G connectivity along with extending its security services directly to access points.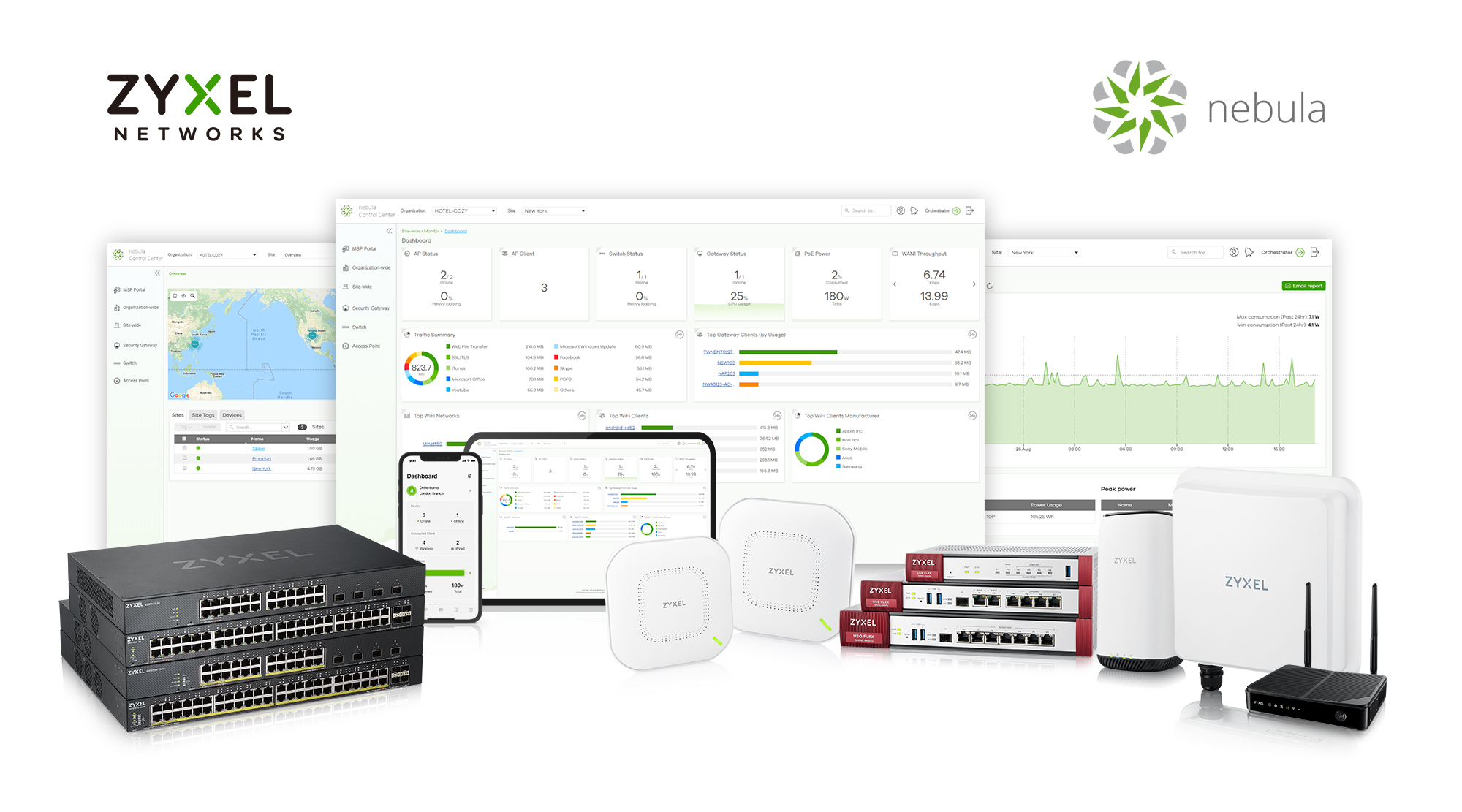 With the accelerated need for digital integration for all businesses, social, e-commerce, and virtual presence continue to increase over traditional operations. As a result, reliable 'always on' connectivity has become an essential part of everyday business.
'Always-on' connectivity that's rapid and simple to configure
Customers can take advantage of an 'always on' connected workplace with Zyxel's 5G/LTE routers. Business networks can be extended to support services in areas that traditional internet networks can't reach, to open more opportunities to interact with customers.
WiFi security that's constantly evolving, so you don't need to
Zyxel's new, industry-first Connect and Protect (CNP) AP security service provides a flexible approach to security that can be applied directly to selected Wireless Access Points, to support staff and client access.
Connect and Protect can block undesirable website content, prevent data theft/security breaches and even prioritize bandwidth for business-critical applications with just a few simple clicks.
"Since Nebula's launch in 2016, we have continued to evolve the product in line with customer needs at the core of its development. With this iteration, we provide the best-fit solution and a consistent networking experience for small businesses that were hit hard by the pandemic and overlooked by most networking brands. We are committed to supporting and helping them thrive in their digital transformation, securely and reliably," comments Gordon Yang, President of Zyxel Networks.
A more comprehensive choice of products
The latest Nebula range sees the expansion of a powerful yet straightforward centralized management platform to support more than 80 network devices. This comprehensive choice of network connectivity hardware allows customers to handpick a much more tailored and customized approach that caters to each type of installation.
The latest products to be supported by the Nebula platform include two newly added WiFi 6 Wireless Access Points (NWA90AX and WAX630S), two 5G routers (Nebula NR7101* and Nebula NR5101*), and a 4G LTE router (Nebula LTE3301-PLUS*). You can find out more about supported hardware and how Zyxel Nebula can benefit you by visiting: https://www.zyxel.com/nebula
*The Nebula cloud management features are only available with the new Nebula NR7101, Nebula NR5101, and Nebula LTE3301-PLUS devices; they are NOT available with the earlier NR7101, NR5101, and LTE3301-PLUS models designed for on-premise management.
About Zyxel Networks
Zyxel has been getting business and home users online for over 30 years, relying since Day 1 on innovation and customer-centric service. In 1989, this meant analog modems. Today, it means using AI and the cloud to deliver rapid, reliable, and secure networking solutions for business and home users.
Zyxel is a global force in the communications market with an unrivalled international presence that include:
- 150 markets served
- 1,000,000 businesses working smarter with Zyxel solutions
- 100 million devices creating global connections
We're building the networks of tomorrow, unlocking potential, and meeting the needs of the modern workplace—powering people at work, play, and life.
Zyxel, Your Networking Ally.