Deploy and Manage a Highly Scalable, Worry-Free WLAN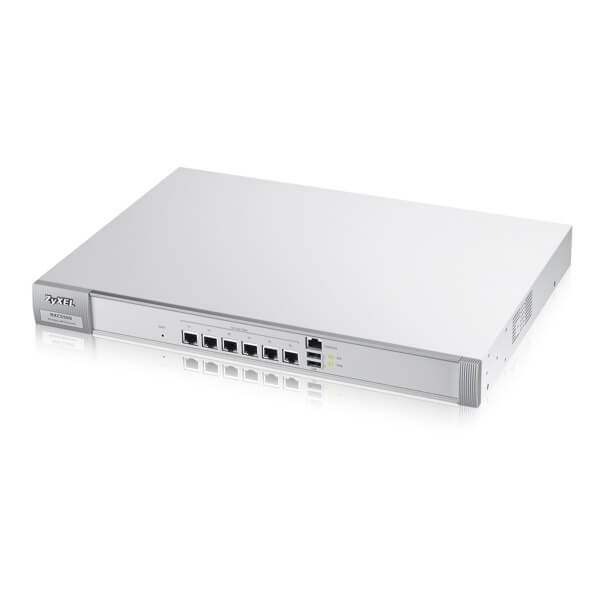 Benefits
Centralized management and provision
With demand for Internet connection of mobile devices growing rapidly, high scalability WLAN and centralized management become necessary for wireless device deployments. The Zyxel NXC5500 WLAN controller has great scalability to manage up to 1024 APs centrally. The NXC5500 utilizes CAPWAP protocol to minimize issues of Wi-Fi deployments that are new, or belong to extension programs on top of the existing networks.
Adaptive and resilient Wi-Fi deployments
The Zyxel NXC5500 features with ZyMesh to solve the complex cable deployments when extending Wi-Fi coverage, and provide high resilience Wi-Fi service with multiple route selections for each repeater APs. In the past, administrators had to assign a channel and MAC addresses in each AP while setting up a WDS link to extend Wi-Fi service; now they can make auto provision and manage easily.
WLAN optimization and enhanced RF management
All wireless networks face a major challenge: ensuring Wi-Fi clients get service levels they'd need. Therefore, there are several kinds of Wi-Fi clients exist on the network, and these users tend to make their own connectivity and roaming decisions. The NXC5500 can monitor the capabilities of each wireless client and steer the client to the best radio on the best AP by band select and signal threshold. Also, the NXC5500 can detect status of neighbor AP and adjust output power automatically to ensure a non-stop Wi-Fi service.
Secured wireless edge and access management
The NXC5500 features with diversified Wi-Fi security features and comprehensive access control to help enterprises and businesses address the wireless security issues that arise with BYOD.
Feature Highlights

High Scalability
The great scalability allows the NXC5500 to manage up to 1024 access points centrally, and the NXC5500 also helps administrators to make auto provision without exhaustive configuration for each AP within few minutes.

High Performance
The NXC5500 is equipped with 6 Gigabit Ethernet ports, enabling both high bandwidth and flexible deployments. The high performance and scalability ensure the NXC5500 provides robust networking for modern networks where one person is equipped with multiple devices.

Auto Healing
The NXC5500 has Auto Healing feature that detects status of neighbor APs and adjust AP power automatically to provide enduring network services. If an AP is not functional, the nearby APs will increase output power to cover the void area. Once the AP outage recovers, the nearby APs decrease output power automatically.

ZyMesh
The ZyMesh features of NXC5500 help extending Wi-Fi coverage to places where cable deployment is difficult. In addition, each repeater APs has multiple route selections to provide non-stop Wi-Fi services. ZyMesh enables to make auto provision and manage for multiple APs easily and centrally.

Client Steering
Client Steering sets 5 GHz as priority for dual-band devices to overcome heavy loading on 2.4 GHz, while client signal threshold transfer devices to APs with stronger signal. With these two functions, the NXC5500 ensures better radio resource usage to provide max wireless network performance for users.

Comprehensive Access Management
The NXC5500 offers easy dynamic account creation and versatile wireless user authentication methods for different application scenarios to provide smooth and secured access. The MAC authentication and customized captive portal adapted to suit the needs of enterprises, hospitability and public venues application. With captive portal via QR code access support, keyboard-less mobile devices are able to access Internet service instantly and securely.

NAT Traversal
The NXC5500 can facilitate the connections traversing NAT gateways to solve connection issue for AP and WLAN controller deployed in different subnets and to ensure the highest robustness of WLAN networks.

Secured Wireless Edge
The NXC5500 features with multiple network security functions to provide the most robust protection for the wireless network edge. The rogue AP containment and detection ensures to block malicious AP, while industry-standard WPA/WPA2-Enterprise authentication, a variety of Extensible Authentication Protocol (EAP) frameworks and built-in firewall feature enables secure access against unauthorized or malicious activities in enterprise network.

Wi-Fi Site Survey and RTLS
The NXC5500 partners with Ekahau to provide site survey and Real-Time Location Tracking (RTLS) to best assist site selection and expedite large scale or campus deployment.
Application Diagram