Anti-malware protection and application optimization
Enabling Anti-Virus, Anti-Spam and Intrusion Prevention, business networks gain deep, extensive protection against all types of malware threats
Content Filtering 2.0 enables businesses to deny access to Websites that are malicious or not business-related.
Application Patrol technology not only enable businesses to block or throttle nonproductive Web applications, but also optimize Web applications that increase productivity.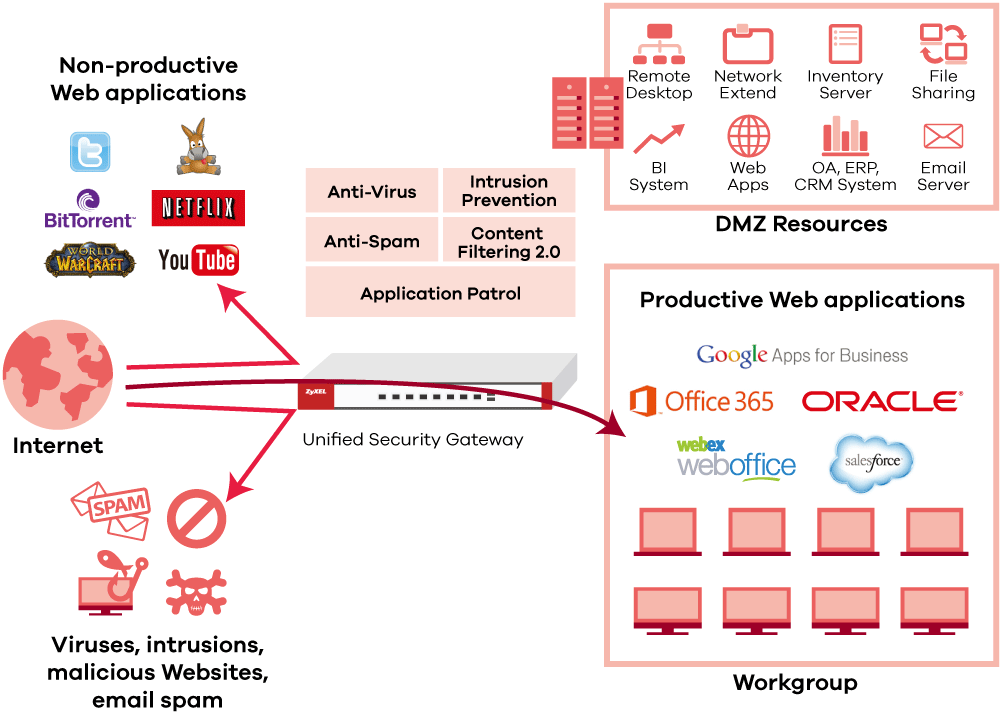 VPN application
Branch offices, partners and home users can deploy Zyxel USGs/ZyWALLs for site-to-site IPSec VPN connections.
Branch offices can additional deploy IPSec VPN HA (load balancing and failover) for always online VPN connectivity
Remote users can securely access company resources with their computers or smartphones via SSL, IPSec and L2TP over IPSec VPN
The headquarter USG/ZyWALL can also establish an IPSec VPN connection with Microsoft Azure for secured access to a variety of cloud-based applications
Hotspot Management
High speed internet access.
Tier of service
Log record for regulatory compliance
Premium security control
Various Network access control ( free or paid access, social login)
*: Hotspot Management supports for USG310 ZLD4.20 or later, and for USG110/210 in Firmware ZLD4.25 or later.