Zyxel's new PoE surveillance switches unlock future IoT business opportunities
Hsinchu, Taiwan, 2 September 2019—The Internet of Things (IoT) is rapidly creating business opportunities, and the surveillance segment is among the largest. Following the increased development of security camera technology, PoE switches have played an essential role in surveillance deployments. However, current PoE switch design is too generic to keep up with the expanding needs of modern surveillance installations. Zyxel, an industry leader in switch design and production, has created the GS1300 and GS1350 series PoE switches specifically for surveillance applications. With a variety of port counts and high power budget, the switches can get security camera networks up and running with ease—even with all ports connected. Additionally, each model is equipped with extra uplink ports to connect to the network core without occupying the PoE ports for IP cameras.
Go farther with extended range
IP cameras and other security devices often need to be installed in remote locations, but standard PoE switches only have transmission distances of up to 100 meters. Both series of surveillance switches do more than just solve this problem. With an extended range mode that achieves a remarkable 250 meters of transmission distance, the switches allow for an abundance of deployment possibilities.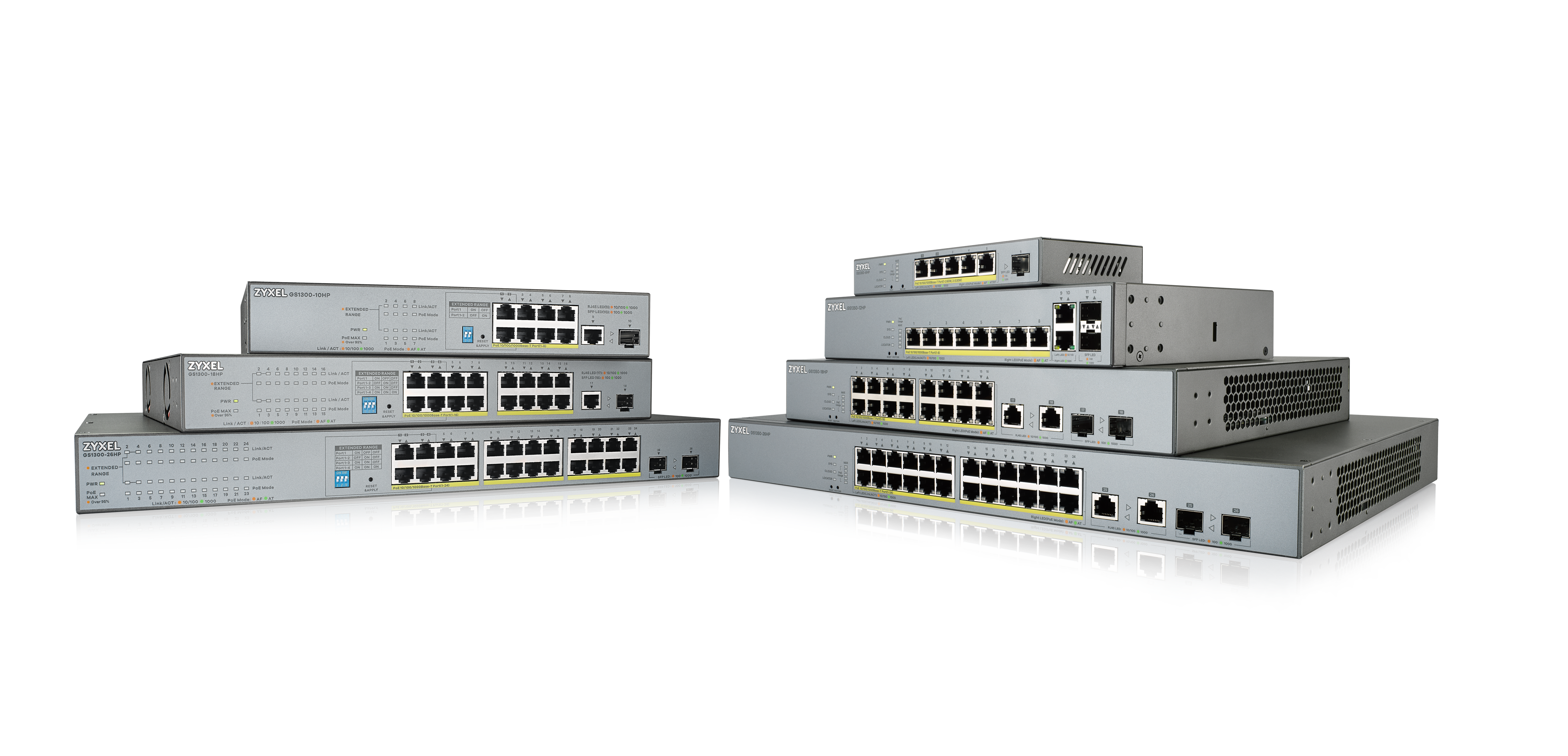 The GS1300 (left) and GS1350 (right) surveillance switches have elevated the standards for modern surveillance networking.
User-friendly features
Both the GS1300 and GS1350 have an intuitively designed front panel for simple and quick device management. The PoE LED light indicates when the switch's power consumption approaches its max capacity, enabling users to make the proper network adjustments so the switch does not run out of power. The GS1350 managed series has a one-touch restore button that allows users to quickly resolve errors by returning to a prior operational state.
Built for surveillance
The GS1350 series, which comprises four different switches, has built-in features designed to address the most critical management and maintenance needs of surveillance applications.
• Auto Camera Recovery: immediately after detecting an IP camera failure, the switch will automatically restart and attempt to recover the camera.
• Continuous PoE: allows the switches to deliver nonstop power to IP cameras, even during maintenance for firmware or configuration updates. By keeping the cameras operational, downtime is significantly reduced.
Furthermore, since switch stability is critical for surveillance networks and outdoor camera wiring is often susceptible to lightning strikes, the GS1350 series has a patented design that greatly enhances surge protection.
"Everyone is talking about the ways IoT applications will create future business opportunities," said Crowley Wu, VP of Zyxel's Networking SBU. "At Zyxel, we've combined our research and development with client feedback to produce these landmark switches, enabling us to embrace the huge opportunities of IoT."
For more information about the GS1300 and GS1350 series surveillance switches, please visit:https://www.zyxel.com/promotions/Surveillance-Switch-20190821-364859.shtml
About Zyxel
Focused on innovation and customer-centric technology and service, Zyxel has been connecting people to the Internet for nearly 30 years. Our ability to adapt and innovate with networking technology places us at the forefront of the drive to create connectivity for telcos and service providers, businesses and home users.
Zyxel is a global force in today's communications market with an unrivalled track record, including:
- 1,500 passionate associates worldwide
- 100 million devices creating global connections
- 700,000 businesses working smarter with Zyxel solutions
- 150 global markets served
Today, Zyxel is building the networks of tomorrow, unlocking potential, and meeting the needs of the modern workplace — powering people at work, life, and play. Zyxel, Your Networking Ally.