Zyxel's latest switches praised by powerful US and Russian IT outlets
Lofty reviews highlight unique hybrid management and fast, effortless network deployment
Hsinchu, Taiwan, 19 June 2019—Committed to producing smart switch technology that is easy to use, Zyxel recently released two series of NebulaFlex switch devices that support dual management modes: the GS1920v2 and XGS1930. Both products have captured the attention of respected IT publications in the United States and Russia.
US-based The ChannelPro Network had little but praise in a recent review of the two devices, highlighting their robust performance, PoE functionality, and free cloud management. Additionally, the GS1920-8HPv2 from the GS1920v2 series received glowing commentary from HWP.RU in Russia. Lauding the switch's compact build, impressive feature set, and lifetime warranty, the publication rated it as one of the most cost-effective network products.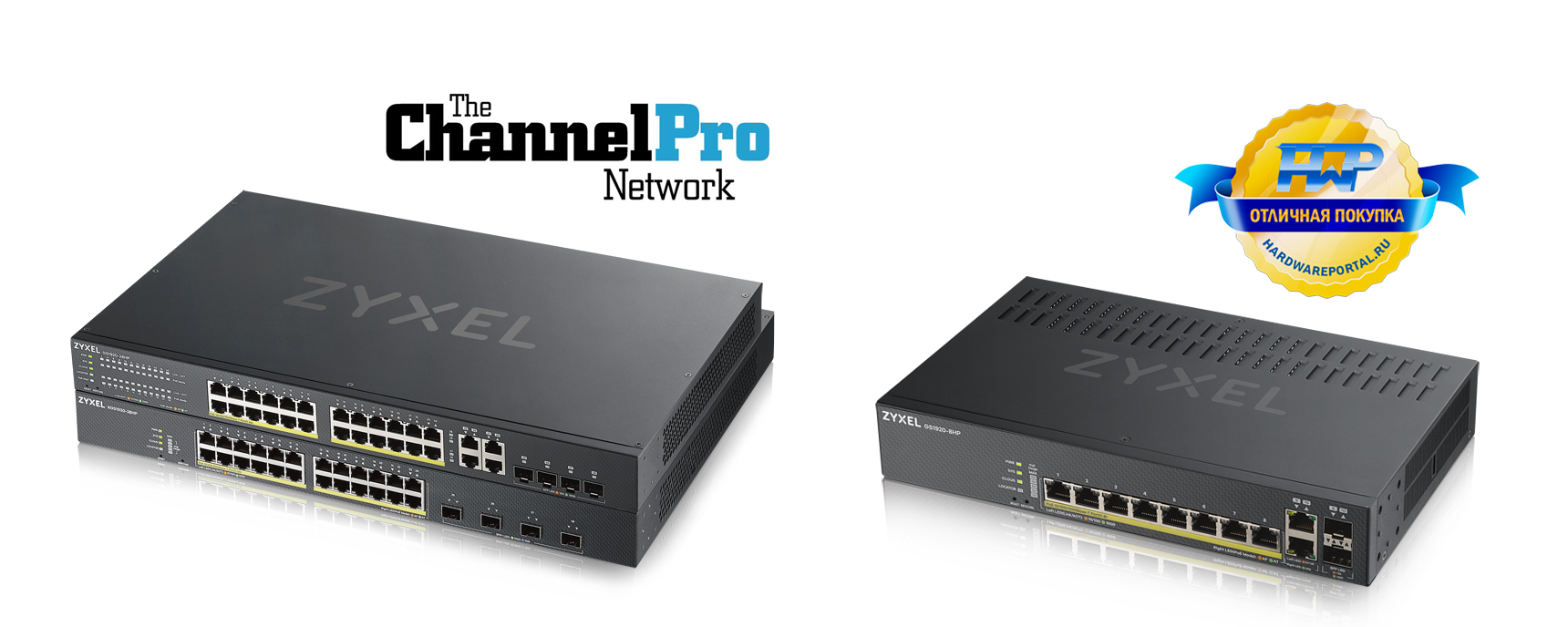 Left: The GS1920-24HPv2 and XGS1930-28HP switches received a positive review in The ChannelPro Network magazine. Right: The GS1920-8HPv2 was rated one of the most cost-effective network products by HWP.RU.
The ChannelPro Network is a respected IT magazine focusing on network products and services for small and medium-sized enterprises. It often publishes industry-related news and product reviews, in addition to expert opinions and analysis. HWP.RU Online Media has published more than 40,000 articles dedicated to providing readers with insight into the latest network products and technology. The critical approval from the two formidable markets signifies Zyxel's increasingly global vision and reach.
The positive reviews are just the most recent achievements garnered by the smart switches. In a 2018 survey by the UK's CONTEXT, the GS1920 series switch was ranked in the top 3 in its class for European market share. In addition to maintaining its original meticulous hardware design, the upgraded GS1920v2 shows off a new carbon-fiber appearance and expanded feature set. One of the additions is an ingenious restore button on the front panel, allowing users to easily respond to operational errors. If such an error occurs, one can immediately return to the previous system backup with a single button press. A useful Power-over-Ethernet LED indicator adds to the convenience, instantly giving users PoE power supply status.
Most important, NebulaFlex—unique proprietary technology from Zyxel—allows devices to be switched from traditional standalone mode to free Nebula cloud network management without additional software or hardware. Whether one is at the office, at home, or in transit, Nebula can be accessed around the clock. The single management platform can integrate all the common network devices, such as wireless access points, switches, and security gateways, into the same dashboard interface. Moreover, Nebula has a multi-tenant management design, which can especially help resellers oversee customers in different locations at the same time. The XGS1930 series, released concurrently with the GS1920v2, has the same feature set mentioned above. With four 10G uplink ports, it's the ideal choice for high-bandwidth applications.
"The public has generally associated the networking communications market with hardware design and manufacturing," said Crowley Wu, VP of Zyxel's Networking SBU. "However, the simultaneous releases of Nebula, the smart cloud network solution, and our unique NebulaFlex technology have proven that Zyxel's research and development has strength in software, as well. The encouragement from the global media is sure to keep our innovative R&D motivated for a long time."
For more information about the GS1920v2 series switches, please visit: https://www.zyxel.com/products_services/8-24-48-port-GbE-Smart-Managed-Switch-GS1920-Series/
To learn more about the XGS1930 series switches, please visit:https://www.zyxel.com/products_services/24-48-port-GbE-Smart-Managed-Switch-with-4-SFP--Uplink-XGS1930-Series/
About Zyxel
Focused on innovation and customer-centric technology and service, Zyxel has been connecting people to the Internet for nearly 30 years. Our ability to adapt and innovate with networking technology places us at the forefront of the drive to create connectivity for telcos and service providers, businesses and home users.
Zyxel is a global force in today's communications market with an unrivalled track record, including:
- 1,500 passionate associates worldwide
- 100 million devices creating global connections
- 700,000 businesses working smarter with Zyxel solutions
- 150 global markets served
Today, Zyxel is building the networks of tomorrow, unlocking potential, and meeting the needs of the modern workplace — powering people at work, life, and play. Zyxel, Your Networking Ally.