Zyxel introduces AiShield, delivering threat protection for home and small office networks
AiShield, a new cybersecurity licensed service for Multy X and Multy Plus featuring an intuitive app to safeguard networks and connected devices
Hsinchu, Taiwan, 10 September 2019—Zyxel announces the release of AiShield, a powerful cybersecurity add-on service for Multy X and Multy Plus designed to protect home, SOHO, and small business networks from cyber-attacks.
Cyber threats such as ransomware and malware have become so widespread and easy to deploy that everyone is now at risk. The potential for a breach is further compounded by the increased usage of smart products requiring constant Internet connectivity, so it's crucial for homes and businesses to stay alert.
AiShield uses Zyxel's AI-driven cloud security database to defend against all network threats, including viruses, malware, ransomware, and phishing attacks. Since the security service conveniently covers connected devices—even IoT technology such as smart TVs and voice controllers—users can rest assure that every point of their home or business network will have the ability to thwart virtual prowlers.
Cloud intelligence stopping known and unknown threats
Zyxel's AiShield can secure networks and devices with its multi-layered protection: anti-virus, anti-phishing, anti-botnet, malware/ransomware blocking, IoT security for smart devices, and web security for online browsing. AiShield's virtual fortifications are always up to date with real-time access to Zyxel's extensive, self-improving cloud security database.
Simple and convenient network management tools
The AiShield mobile app serves as a command center and scheduler. Features an interface that makes it easy to oversee and manage an entire network and connected devices. Users will be able to manage network access control, restrict web browsing and application usage for each user profile, and check up to a 30-day history of threats and warnings all through the AiShield app. For detailed analysis, a simple tap produces an easy to understand graphical threat report that summarizes the data of your network security.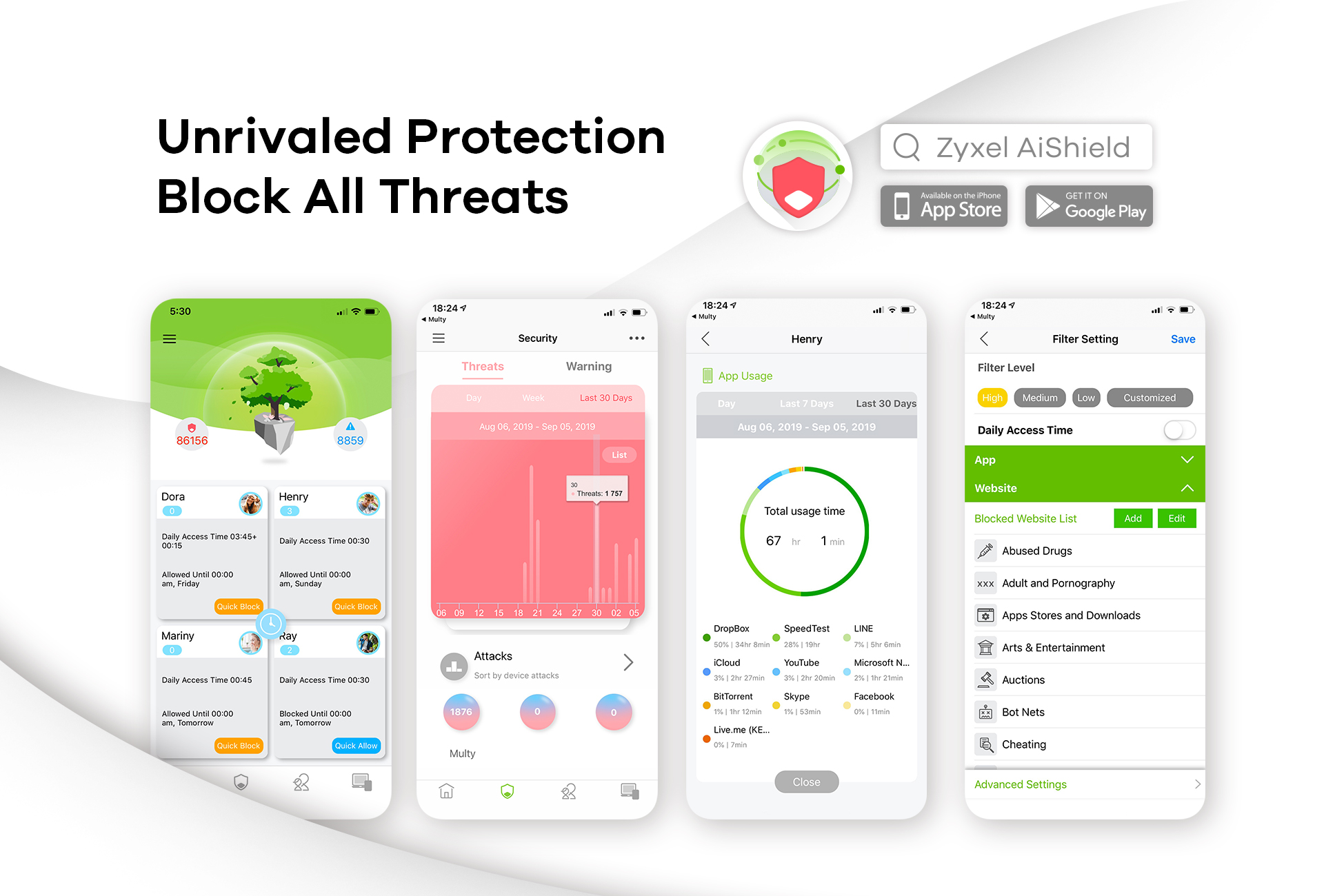 "It's getting to the point where people don't know if it's safe to use the Internet at all," said Bill Su, senior AVP of Zyxel's Smart Living SBU. "With the rise of intelligent devices, the chances of data loss, identity theft, or worse has shifted from low to high probability. We've created AiShield to give people an easy way to take back control of their networks, their devices, and their homes."
AiShield is the most comprehensive and cost-effective network security service on the market. It is now available for Zyxel Multy Plus and Multy X Mesh WiFi Systems. Subscription to AiShield can be activated or renewed directly in the AiShield mobile app (Android/iOS). A 1-year complimentary AiShield service is offered for any new purchase of Multy Plus Mesh WiFi System to safeguard SOHO and small office networks. A 30-day free trial is also offered for any new Multy X users.
To learn more about Zyxel's AiShield, please visit: https://www.zyxel.com/solutions/Multy-Series-Solution-20190711-826379.shtml#AiShield
About Zyxel
Focused on innovation and customer-centric technology and service, Zyxel has been connecting people to the Internet for nearly 30 years. Our ability to adapt and innovate with networking technology places us at the forefront of the drive to create connectivity for telcos and service providers, businesses and home users.
Zyxel is a global force in today's communications market with an unrivalled track record, including:
- 1,500 passionate associates worldwide
- 100 million devices creating global connections
- 700,000 businesses working smarter with Zyxel solutions
- 150 global markets served
Today, Zyxel is building the networks of tomorrow, unlocking potential, and meeting the needs of the modern workplace — powering people at work, life, and play. Zyxel, Your Networking Ally.