Zyxel expands Nebula range to provide businesses with even greater flexibility and power
New features and two new NebulaFlexTM Pro tri-mode access points give SMEs and MSPs a network performance boost
Hsinchu Taiwan, 15 January 2019—The rapid evolution of technology is placing greater demands on modern networks and users. Today, Zyxel announced the expansion of its Nebula Cloud Networking Solution to help businesses keep up with these challenges. Designed for managed service providers (MSPs) and small-to-medium-sized enterprises (SMEs), the Nebula adds to a growing list of advanced features. Zyxel also unveiled two new NebulaFlex Pro access points that support triple mode functionality and a premium gateway, completing the Nebula product family for MSPs and SMEs to fulfill whatever their projects may need.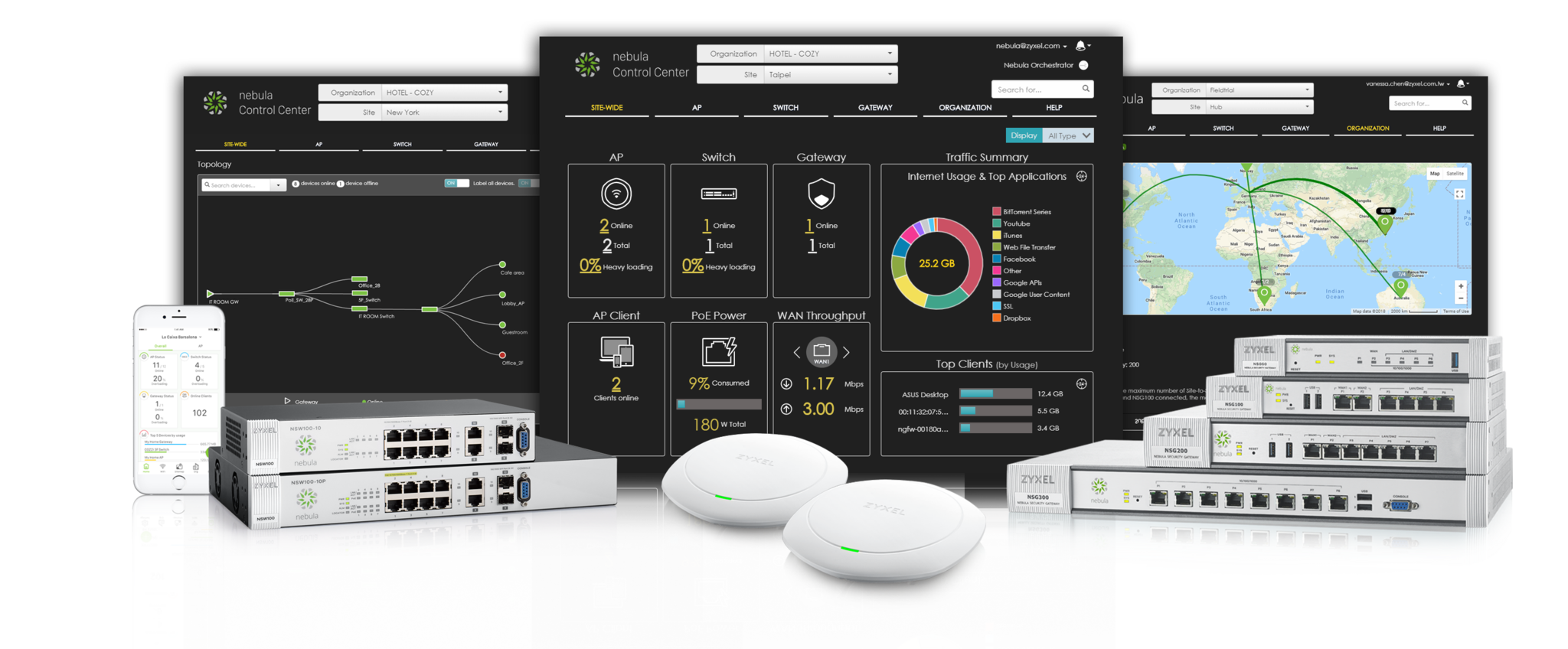 The 28-member Nebula family is fit to be deployed in any business scenario
New features make Nebula shine
Zyxel is rolling out new Nebula features that will provide a wide range of MSPs with additional flexibility and management benefits. These include:
Advanced IGMP multicast functionality and IPTV reporting that provide utilization, network analysis and client statistics of the multicast groups or channels in an IPTV environment for hospitality MSPs
Nebula Security Service analysis report including application patrol, content filtering and antivirus, offering an instant view of the usage and hits of network clients at a glance for Managed Security Service Providers (MSSPs)
Configuration templates for switch settings that allow MSPs to roll out and keep updating multiple sites from a single base configuration
Backup and restore settings configured site-wide or in switch devices
Nebula Mobile App v2.1 enriches the array of available mobile features with notification center, MSP org/site status-at-a-glance view, VPN topology and site-wide map viewNew hardware designed for larger-scale businesses/projects
Zyxel has further expanded Nebula compatibility to include two new NebulaFlex Pro APs – WAC6303D-S and NWA5123-AC HD. This duo features three management modes — standalone, controller-managed and Nebula cloud-managed, offering businesses a simpler way to adapt existing hardware investment to the business needs today, plus the future-proof flexibilities whenever they need to switch to or between on-premise or cloud-managed deployment scenarios.
Deploying high-performance wireless network in high-density and busy environments becomes easier with the NebulaFlex Pro APs – both feature 802.11ac wave 2 to support higher speed and more connected devices. The WAC6303D-S is equipped with a smart antenna that is proven to eliminate WiFi interference in busy environments. All NebulaFlex Pro APs come bundled with a three-year Nebula Professional Pack license.
The latest addition to the Nebula gateway series - NSG300 boasts more power and capacity to run the advanced Nebula Pro Pack features and Nebula Security Service. The complete security lineup of Nebula now provides a versatile choice to meet customer needs. For more information, please visit: www.zyxel.com/nebula or www.zyxel.com/nebulaflex
About Zyxel Communications
Focused on innovation and customer-centric technology and service, Zyxel Communications has been connecting people to the Internet for nearly 30 years. Our ability to adapt and innovate with networking technology places us at the forefront of the drive to create connectivity for telcos and service providers as well as businesses and home users.
Zyxel is a global force in today's communications market with an unrivalled international presence that includes:
- 150 markets served
- 1,500 passionate associates
- 700,000 businesses working smarter with Zyxel solutions
- 100 million devices creating global connections
Today, Zyxel is building the networks of tomorrow, unlocking potential, and meeting the needs of the modern workplace—powering people at work, play, and life.
Zyxel, Your Networking Ally.