WiFi 6 technology helps schools to unleash digital potential
Zyxel's new WiFi 6 (11ax) access points take interference out of the classroom, empowering pupils to work smarter
Hsinchu, Taiwan, 22 October 2019 – Zyxel today announces the release of the WiFi 6 (11ax) access point (AP) series, designed to ease network congestion in classrooms and high-density environments.
Teachers and pupils now spend more time working online through smart whiteboards, laptops or tablets. But with 30-40 pupils in a class, schools struggle with network performance, including slow downloads, buffering videos, or inconsistent experience for digital interactive learning—even with an AP in every classroom. To combat this challenge, schools need a network solution that increases capacity and breaks down the technical barrier to helping pupils embrace modern, digital learning methods.
Zyxel's new WiFi 6 (11ax) AP series, led by the WAX650S, is able to support a large group of devices simultaneously and keeps interference out of the classroom. WiFi 6, or high efficiency wireless, is the latest iteration of wireless technology which offers faster speeds, greater capacity, and reduced latency.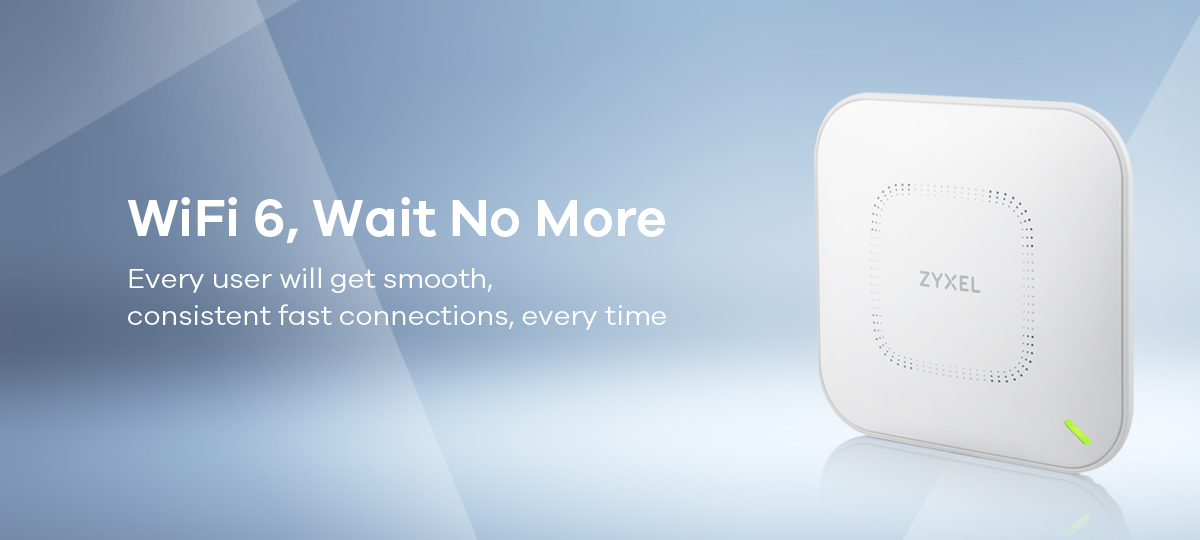 WiFi 6: The key to the future of learning
Built with new OFDMA and spatial reuse (BSS coloring) technology, multiple users can connect to the next generation WAX650S access point at the same time, without straining the bandwidth. This results in streamlined connections and more efficient WiFi so more transmissions can be sent without any delay or contention.
In a classroom, this is important as pupils may all have varying bandwidth requirements, from interactive learning programs to downloading multimedia lesson aids, but each needs to access the network at the same speed.
Overcoming interference with smart antenna
Despite the many benefits of the new WiFi 6 standard, there are still further co-channel interference issues to overcome with APs, as high volumes of WiFi devices connect through the same channel. This is particularly true in high density environments, such as classrooms. Zyxel has designed the WAX650S with smart antenna technology, which coupled with the use of spatial reuse technology, boosts network performance and overcomes network interference more powerfully than other WiFi 6 APs.
As well as the smart antenna, the WAX650S AP includes 5Gb-ethernet support and WiFi 6 standard multi-gig speed for a faster wireless environment. Dedicated scanning radio allows for all-time monitoring of network issues without impacting WiFi quality, while optimized hardware design enables the AP to better tackle wireless interference challenges.
The 11ax AP series also integrates with Zyxel's NebulaFlex solution and comes bundled with a one-year pro-pack license. By integrating with Nebula, schools can reap the benefits of cloud networking and remotely manage their system without the need for a dedicated IT team.
For schools without a fixed budget, they can try the license-free Nebula basic pack. Alternatively, the Nebula Professional pack offers more advanced features, such as access to wireless health monitoring and reports that help schools diagnose WiFi health and solve issues quickly. Its lifetime subscription option eliminates rolling licensing costs, helping schools to keep their network up and running with flexible subscription options that best fit their budget.
"Schools are continuing to embrace new technology to engage their pupils and enhance teaching methods. They need a dedicated, easy-to-use solution to reduce WiFi interference as large numbers of pupils work online," commented Crowley Wu, VP of Zyxel's Networking SBU. "With our new WiFi 6 (11ax) access points, slow download times and network jitter will be a thing of the past, so schools and pupils can unleash their digital potential."
To learn more about Zyxel's WiFi 6 access points please visit: https://www.zyxel.com/promotions/wifi6-promotion-20190930-807915.shtml
About Zyxel
Focused on innovation and customer-centric technology and service, Zyxel has been connecting people to the Internet for nearly 30 years. Our ability to adapt and innovate with networking technology places us at the forefront of the drive to create connectivity for telcos and service providers, businesses and home users.
Zyxel is a global force in today's communications market with an unrivalled track record, including:
- 1,500 passionate associates worldwide
- 100 million devices creating global connections
- 700,000 businesses working smarter with Zyxel solutions
- 150 global markets served
Today, Zyxel is building the networks of tomorrow, unlocking potential, and meeting the needs of the modern workplace — powering people at work, life, and play. Zyxel, Your Networking Ally.