Visual threat analysis service helps simplify complex and time-intensive business network monitoring
Zyxel's SecuReporter Cloud Analytics Service enhances monitoring and reporting capabilities for improved threat detection and prevention
Hsinchu, Taiwan, 7 October 2019 – Zyxel today announces advanced new features for its SecuReporter Cloud Analytics Service, which is already an integral element of Zyxel ATP firewalls and will apply to all USG firewalls with a one-year license bundle from October 2019. The service will help small and medium businesses (SMBs) and managed services providers (MSPs) take responsive and prompt action against network threats through accurate and informed insights.
As the cyberthreat landscape continues to evolve, SMBs and MSPs are under great pressure to maintain control over risks affecting the smooth running of their networks. For SMBs, a lack of time and expertise is often the main barrier to identifying and managing threats, while MSPs are grappling with time and resource issues when protecting the vast number of networks that they manage.
Zyxel SecuReporter is a cloud-based visual analytics and reporting service, designed to provide a centralized view of cybersecurity analytics and reports, as well as collect and correlate threat data. Security insights are presented in graphs, charts, and tables which are easy to understand and interpret.
Take the right course of action with accurate insights
The newly added features provide advanced functionality to improve analytics and reporting capabilities for more informed and accurate action-taking.Sandboxing, botnet filtering and IP reputation analytics* form the backbone of comprehensive threat analysis. With these enhanced capabilities, users can easily run forensic reports, identify botnets, discover which internal host has been compromised and identify which threat is attacking the network.
Navigate threat factors from a single-pane-of-glass
An intuitive dashboard and comprehensive reporting functionality combines security intelligence and automated data correlation with real-time traffic analytics. Reports can be customized and generated when needed or scheduled daily, weekly or monthly. Different levels of drill-down capabilities give users enhanced analysis depending upon their needs. An 'organizational' view provides a single-pane-of-glass threat analysis and report of the entire business or across multiple organizations; the 'map' view shows a plan of all connected devices, so they are easily located and identifiable; and a 'threat map' displays geo-locations, frequency and time, for more detailed incident insights.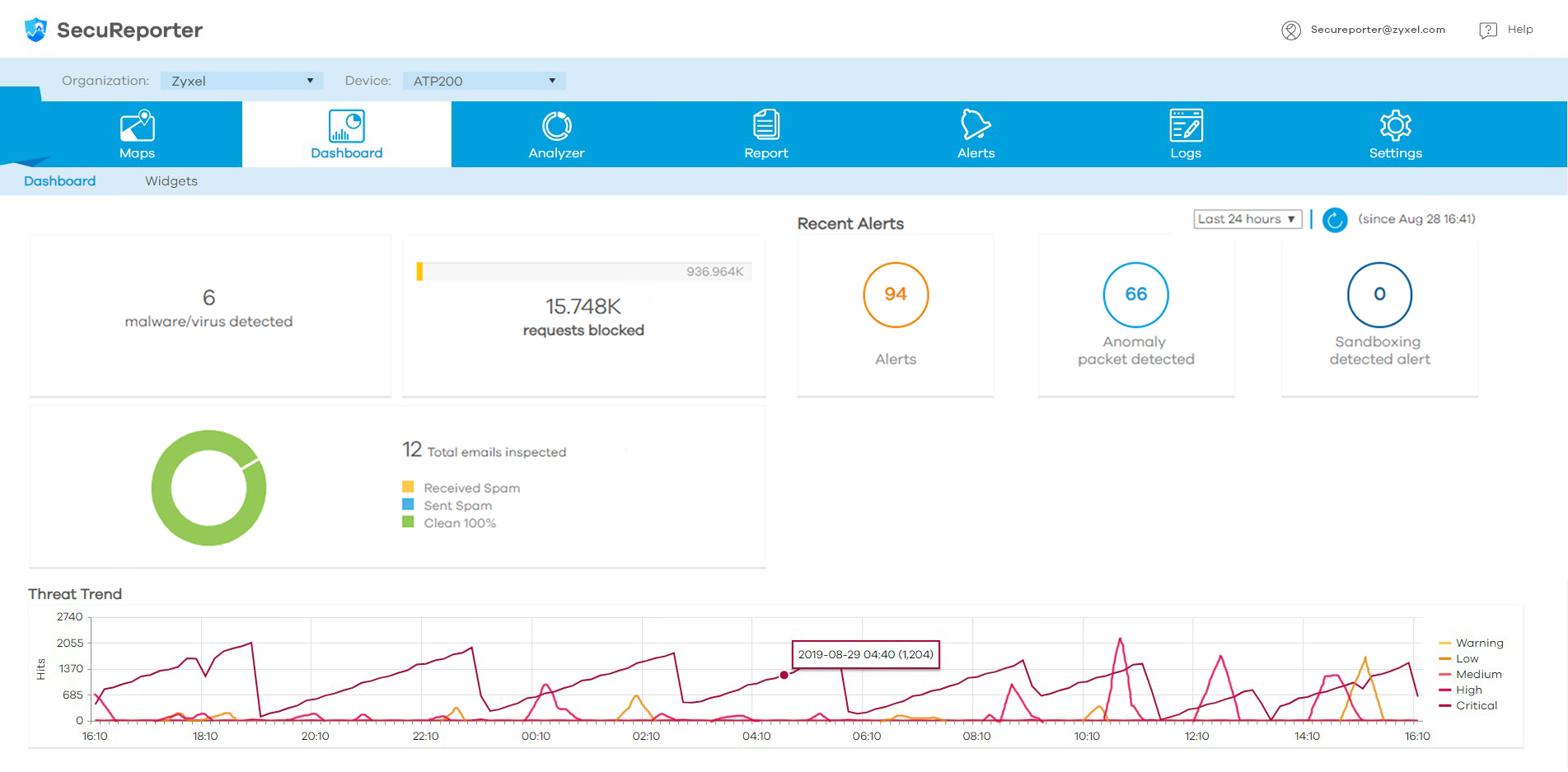 In addition, SecuReporter can be further customized to suit individual business' requirements. Alerts can be customized and set according to different thresholds and conditions. For MSPs, network security reports can be tailored or personalized to each customer, such as adding logos or specific contact names.
"It can be hard for businesses to keep up with the sheer number and sophistication of external threats facing their network. Our enhanced analysis service helps businesses to easily identify risks and threats to their network," commented Nathan Yen, AVP of Zyxel's Gateway Business Center.
SecuReporter Cloud Analytics Service is compatible with Zyxel's ATP and USG series firewalls running on the new firmware ZLD4.35. Learn more about Zyxel's SecuReporter platform at www.zyxel.com/secureporter
*Sandboxing, botnet filtering, and IP reputation analytics are only available on ATP firewalls
About Zyxel
Focused on innovation and customer-centric technology and service, Zyxel has been connecting people to the Internet for nearly 30 years. Our ability to adapt and innovate with networking technology places us at the forefront of the drive to create connectivity for telcos and service providers, businesses and home users.
Zyxel is a global force in today's communications market with an unrivalled track record, including:
- 1,500 passionate associates worldwide
- 100 million devices creating global connections
- 700,000 businesses working smarter with Zyxel solutions
- 150 global markets served
Today, Zyxel is building the networks of tomorrow, unlocking potential, and meeting the needs of the modern workplace — powering people at work, life, and play. Zyxel, Your Networking Ally.