Savvy small business owners can now take control of their cybersecurity with Zyxel's advanced new firewall
The ATP100 firewall offers small businesses increased protection from a wide range of cyberthreats
Hsinchu, Taiwan, 24 October 2019—As research reveals that 43% of data breaches involve small businesses, it's clear that many of them are struggling to keep on top of the growing risk of cyberattacks. To solve this challenge, Zyxel today introduces its new ZyWALL ATP100 Firewall which offers small businesses an unprecedented level of threat intelligence. Thanks to its built-in cloud-based security service, the ZyWALL ATP100 draws intelligence from a continually-expanding database of cybersecurity information to leverage global threat data for local business protection.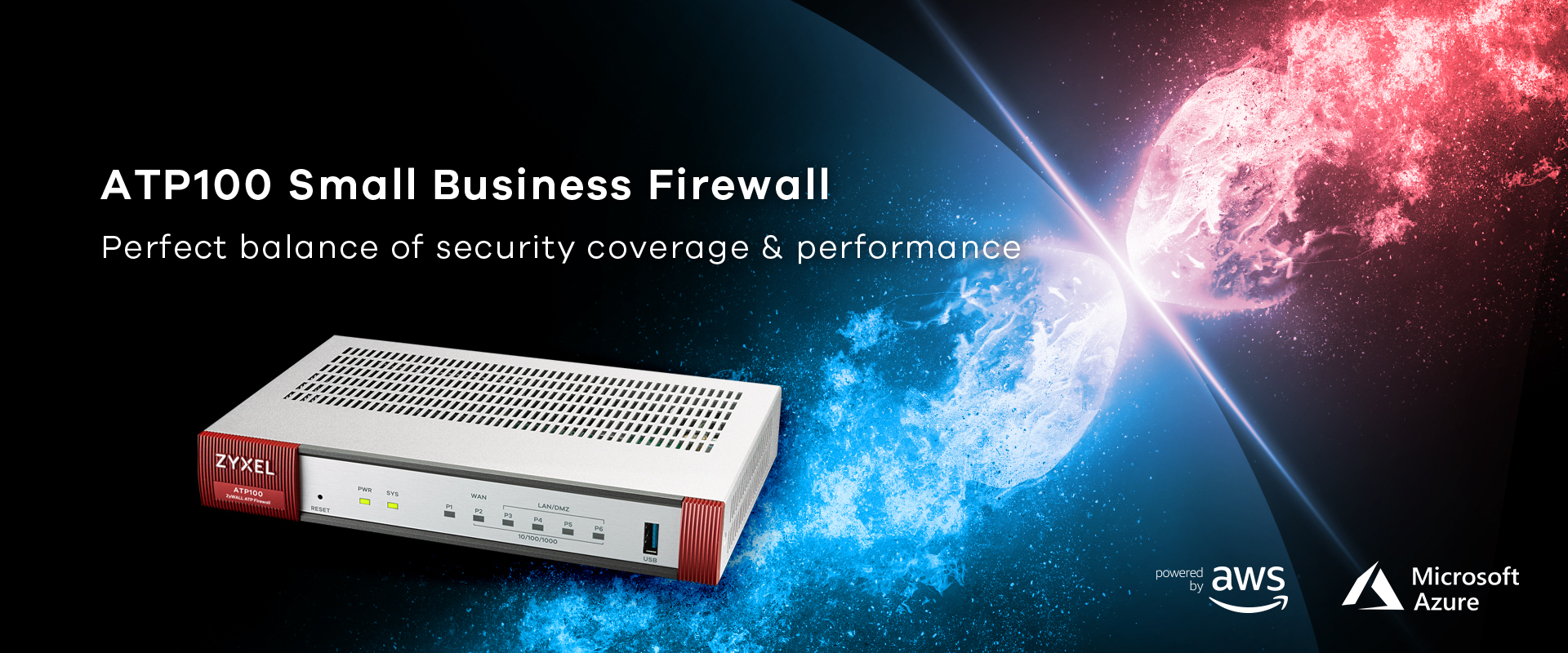 Global threat intelligence in one box
With its cloud-based security services, the ATP100 provides multi-layer protection and can remotely recognize billions of threat detection signatures with Cloud Query. This ever-growing database of threat information is analyzed by an AI-driven algorithm to help businesses identify active threats and stop malware before it can spread.
"Cybersecurity attacks can have a big effect on small businesses, who often don't have the right resources or infrastructure to defend against threats or they can be restricted by the need for expensive computing power", said Nathan Yen, AVP of Zyxel's Gateway Business Center. "Instead, Zyxel's ATP firewall leverages the benefits of cloud-based security to offer small businesses the ability to balance both coverage and performance without costly hardware."
Minimum effort, maximum effect
In addition, the firewall features Zyxel's IP Reputation Filter, which automatically screens and blocks the majority of network threats from malicious IPs without needing to inspect them individually. This preventive feature significantly cuts down on the system resources required, reduces the considerable demands placed upon hardware, and saves time for businesses as they no longer need to laboriously configure security policies to block IPs one by one.
A single solution for multi-layered security protection
Importantly for small businesses on a tight budget, the Zyxel ATP100 tackles a wide range of threats, such as attacks from botnets and the ability to block IPs by threat level. Additionally, Gold Security Pack customers can access a newly-added range of features to customize their firewall and monitor for the threats that most matter to them. These include web attacks, exploits and sources of spam. With these comprehensive features, the ZyWALL ATP100 provides total business security protection, all in one solution.
An extensive range of firewalls for companies - from small to large
The ATP100 joins Zyxel's ZyWALL ATP200, ATP500, and ATP800 Firewall family. This new addition to the range brings security protection to small businesses with less than 25 employees. The IP Reputation Filter will be available for all ATP firewalls and gateways running on firmware ZLD4.35, which will be released in October 2019.
The release of Zyxel's new ZLD4.35 firmware will bring two-factor admin authentication, AP Controller 3.40, Microsoft Azure integration, and more than 20 enhancements for security and usability to all ATP firewalls, ensuring that ZLD4.35 has the latest improvements in protection, functionality, user experience and more. For more information about Zyxel's ATP100 please visit: https://www.zyxel.com/products_services/ATP-Firewall-ZyWALL-ATP100/
About Zyxel Networks
Focused on innovation and customer-centric technology and service, Zyxel has been connecting people to the Internet for over 30 years. Our ability to adapt and innovate with networking technology places us at the forefront of the drive to create connectivity for businesses and home users.
Zyxel is a global force in today's communications market with an unrivalled track record, including:
- 150 markets served
- 700,000 businesses working smarter with Zyxel solutions
- 100 million devices creating global connections
Today, Zyxel is building the networks of tomorrow, unlocking potential, and meeting the needs of the modern workplace — powering people at work, life, and play.
Zyxel, Your Networking Ally.