Enhance your wired home network with Zyxel's new G.hn wave 2 powerline adaptor
Zyxel's PLA6457 powerline adapter helps home users take advantage of the latest networking standard, for extended data streaming speeds and greater reliability
Hsinchu, Taiwan, 4th November 2021—Zyxel Networks, a leader in delivering secure, AI- and cloud-powered business and home solutions, today announced PLA6457 G.hn wave 2 Powerline Pass-thru Gigabit Ethernet Adapter, which helps families and home users to access extended reach and greater speeds throughout their entire wired home network set-up, for improved streaming of 8K content and data-heavy gaming platforms.
For many home users, wired network connections provide a more reliable way to connect to the internet than a WiFi solution. This could be due to signal strength not able to cope with concrete walls, or multiple storeys putting a strain on the reach of the wireless router.
In these situations, powerline adapters allow users to take a different approach and extend the reach of their wired network without complicated set-up or having wires trailing across the floor between the router and networked devices – such as laptops, game consoles or smart TVs.
The new PLA6457 G.hn Powerline Adapter is one of the firsts in Zyxel's extensive powerline portfolio to feature the new G.hn wave 2 standard technology. Compared to existing HomePlug AV standards, G.hn is twice as fast and boasts greater reach than the existing standard. It also provides better anti-interference and improved reliability when streaming data-heavy content.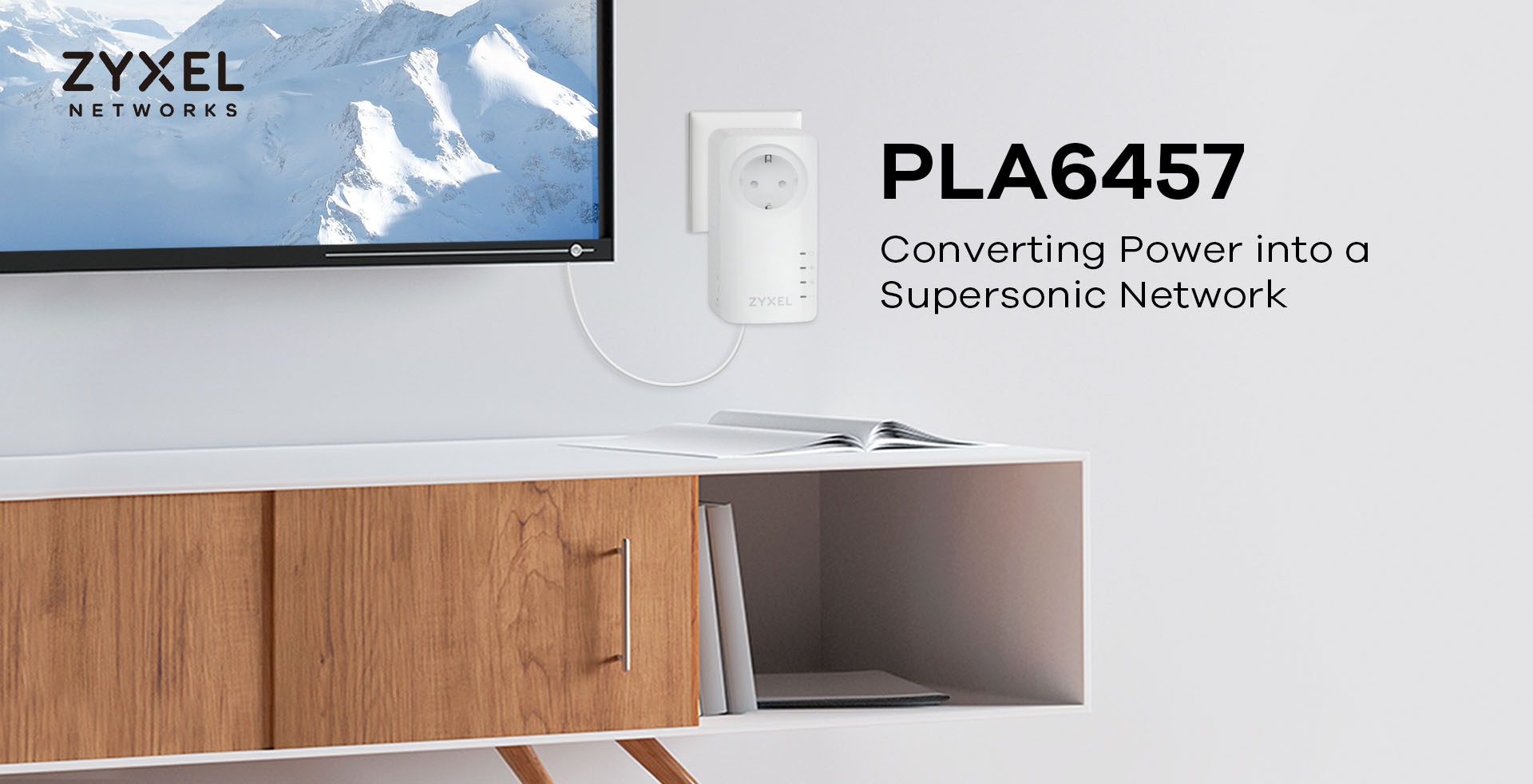 The pass-through design of the adapters not only transforms power outlets into a fast, reliable network but they don't interfere with any powered devices connected at the same socket. Plug-and-play functionality makes the devices easy to set-up - simply plug the two powerline adapters in and you can connect instantly. The compact units also have color indicator lights to notify you of network performance and will automatically switch to standby mode to save power when not in use, for improved energy consumption.
"From streaming 8K films to experiencing virtual reality gaming, we're using the internet at home more than ever. As such, home users want and expect a fast, reliable network connection that doesn't drop out and can handle data-heavy applications, wherever they are in their home," said Nathan Yen, AVP of Zyxel's Gateway Business Unit. "The G.hn standard supports this demand for more robust networking solutions and our PLA6457 Powerline Adapter will help home users to get the most out of their networks without the need for extensive setup or unsightly wires."
Zyxel's PLA6457 G.hn 2400 Wave 2 Powerline Pass-thru Gigabit Ethernet Adapter can reach speeds of up to 2,400 Mbps depending on each home environment. The Gigabit Ethernet port allows the connection of Ethernet enabled devices at Gigabit speeds for improved video streaming and gaming.
Find out more about Zyxel's PLA6457 Adapter, please visit https://www.zyxel.com/products_services/G-hn-2400-Mbps-Wave-2-Powerline-Pass-thru-Gigabit-Ethernet-Adapter-PLA6457/
About Zyxel Networks
Zyxel has been getting business and home users online for over 30 years, relying since Day 1 on innovation and customer-centric service. In 1989, this meant analog modems. Today, it means using AI and the cloud to deliver rapid, reliable, and secure networking solutions for business and home users.
Zyxel is a global force in the communications market with an unrivalled international presence that include:
- 150 markets served
- 1,000,000 businesses working smarter with Zyxel solutions
- 100 million devices creating global connections
We're building the networks of tomorrow, unlocking potential, and meeting the needs of the modern workplace—powering people at work, play, and life.
Zyxel, Your Networking Ally.