- Offers 100/50 Mbps (17a) and 100/100Mbps (30a) bandwidth to fulfill next-generation broadband access requirements
- True DSL technology to offer multiple HD IPTV services simultaneously for a digital home user
- Backward compatible with the existing xDSL family
- Best-effort solution eliminates the last-mile bottlenecks for FTTx solutions
VDSL2 17a, 100/50 Mbps VDSL2-oplossing De VDSL2-technologie van ZyXEL biedt ondersteuning voor een breed scala aan triple play-toepassingen, zoals spraakverbindingen, gegevensverbindingen, HDTV en interactieve games. Deze technologie stelt netwerkexploitanten en carriers in staat om hun bestaande xDSL-infrastructuur op geleidelijke en flexibele wijze en tegen beperkte kosten op te waarderen. De maximale downstream bandbreedte bedraagt 100 Mbps. De maximale upstream bandbreedte bedraagt 50 Mbps.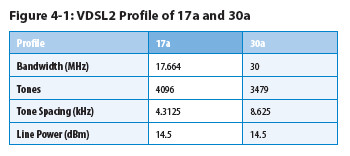 Very-High-Bit-Rate Digital Subscriber Line 2 (VDSL2), ook wel G.993.2 genoemd, is een van de meest populaire standaarden binnen de xDSL-reeks. Deze breedbandtechnologie wordt op brede schaal gebruikt. VDSL2 stelt telecomexploitanten overal ter wereld in staat om diensten zoals HDTV, video on demand, videoconferencing, uiterst snelle internettoegang en geavanceerde spraakdiensten zoals VoIP aan te bieden via een standaard koperen telefoonlijn.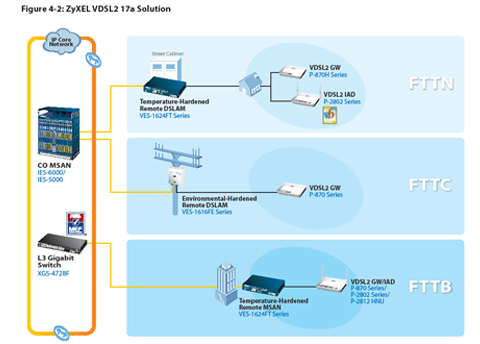 VDSL2 voorziet in alle technische mogelijkheden om een einde te maken aan problemen met terugwaartse compatibiliteit met traditionele ADSL-technologie. VDSL2 biedt telecombedrijven een oplossing die interoperabel belooft te zijn met de bestaande ADSL-infrastructuur. Deze interoperabiliteit maakt de migratie naar VDSL2 heel eenvoudig.
VDSL2 biedt consumenten snelheden tot 100 Mbps upstream en downstream op 213 meter en 20-30 Mbps tussen de 762 en 1.219 meter. VDSL2 is een ideale oplossing voor de uitrol van FTTP (Fiber to the Premises). Er wordt gebruikgemaakt van een rechtstreekse glasvezelverbinding naar een appartementenflat, terwijl een koperen telefoonlijn wordt gebruikt om huishoudens van daaraf van VDSL2-verbindingen te voorzien. Dit is tevens een uitstekende oplossing voor de last mile van FTTx-implementaties dankzij de mogelijkheid van verbindingen met MSAN's (Multiple Service Access Nodes) op afstand via glasvezel.