- Offers 100/50 Mbps (17a) and 100/100Mbps (30a) bandwidth to fulfill next-generation broadband access requirements
- True DSL technology to offer multiple HD IPTV services simultaneously for a digital home user
- Backward compatible with the existing xDSL family
- Best-effort solution eliminates the last-mile bottlenecks for FTTx solutions
VDSL2 17a, 100/50 Mbps VDSL2 Solution The ZyXEL VDSL2 technology supports a wide range of triple-play service deployments such as voice, video, data, high-definition television (HDTV) and interactive gaming. It also enables operators and carriers to upgrade the existing xDSL infrastructure gradually and flexibly with limited cost. The maximum downstream bandwidth is 100 Mbps and the maximum upstream bandwidth is 50 Mbps.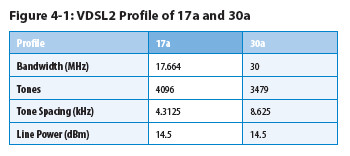 Very-High-Bit-Rate Digital Subscriber Line 2 (VDSL2), or G.993.2, is one of the most popular standards of the xDSL family and widely deployed broadband technology. It allows telecom operators around the world to provide services such as High Definition TV (HDTV), video-ondemand, videoconferencing, high-speed Internet access and advanced voice services, including VoIP, over a standard copper telephone cable.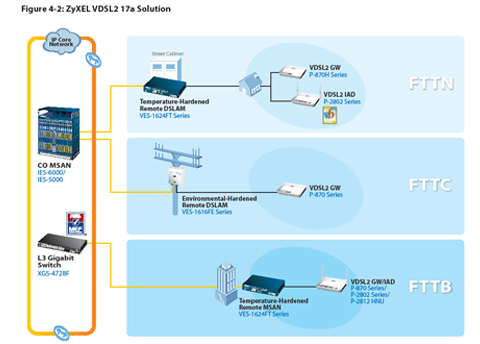 VDSL2 includes all the technical prerequisites to address the backward-compatibility issues of the traditional ADSL technology. VDSL2 offers telecom carriers a solution that promises to be interoperable with the ADSL kit that many operators already have in place. This interoperability will make customer migration to VDSL2 much easier.
VDSL2 gives consumers speeds of up to 100 Mbps upstream and downstream at 700 feet and 20-30 Mbps between 2500 to 4000 feet. VDSL2 is an ideal solution to work with the FTTP (Fiber to the Premises) rollout; for instance, fiber is supplied directly to an apartment block and copper cable is used to supply residents with high-speed VDSL2 from there on. It is also a perfect solution for the last-mile of FTTx deployments by connecting to remote MSAN (Multiple Service Access Nodes) via fiber optics interfaces.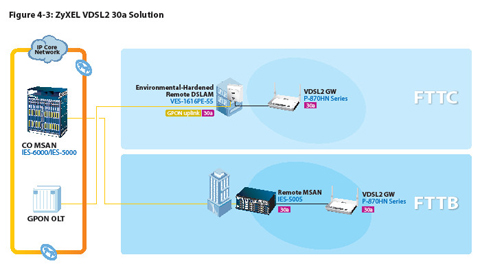 Suppoeted Models
Multi-WAN VPN
Provides outstanding network performance with an all-in-one connectivity for small business.