Zyxel's high-performing ZyWALL VPN firewalls validated by Microsoft Azure
Major cloud platform's approval of network security devices will empower SMBs to enhance and expand their hybrid cloud infrastructure
Hsinchu, Taiwan, 16 July 2019—Zyxel announced today that its ZyWALL security firewalls have received validation from the popular cloud service, Microsoft Azure. The certified partnership will make it easier for Zyxel to deliver unparalleled flexibility, scalability, and convenience to SMBs with hybrid networks that use a combination of on-site and cloud-based infrastructure.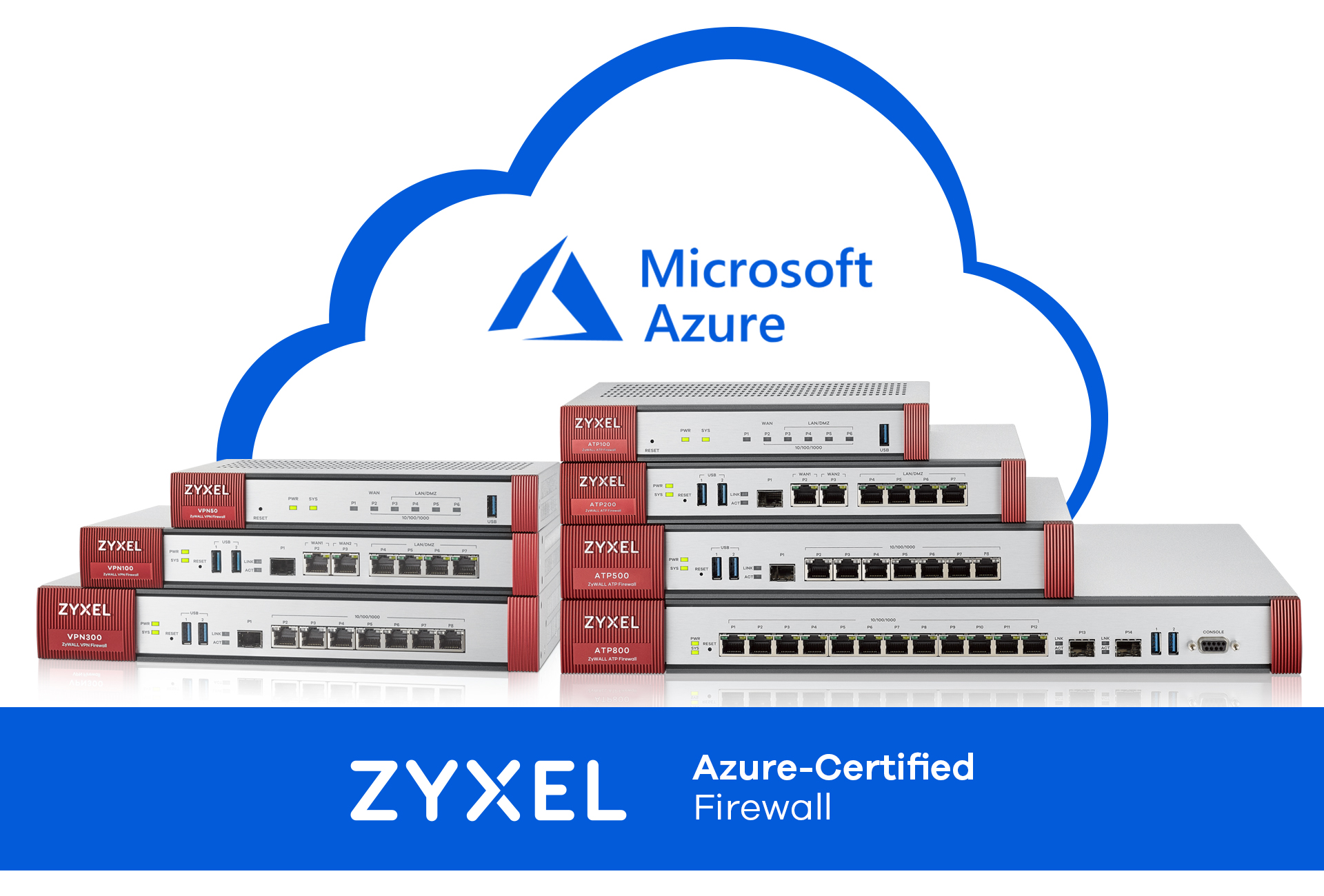 All Azure-certified devices are put through a rigorous battery of validation tests. Not only did ZyWALL pass with flying colors, it was commended by the Azure team. "All technical tests checked out, and the connections we created from the ZyWALL ATP200 have been very stable—for days," said Mario Afiri, S. Escalation Engineering Lead, from Microsoft Azure Networking. "The product was also easy to set up from the moment it was plugged in. It's a game-changer."
With the increased reliance on cloud platforms like Azure for mission-critical services, a business's choice of VPN—the portal through which users securely connect to the cloud—has never been more important. The ZyWALL family, consisting of the USG, ATP, and VPN series, has a range of product options to meet the requirements of any kind of network. Each device has been designed to be a true "one box" solution, enabling businesses to quickly and cost-effectively leverage their cloud services without having to worry about deploying additional hardware. But what makes ZyWALL stand out most from other Azure-certified products is its support for both BGP (Border Gateway Protocol) and VTI (Virtual Tunnel Interface). Both features deliver breakthrough flexibility and scalability, important factors for SMBs looking to gain an edge on their rivals.
"To stay competitive and have the best chance of long-term success, today's businesses must be versatile," said Nathan Yen, AVP of Zyxel's Gateway Business Center. "This is one of the main reasons why flexible, cloud-based solutions like Microsoft Azure have become wildly popular in the last few years. We've always believed that our ZyWALL family offered the best available products to harness the power of the cloud, so it's truly an honor to have Azure's seal of approval."
Microsoft Azure integration, via BGP and VTI, is now available for the following ZyWALL security firewall devices running firmware version ZLD v4.32 or above.
For instructions on Azure setup and configuration, please visit the appropriate Zyxel community forum.
BGP: https://businessforum.zyxel.com/discussion/2650/
VTI: https://businessforum.zyxel.com/discussion/2648/
To learn more about ZyWALL security firewalls, check out their product page: https://www.zyxel.com/products_services/smb-security_firewalls.shtml
About Zyxel
Focused on innovation and customer-centric technology and service, Zyxel has been connecting people to the Internet for nearly 30 years. Our ability to adapt and innovate with networking technology places us at the forefront of the drive to create connectivity for telcos and service providers, businesses and home users.
Zyxel is a global force in today's communications market with an unrivalled track record, including:
- 1,500 passionate associates worldwide
- 100 million devices creating global connections
- 700,000 businesses working smarter with Zyxel solutions
- 150 global markets served
Today, Zyxel is building the networks of tomorrow, unlocking potential, and meeting the needs of the modern workplace — powering people at work, life, and play. Zyxel, Your Networking Ally.