Zyxel access points lauded for outstanding performance and innovation
The high marks solidify Zyxel's status as network leader for hospitality and business ventures
Hsinchu, Taiwan, 13 May 2019—Zyxel is pleased to announce that two of its access points have been recognized for remarkable technical achievements.
PC Pro, a UK IT magazine, recently gave Zyxel's NWA1302-AC Wall-Plate Access Point a 5-star recommended review, which overflowed with praise for the "discreet do-it-all" device. The editorial team at the UK's IT Pro echoed this critical acclaim with their own positive write-up of the product. On the heels of this success, the WAC6303D-S Wave 2 Dual-Radio Unified Pro Access Point attained a top-three placing for "process improvement" in Germany's Tophotel Star Award, honoring the best products and services for the hotel supply industry. The recent laurels reflect Zyxel's commitment to meeting and exceeding the demands of the rapidly evolving hospitality and SMB industries.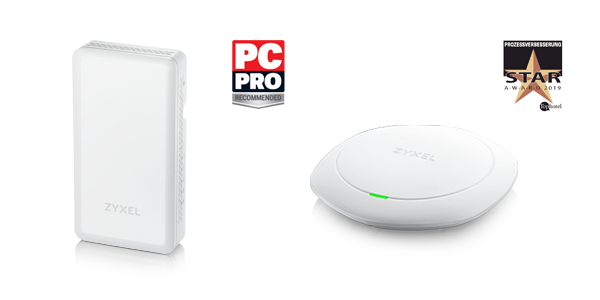 The NWA1302-AC Wall-Plate Access Point, at left, and WAC6303D-S Wave 2 Dual-Radio Unified Pro Access Point have been honored for their technical achievements.
The NWA1302-AC was built to handle a wide range of wired and wireless responsibilities. Meticulous design has endowed the petit device—it measures only 90 by 170mm—with a trio of Ethernet ports and an uplink port on the side. This connective potential allows it to provide a range of services: IP phone power, UHD streaming, high-speed wired internet, in addition to WiFi that covers a typical room with ease. "We were able to carry our iPad 40m down the main building corridor before the SweetSpots iOS app registered a signal dropout," wrote Dave Mitchell in the review for PC Pro. "That's more than enough coverage to fill a hotel room or conference suite."
Both access points feature Zyxel's unique smart antenna technology, which cuts through one of the greatest threats to WLAN performance: co-channel interference. In particular, the NWA1302-AC utilizes this intelligent tech to deliver 4K IPTV to multiple devices simultaneously—even during times of peak usage. The WAC6303D-S further girds against signal disruption by leveraging multi-user MIMO and transmit beamforming advancements, making it a solid choice for deployment in expansive, high-density spaces like lobbies and conference halls. Since the two APs can be configured via Zyxel's Nebula cloud service or standalone mode—the WAC6303D-S also has a third controller option—businesses will retain valuable management flexibility even after deployment.
"On behalf of Zyxel, I want to thank PC Pro, IT Pro, and the Tophotel Star Award voters for the recognition," said Crowley Wu, VP of Zyxel's Networking SBU. "It gives us confirmation that our efforts are making a difference and motivates us even more to deliver the best WiFi products and solutions for the hospitality industry."
To learn more about these critically lauded APs, please visit the following pages. For information on the NWA1302-AC access point: https://www.zyxel.com/products_services/802-11ac-Wall-Plate-PoE-Access-Point-NWA1302-AC/
For information on the WAC6303D-S access point: https://www.zyxel.com/products_services/802-11ac-Wave-2-Dual-Radio-Unified-Pro-Access-Point-WAC6303D-S/
About Zyxel
Focused on innovation and customer-centric technology and service, Zyxel has been connecting people to the Internet for nearly 30 years. Our ability to adapt and innovate with networking technology places us at the forefront of the drive to create connectivity for telcos and service providers, businesses and home users.
Zyxel is a global force in today's communications market with an unrivalled track record, including:
- 1,500 passionate associates worldwide
- 100 million devices creating global connections
- 700,000 businesses working smarter with Zyxel solutions
- 150 global markets served
Today, Zyxel is building the networks of tomorrow, unlocking potential, and meeting the needs of the modern workplace — powering people at work, life, and play. Zyxel, Your Networking Ally.