St Joseph's Primary School, a state-primary school with approximately 205 students, chose ZyXEL's networking products to provide wireless access and unified threat management allowing the school to offer ICT within their school curriculum and improve the learning experience for their pupils.
Chooses ZyXEL's NWA 3100 WLAN Access Points and 35 UTM Firewall to offer ICT within their school curriculum
The Challenge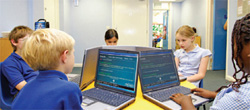 St Joseph's had a number of PCs spread around the school to allow both staff and students to have access to the Internet. The majority of these were in the central ICT suite at the school, which was the main area where students and teachers would go to access computers for classes and to prepare for upcoming lessons. However, teachers could also access the Internet using their laptops in the school's staffroom.

The school had a 2mbps link to the Internet running via a DLink router, but because of the way the network had been set up, as data was transferred from the school across the Internet or vice versa, it had to travel through hubs which meant that the school was only getting about 40% of their actual bandwidth. While this wasn't affecting the students' ability to surf the Internet, when a whole class of children tried to sign into the PCs in the ICT suite at once, the process would be extremely slow and many students could not sign in at all. The ageing equipment in place was also having an affect on network speed. Files and images being saved to the school's network storage server were taking longer than necessary and although not an immediate problem, long term issues would arise as the number of users active on the network increased. In addition, although teachers were able to access email via an off-site Microsoft Exchange service using Outlook, students had no access to email.

St Joseph's was keen to implement a wireless network which would free students and staff from always having to be in the ICT suite if they wanted to use a computer for schoolwork, researching on the Internet or for email. A wireless network would enable students and staff to be able to do all this from anywhere on the school grounds. However, it was important that the entire installation was completed quickly with no disruption to students or staff.

The Solution
ZyXEL, in conjunction with a reseller partner, spent several days on site at the school assessing the IT infrastructure needs. From this analysis it was decided that the school would be provided with a wireless network utilising an 802.11a/b/g system, created by using an end-to-end selection of ZyXEL's products. This would be completed over a three to four day period during an agreed school holiday so as not to interrupt classes.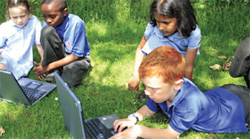 In order for the school to go wireless, ZyXEL provided them with a variety of products including eight wireless access points; ten wireless cards for the school's laptops; two switches; one network attached storage appliance; four disks; ten ZyAssure support packs, ZyXEL's support service, on the access points and switches; and ten routers for the staff.

However, before any work could begin ZyXEL worked with its reseller partner to undertake a wireless and cabling site survey to establish where the wireless access points should be located in order to provide optimum coverage, as well as to discover the power and data cable requirements for implementing the proposed wireless system. The survey also had to make note of the building layouts and any relevant structural characteristics that would impact the project, as well as any health and safety issues that needed to be considered before the project commenced.

After the findings of the survey were analysed, the first step was to lay the foundations for the new wireless network. This meant installing new cabling throughout the school so that the wireless equipment could be plugged into it. The CAT5 cabling chosen also supported faster data throughput speeds so that the network would operate as quickly as possible.

Once the cabling was installed, eight NWA 3100 wireless access points were deployed throughout the grounds in order to meet the school's requirement of having wireless access campus wide. The wireless access points were powered by ZyXEL 3124 PWR Power over Ethernet switches, with each switch installed into existing cabinets located throughout the school, with the exception of the ICT suite where a new and larger 9U (a "U" is a unit of measurement used to describe the height of devices in a server rack. One "rack unit" is 4.44cm high) cabinet was placed.

In order for the new wireless network to stay protected, a ZyXEL 35 Unified Threat Management device (UTM) was installed and connected between the school's LAN infrastructure and the Internet router. As an all-in-one security device, the firewall monitored incoming and outgoing network traffic and protected the school against a variety of potential security threats. For example, as well as providing anti-spam and anti-virus protection, its content filtering functionality allowed the staff to block access to websites that they didn't want pupils to visit, as well as intrusion detection and prevention which blocked the use of applications such as instant messaging and peer-to-peer file sharing. As St Joseph's did not have any onsite technical staff, the device was configured so that no further alterations to the network settings would be required.

"Understanding St Joseph's unique requirements and needs were essential to making the project a success. For example, when designing and implementing their wireless network we had to make sure that all the equipment was configured to provide maximum protection with minimum intervention," said Lee Marsden, sales manager, ZyXEL. "By setting their firewall in transparent mode we were able to ensure that all of the school's network traffic would be analysed for potential security threats such as viruses and worms, but would require no ongoing management from staff."

Once the infrastructure for the wireless network was installed, the school's PCs and teacher's laptops needed to be updated in order to take advantage of the new wireless network. ZyXEL G170 wireless cards were installed into any laptops that were not capable of accessing the new wireless network. A wireless router was provided so that each staff member could wirelessly access the Internet at home.

ZyXEL supported the project by providing pre-sales support working in conjunction with the reseller to deploy the solution.
Once the installation was complete, ZyXEL, in conjunction with the reseller, held training for the school's staff to explain how the new devices and network worked to ensure that St Joseph's would receive the proper support at all times. In addition, all of the installed equipment is covered by ZyXEL's two year manufacturer warranty and the school is receiving ZyXEL's ZyAssure service and support packs which means that they have access to 24 hour technical support as well as same business day replacement of equipment, so that the school will never be without its network. A copy of the configuration settings for all devices at the time of install has been stored on ZyXEL's corporate network, so that in the event of a device failure this configuration can be used during the restore, giving peace of mind to St Joseph's staff, and means that they will never have to hire a dedicated IT team.

The Benefits
Since the wireless network was installed, students and teachers have found it much more convenient to use the Internet, demand for the laptops has grown significantly and the number of people using the network has greatly increased.
The general accessibility of the Internet has increased due to the new wireless network, allowing students to use laptops in the playground, whilst teachers can work anywhere they like instead of being confined to the ICT lab or staff room. The new infrastructure has doubled the throughput speed of the network so that all students can sign into their PCs easily when taking a class at the ICT lab. The increased speed and robustness of the new network has also provided the foundations to support the school's ICT needs in the future, including the safe introduction of email accounts to students. ZyXEL has also gone the extra mile to ensure that St Joseph's ICT infrastructure is "future-proofed" by providing an additional wireless access point for a new extension to the school which is currently being built, as well as providing extra wireless cards in case the new laptops the school is soon to purchase do not have wireless access.

According to Marsden, feedback from the staff and students at St Joseph's has been extremely positive. "The students and staff are extremely pleased with the freedom the new wireless network has given them. In particular, the teachers love it because they can now freely walk around the school with their laptops and still connect to the Internet or check their email instead of being tethered to one spot. We've also spent time conducting staff training so now teachers can connect new machines to the network themselves. However, the best feedback we've had is that the students and staff now feel assured that they have a safe and secure wireless infrastructure that will grow alongside the school and continue to meet their ICT needs over the years to come."

ZyXEL Wireless Solution for 100 Student Primary School
9 x ZyXEL NWA 3100 wireless access point
10 x ZyXEL G170 wireless network cards
1 x ZyXEL 35 UTM firewall
2 x ZyXEL ES 3124 layer 2 plus Ethernet switches
2 x ZyXEL ES 3124 PWR power over Ethernet switches
10 x ZyAssure support packs
1 x ZyXEL NAS 2400 Network Attached Storage appliance
4 x disks for ZyXEL NAS2400
10 x ZyXEL P660HW – D1 wireless routers
Back to Success Stories