Agile, Robust Switching Technology for IP Surveillance
As the security surveillance industry continues to migrate from traditional analogue technology Closed Circuit Television (CCTV) to IP or convergence-based technology more businesses are looking to add IP surveillance to their core network infrastructure. Today, ZyXEL has established alliances with leading CCTV manufacturers to deliver solutions that guarantee interoperability, quality of service (QoS), remote accessibility as well as simplified installation and management.
IP-based video surveillance is growing as an integral part of security procedures in many organizations. New camera and surveillance technology is driving the demand for a better communication infrastructure. With IP-based video surveillance, it brings many important benefits to the operator and user such as improved video quality, flexible deployment, manageability, scalability and intelligent content analysis.

An IP surveillance system differs from the analogue CCTV network by combining many or all of the elements of the traditional analogue security network. The IP network put into place plays an important role in the performance of the video monitoring and capture quality by providing the connectivity, network bandwidth, security and bandwidth optimization for good quality video traffic transmission. All of which are important to the performance of the solution to the end user.

To offer superior surveillance solutions testing and certification of all interoperable parts of the network is essential. Successful certification gives resellers and installers confidence. A tried and tested solution will deliver the reliability and quality of the video camera streams to ensure the customer has complete confidence on the IP surveillance installation.
Solution Benefits

With a broad range of PoE switches in the portfolio, ZyXEL offers Gigabit or Ethernet PoE switches to deliver full convergence within IP networks. Combined with the latest high-definition camera and surveillance monitoring solutions, these IP-based surveillance systems offer the resellers a number of advantages:
Reduced Installation Cost
ZyXEL One Network Experience
Quality of Service (QoS)
Future-Proof
Flexible, Scalable Solutions
Quick solution finder

The following table shows various deployment scenarios using ZyXEL Switches and explains the capabilities and benefits of each solution.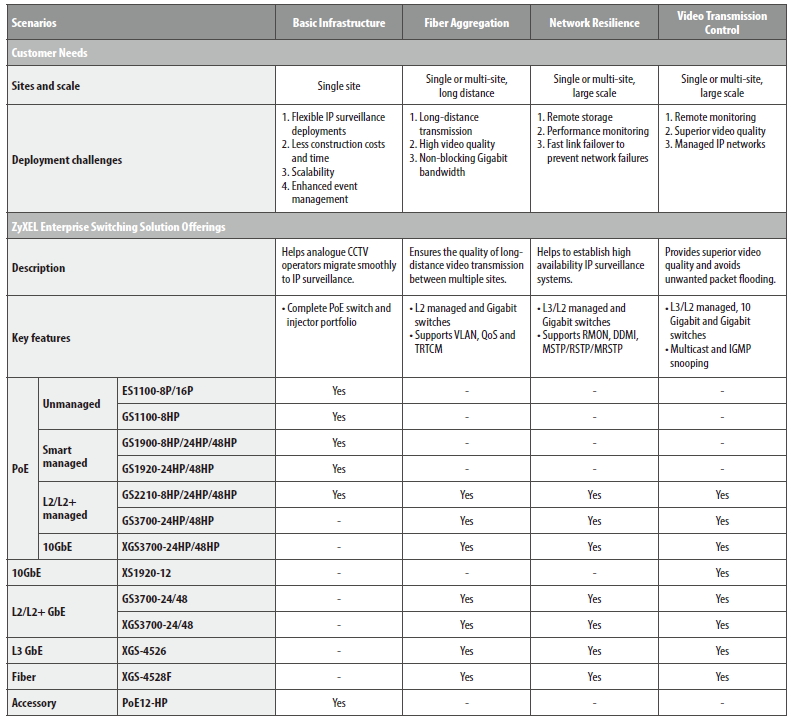 Today, Ethernet IP (Internet Protocol) is the de facto standard of most business networks. The first benefit of IP networks is that one Ethernet infrastructure can provide multiple services such as data, voice, video and surveillance to save extra efforts laying coaxial cables; and the high-definition IP CAM also calls for high-speed Ethernet services. However, the migration can be a challenge for operators or administrators lacking Ethernet and IP knowledge. Learning about IP camera setup or Ethernet switches can be time-consuming and even intimidating to typical CCTV operators.
ZyXEL's Ethernet Switch solution can be easily deployed and integrated along with the unique ZyXEL One Network technology. With the comprehensive ZyXEL PoE solutions, businesses can easily embrace the advantages of IP surveillance technology.
Performance Features of the Solution:
Standard-based PoE, IEEE 802.3af and -at compliant
Flexible PoE solution — PoE switches and PoE injector
Power outlet locations are irrelevant in most cases since CAT-5 Ethernet cabling of up to 100m can be used to provide electricity on the data cabling to a PoE IP Camera.
Less installation, deployment costs and time
The Smart Connect of ZyXEL One Network simplifies management and trouble shooting