Helping Small Businesses Attract and Retain Customers
August 05, 2015
Aug 5, 2015 – Hsinchu, Taiwan – Today ZyXEL introduces an all-in-one access hotspot, the Unified Access Gateway UAG50, integrated with a built-in thermal ticket printer and billing functions to help small businesses, such as cafés, bistros, or salons retain customers and make profits from offering hassle-free Wi-Fi services.
ZyXEL is a global leader in broadband networking technology, providing a comprehensive portfolio of wired and wireless network solutions for telecommunications service providers, small- to medium-sized businesses, and home users.
The availability of Wi-Fi access frequently affects our choices of where to shop, dine or spend down time. According to market research, 70% of consumers prefer restaurants and cafes with Wi-Fi hotspots, and another survey suggested that more than 55% of small businesses providing Wi-Fi believe it has resulted in higher sales per customer visit. While adding Wi-Fi to the menu has become essential for small businesses, the fears of tech complexity and support still make small businesses hesitate when it comes to offering Wi-Fi service.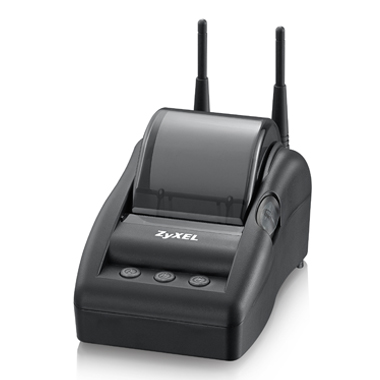 ZyXEL
UAG50
Unified Access Gateway
The ZyXEL
UAG50
, a Unified Access Gateway that integrates a WLAN (wireless local area network) gateway with a thermal receipt printer, is an all-in-one device built to help small businesses deliver and make profits from Wi-Fi services.
When connected to the modem at small business venues, the UAG50 is capable of providing wireless access to up to 50 users simultaneously with equal bandwidth. Whether the Wi-Fi access is offered complimentary or on a pay-per-use basis, users in need of Wi-Fi services only need to press a pre-configured button on the UAG50 to opt for their preferred surfing package. The UAG50 allows small business customers to charge through time or amount of usage, print out Wi-Fi accounts/passwords directly through the UAG50, and pay for the access online via PayPal or credit card.
These scenarios are made possible thanks to the integrated design of the UAG50, which is not only a gateway but also an automatic authentication machine which can authorize and bill customers for Wi-Fi services. It's like an extra employee who helps customers use Wi-Fi when everyone else is already tied up. The increase in productivity can end up reducing the total cost of ownership for offering Wi-Fi at small business venues.
While the UAG50 is tailored for small businesses, ZyXEL has a comprehensive portfolio of Unified Access Gateways that accommodate a wide array of applications, ranging from hostels and small-sized hotels to medium-sized hotels at 100, 200 to over 500- user scales. No matter the scale, the UAG line will help businesses sustain growth and reach higher customer satisfaction with hassle-free Wi-Fi services. Find more information here.

ZyXEL Communications Corp.
Founded in 1989, with over a quarter-century of innovations, ZyXEL Communications Corp. is a world-class networking company providing comprehensive and reliable Internet solutions. Delivering cutting-edge communications innovations to more than 400,000 businesses and 100 million consumers worldwide, today ZyXEL is one of the few companies in the world capable of offering complete networking solutions on broadband access, commercial networking, and home connectivity for Telcos, business, and home users. With a strong local presence in 150 markets around the world, ZyXEL is the ideal partner to deliver tailor-made solutions to meet customers' local needs.