Enjoy Digital Entertainment Freely
Home entertainment solution can bring you enjoyable and reliable digital entertainment anywhere. You can easily store, stream and enjoy photos, videos, and music without even powering up the PC.
Turn Living Room into a Home Theatre
No matter where the PC, network storage appliances and HDTV are located, you can share all your movies, videos and photos easily with the ZyXEL Digital Media Adapter.
The ZyXEL Wired LAN Adapters and Wireless Access Points allow you to upgrade the current broadband network and enjoy home entertainment through the existing electrical wiring already in the house!
Organize Media at Your Fingertips
The ZyXEL Media Server makes it easy to access, share and enjoy music and videos from any DLNA-compatible media players. With a user-friendly interface, the ZyXEL Media Server enables users to set up time-consuming tasks such as uploading/ downloading and backing up files with just a few clicks.
Enjoy Music in Every Room
With ZyXEL's Wireless Adapters, you can enjoy your favorite music everywhere in the house. Use your iPad or laptop as a portable media player indoors or outdoors, and access Internet radio stations or music stored on a ZyXEL Media Server.
Have Fun Wherever You Are
With ZyXEL's wired and wireless network products, you can freely enjoy Web surfing and network gaming anywhere at home. Since the embedded Quality of Service (QoS) technology ensures smooth delivery of gaming, video and VoIP, the most important applications get the highest priority as you prefer.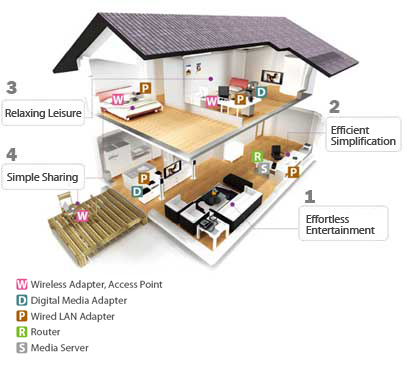 Turn Living Room into a Home Theatre

Turning your living room into a home theatre is no longer a fantasy. With the high-performance wireless routers and wireless media streaming box as the home connectivity backbone, the ZyXEL digital home entertainment solutions, including the media server and digital media player, have opened a new era of sensational enjoyments. With ZyXEL's powerful media streaming solutions, you can build a lag-free home video network for ultimate visual enjoyment in a snap.
Supporting a wide range of file formats, the ZyXEL Digital Media Adapter ideally supplements home networks and delivers high-resolution images, movies or music from the home PC or media servers to television screens or stereo systems; so you can create a home theatre that meets their own style and personal taste.