Program Overview

As your networking ally, Zyxel's Freedom Program gives you the freedom to share our award winning products with your customers. With all the necessary tools and resources, our partners are free to create and sell enterprise-level solutions tailored to their customers' needs.
The freedom program is reserved for value added resellers that work face-to-face with their customer base and provide consulting. Freedom Program members must also sell their networking and security products in North America and have a purchasing relationship with an Authorized Zyxel Distributor. (Resellers who sell Zyxel products online are not eligible to join)
Zyxel's Freedom Program has two levels of membership. Any partner can join the program, but those that sell $10k or make 4 transactions per quarter qualify for added benefits as our allies.
| | |
| --- | --- |
| | Networking & Security VARs in North America that work face-to-face with customers, provide consulting, and have a purchasing relationship with an authorized Zyxel distributor |
| | VARs that fulfill Advocate requirements and sell $10k or make four transactions per quarter |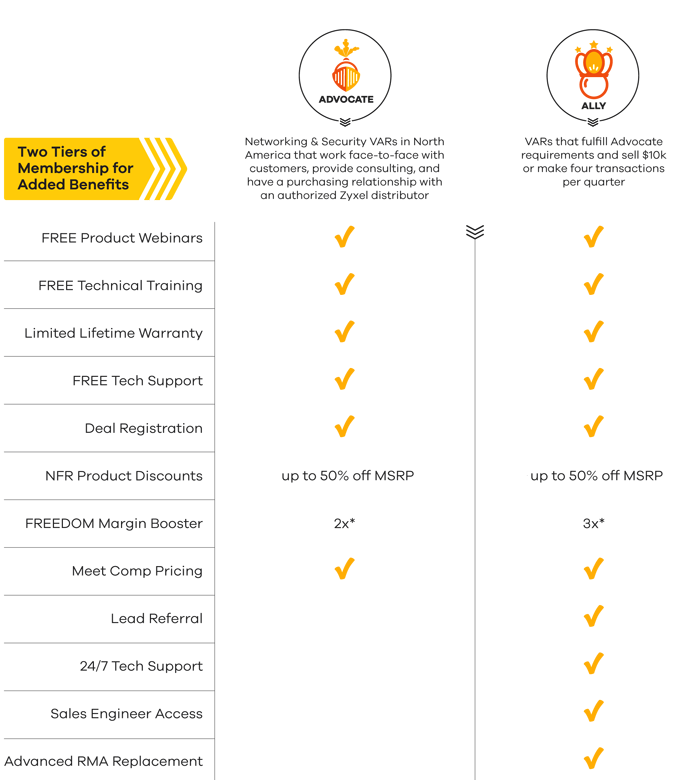 * Please view the applicable products at the following link: zyxel.us/freedomprogramv2
Have any questions about joining the Freedom Program?
Send an e-mail to partner@zyxel.com
Note: Zyxel Freedom is subject to cancellation or modification at any time by Zyxel and at Zyxel's discretion, including but not limited to informal notification or publication of a revised program. Zyxel Freedom may also be subject to additional information or terms and conditions contained on a different website maintained by Zyxel.