- Flexible bandwidth offering from 100/100 Mbps to Gigabit/Gigabit throughput per subscriber
- Breakthrough business model with matured and proven Ethernet technologies
- Offer RF-over-Glass technology to provide highquality TV services
- Lower CAPEX on equipment investment, lower OPEX for matured SNMP and TR069/TR104 network management and provision equipments
"Open Access Model" is an emerging operator-neutral business model to offer ICT infrastructure and network services suitable for FTTx solutions; the potential customers include Telco operators, service providers, MSOs, content providers and users from government, banking, education, military, police, broadcasting as well as utility companies or agencies. The P2P active fiber is the best solution to meet all the requirements of aforementioned customers. The P2P active fiber solution has some advantages as well: such as easy management, matured standard technology, dedicated bandwidth offering and the future-proof access architecture.
ZyXEL offers a complete end-to-end Gigabit and 100Mbps active fiber solution; all active fiber CPE products support both SNMP and TR069/TR104 to meet network management demands from various customers. Please refer to the following application figures and supported product
tables for more details.

The Figure 1-1 describes the roles of open access model, in which municipalities or utility companies play the role as the infrastructure owner, while Telcos, MSOs and service providers play the role of network operators or service providers to offer related services to residential or SMB users. Multi-site users will be the enterprise subscriber to subscribe the Internet infrastructure, as an extension to the intranet, from network operators or service providers. Telcos can rent the active fiber pipe, deploy their own COE and CPE, and then offer high-quality triple-play services to subscribers. Please refer to the figure 1-2 that indicates the FTTx applications through open access model and the figure 1-3 that indicates the equipment owner.

For MSO operators, please refer to the figure 1-2. Since active fiber supports RF-over-Glass (RFoG), MSO operators can transform their CATV over active fiber pipe and offer high-quality triple-play services to their subscribers. For multi-site users, please refer to the figure 1-3; the users will deploy their own security routers on the extended intranet through open access network services.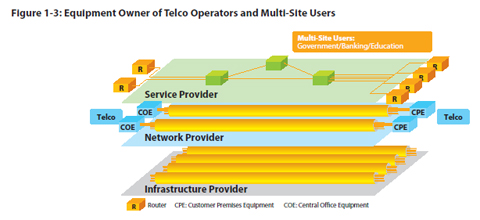 CO
Site
CO Site: Carrier Ethernet Switch
XGS-4728 (24 x combo GbE ports)
MGS-3712F (8 x SFP GbE slots, 4 x Combo GbE ports)

Subscriber
Site

FSG2200HN
Gigabit Active Fiber IAD with Fiber Tray Unit