- Offers 100/50 Mbps (17a) and 100/100Mbps (30a) bandwidth to fulfill next-generation broadband access requirements
- True DSL technology to offer multiple HD IPTV services simultaneously for a digital home user
- Backward compatible with the existing xDSL family
- Best-effort solution eliminates the last-mile bottlenecks for FTTx solutions
VDSL2 17a, 100/50 Mbit/s VDSL2-Lösung Die VDSL2-Technologie von ZyXEL unterstützt eine breite Palette an Triple Play Diensten wie Voice, Video, Daten, HDTV (High-Definition Television) und interaktives Spielen. Netzwerkbetreiber und Telekommunikationsanbieter können damit die bestehende xDSL-Infrastruktur allmählich und flexibel zu begrenzten Kosten aufrüsten. Die maximale Bandbreite im Downstream ist 100 Mbit/s, im Upstream 50 Mbit/s.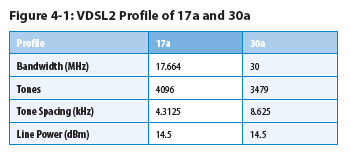 Very-High-Bit-Rate Digital Subscriber Line 2 (VDSL2) oder G.993.2 ist einer der beliebtesten Standards der xDSL-Familie und gehört zu den am weitesten verbreiteten Breitbandtechnologien. Telekommunikationsbetreiber weltweit können damit Services wie HDTV (High-Definition TV), Video-on-Demand, Videokonferenzen, High-Speed Internetzugang und moderne Sprachdienste einschließlich VoIP über ein Standardtelefonkabel aus Kupfer anbieten.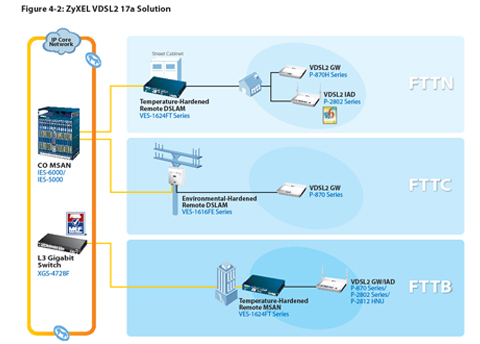 VDSL2 erfüllt alle technischen Voraussetzungen, um die Probleme hinsichtlich der Abwärtskompatibilität bei der herkömmlichen ADSL-Technologie zu lösen. Mit VDSL2 erhalten Telekommunikationsanbieter eine Lösung, die verspricht, mit den ADSL-Elementen, die viele Anbieter bereits einsetzen, zusammenzuarbeiten. Diese Interoperabilität wird die Migration der Kunden zu VDSL2 erheblich erleichtern.
Mit VDSL2 erhalten Verbraucher Geschwindigkeiten von bis zu 100 Mbit/s im Upstream und Downstream bei einer Reichweite von ca. 200 m und 20 - 30 Mbit/s zwischen 760 und 1200 m. VDSL2 ist eine ideale Lösung zum Einsatz mit dem FTTP-Rollout (Fiber-to-the-Premises). Beispielsweise kann ein Wohnblock direkt per Glasfaserkabel versorgt werden, während im Gebäude die Bewohner per Kupferkabel High-Speed VDSL2 erhalten. Es eignet sich auch perfekt für die letzte Meile bei FTTx-Implementierungen, denn es kann entfernte MSAN (Multiple Service Access Nodes) über Glasfaserschnittstellen verbinden.